UK Confucius Institute Connects Ky., China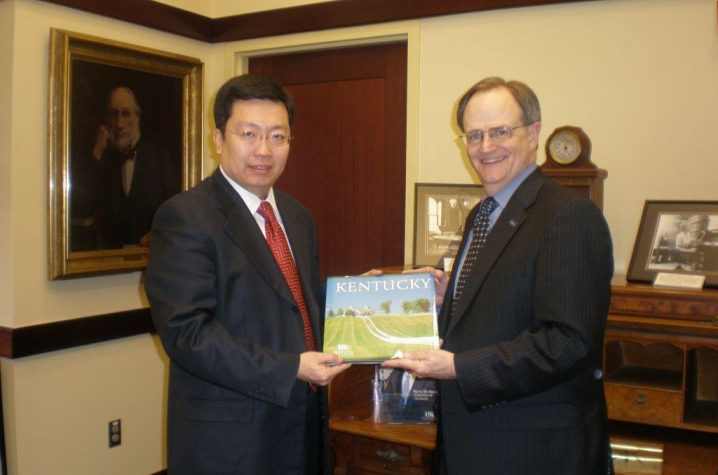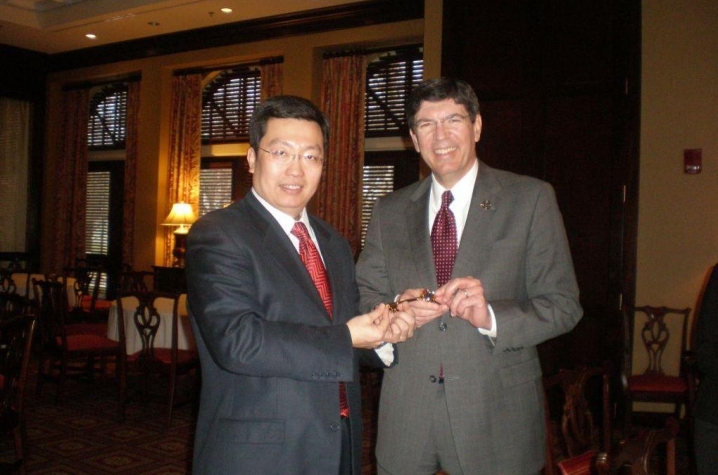 LEXINGTON, Ky. (March 15, 2010) - The University of Kentucky will be one of fewer than 300 organizations worldwide to host a Confucius Institute, a nonprofit educational entity devoted to promoting exchange between China and other countries. The distinction was officially granted by the Office of Chinese Language Council International, colloquially known as Hanban.
 
"UK's global mission is rooted in our commitment to the Commonwealth as the state's land-grant institution. The Confucius Institute will bring Chinese language and culture to our classrooms and communities across Kentucky," said Susan Carvalho, associate provost for international programs. "We are both honored and excited to launch this institute, which has the potential to benefit thousands of Kentuckians."
Classes in conversational Chinese, business Chinese and Chinese art and culture will be available in downtown Lexington beginning this fall, with statewide outreach through distance learning by the institute's second year.
 
The UK Confucius Institute will be distinct from many others in the country in that it will focus not only on language teaching, but also on the rich history of Chinese art and music. Each year, UK's partner institution, Shanghai University, will send at least two faculty members to Lexington to teach language classes and organize events promoting cultural exchange between China and the United States; in addition, Shanghai University will send visiting faculty to the UK College of Fine Arts to offer master classes or to participate in regular classes. 
 
Additional services to be provided by the institute include training Chinese language teachers in our K-12 system; providing Chinese language teaching resources; offering Chinese language proficiency exams; and providing testing for the certification of Chinese language teachers.
 
The UK Confucius Institute will be one of the few institutes in the United States to have a dedicated, full-time director. Huajing Maske, who holds a doctorate in Chinese art history from the University of Oxford, has been appointed to that role. In addition to her education in Chinese fine arts, Maske has extensive experience teaching Chinese in K-12 classrooms and in coordinating student exchanges at the high school and university levels.
 
The UK Asia Center, an eight-year-old interdisciplinary unit that aims to bring Asia into the curriculum at UK and in Kentucky K-12 schools, led the effort to establish a Confucius Institute. In 2009, an Asia Center delegation to China selected Shanghai University as the ideal partner for UK based on its comprehensive focus and, in particular, its strengths in Chinese language and in fine arts. The creation of the UK Confucius Institute solidifies that partnership.
 
"The University of Kentucky demonstrated strong leadership, commitment, team work and overall excellence during our site visit to the campus," said You Shaozhong, minister counselor for education affairs for the Embassy of the People's Republic of China in Washington, D.C.
 
"I have confidence that the UK Confucius Institute will make significant contributions to promoting teaching Chinese language, as well as enhancing Chinese cultural and art exchanges in the Commonwealth of Kentucky," Shaozhong said.
 
The UK Confucius Institute will be housed in two locations in Lexington: one on the UK campus for students, faculty and staff, and another in the heart of Lexington's downtown area, at Central Bank, convenient to local businesses and community members. The increased awareness the endeavor brings about Chinese language instruction and the addition of visiting faculty on campus, as well as enhanced co-curricular programming, will also complement UK's goal of creating a Chinese language major within the next two years.
 
"The Confucius Institute is part of the University's strategy to provide our students with a skill set that will allow them to compete and collaborate in the ever-changing global economy," said UK President Lee T. Todd Jr. "Considering today's international marketplace of ideas and innovations, it is absolutely critical that the University of Kentucky distinguishes itself as a global university."
 
The endeavor will bring with it $150,000 in start-up capital and $100,000, renewable annually, for cultural, artistic and educational programming. In addition, the institute will receive hundreds of Chinese books, benefiting both University of Kentucky Libraries and the Lexington Public Library system.
 
As of October 2009, 282 Confucius Institutes existed in 84 countries throughout Asia, Africa, Europe, the Pacific Islands and the United States. An additional 241 Confucius Classrooms (which are not always affiliated with an institute) existed in 25 countries. For additional information, visit http://english.hanban.org/kzxy.php.