UK Establishes Pedestrian Advisory Committee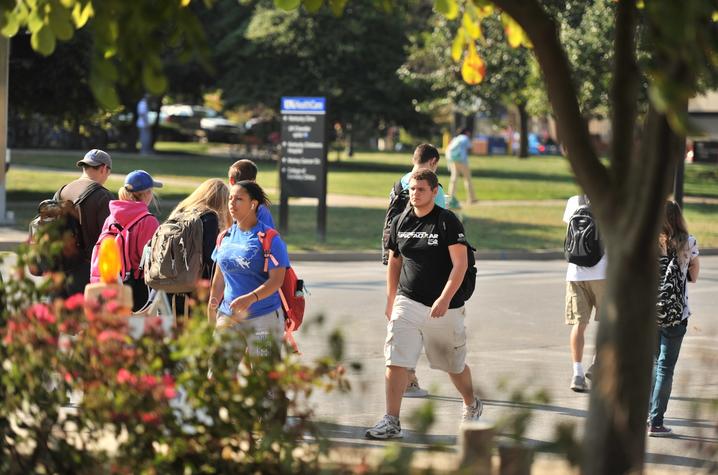 LEXINGTON, Ky. (Aug. 22, 2017) — Whether the motivation is fitness or financial, walking is becoming an increasingly popular mode of transportation on the University of Kentucky campus. This has led to an increased awareness of pedestrian safety and desire for improved and expanded pedestrian infrastructure. In response, the university recently formed a Pedestrian Advisory Committee, dedicated to cultivating a pedestrian-friendly campus through improved facilities and educational efforts.
More specifically, the Pedestrian Advisory Committee has four goals:
Bring together diverse campus administrators to address pedestrian conditions on campus;
Provide a forum for feedback on pedestrian-related issues;
Increase the viability and safety of walking as a form of campus mobility; and
Establish a dedicated funding source for pedestrian education and infrastructure improvements.
The group is chaired by Director of Transportation Services Lance Broeking, and is composed of faculty, staff and students. 
"Since its formation, the Pedestrian Advisory Committee has been meeting regularly on ways to improve the UK pedestrian experience," Broeking said. "We are looking forward to announcing a number of initiatives related to campus walkability in the coming weeks."
The committee structure and composition is modeled after the successful Bicycle Advisory Committee (BAC), which dates back to 2010. Since its foundation, the BAC's work and investment in bicycle infrastructure and education has directly led to the University's recognition as a silver-level Bicycle Friendly University by the League of American Bicyclists. It is this level of impact that the Pedestrian Advisory Committee hopes to have on pedestrian issues.
The formation of the Pedestrian Advisory Committee is a direct outcome of the UK's comprehensive Transportation Master Plan completed in 2015.  The focus of this plan is to improve access and mobility to, from and around campus for all members of the UK community.
For more information on the Pedestrian Advisory Committee, visit www.uky.edu/transportation/pedestrian.