UK Former First Lady Gives A Special Gift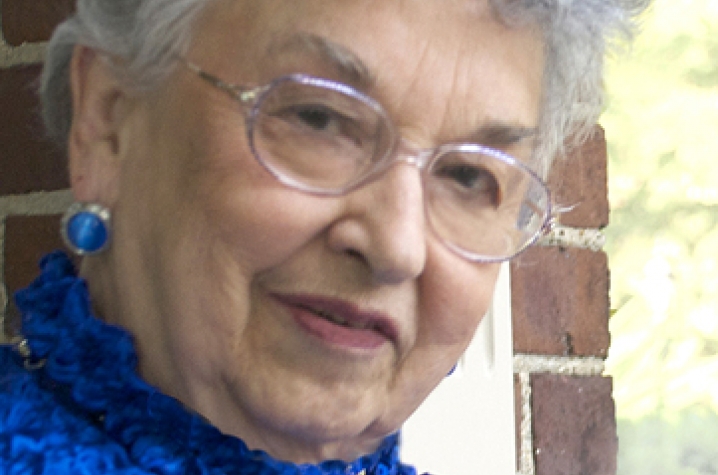 LEXINGTON, Ky. (March 11, 2011) — Former University of Kentucky First Lady Betty Dickey cherishes many wonderful memories from her years of service to UK.
When her husband, Frank Dickey, was named president in June 1956, he became the youngest occupant of that office at age 37. Dickey was the fifth president of the university, and the campus experienced unprecedented growth under his leadership. The Dickeys' three children grew up in Maxwell Place, the president's home on campus.
Mrs. Dickey served as First Lady until 1963, a role that she views as a privilege. With the job came many responsibilities, but her favorite part of the position was meeting young people.
"That was the fun part," she said. "As I worked alongside my late husband, I came to love all the bright young people who attended the university, as well as the dedicated faculty who taught them."
It was a love of students that prompted Dickey to make a planned gift to the UK President's Scholarship Initiative.
"Many of those students needed scholarships to fulfill their dreams for an education," she said. "And today, the need is even greater. The sacrifices made by many students and their families are tremendous."
The President's Scholarship Initiative focuses on the amount of scholarship assistance available to deserving students.
"The President's Scholarship Initiative is not just important for the future of the university; it is important for Kentucky's future," said UK President Lee T. Todd, Jr. "Scholarships like those given by Former First Lady Dickey afford students with the greatest gift anyone can offer – the gift of opportunity."
"It's a heart-warming experience to be a donor to the University of Kentucky," the former First Lady said. "I highly recommend it."
For information on planned giving opportunities at UK, or more details about the President's Scholarship Initiative, contact the UK Office of Gift and Estate Planning at (800) 875-6272 or at giftandestate@uky.edu.

MEDIA CONTACT: Erin Holaday Ziegler, (859) 257-1754, ext. 252; erin.holaday@uky.edu