UK, Fort Campbell Form Partnership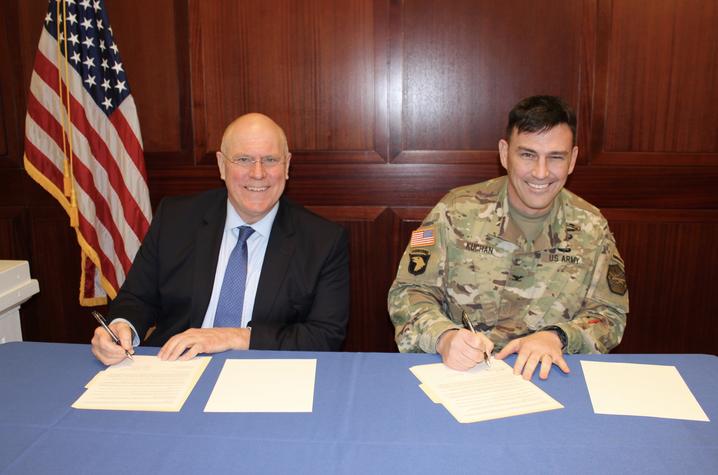 LEXINGTON, Ky. (Jan. 12, 2018) — The University of Kentucky is joining forces with Fort Campbell to launch a long-term, mutually beneficial partnership that will enhance research initiatives and opportunities.
The U.S. Army installation signed a memorandum of understanding (MOU) with the university yesterday on campus, marking an intentional effort to improve outcomes for both entities. The land-grant mission of UK extends to Fort Campbell, and as such Fort Campbell is uniquely positioned to benefit from the proximity to a research one university. According to the MOU, this collaboration "will strengthen, and bind our communities and promote a professional exchange between university faculty, staff and students and Fort Campbell's leadership, soldiers and their families."
Specifically, UK and Fort Campbell will begin to carry out the collaboration through programs and activities including:
Providing an economic impact statement for Fort Campbell and the state of Kentucky.
Exploring opportunities and methods of employing UK MBA consulting teams to assist and enhance garrison operations through Project Connect.
Conducting a demonstration and assessment of possible applications of spray-on, rapid-drying concrete with researchers at the UK Center for Applied Energy Research (CAER).
Conducting an assessment of agreed upon aspects of Fort Campbell's forestry program and resources to identify and initiate collaborative areas of research, education and technical assistance.
Many Fort Campbell representatives attended the MOU signing, included Col. Joseph Kuchan, Fort Campbell garrison commander.
"This is a great opportunity for Fort Campbell to expand our group of neighbors and partners, with whom we enjoy mutually beneficial relationships," Kuchan said. "This agreement is a great start to identifying some early opportunities and we look forward to seeing what else springs from this collaboration."
Fort Campbell is the nation's premier power projection platform. Strategically located on the Tennessee-Kentucky state line, the 106,700-acre installation is also the home to the only air assault division in the world, the 101st Airborne Division (Air Assault). It is also the home of two prestigious Special Operations Command units, the 5th Special Forces Group (Airborne) and the 160th Special Operations Aviation Regiment (Airborne). Additionally, it is the home to the 86th Combat Support Hospital, the 52nd Ordnance Group (EOD), and sizable medical and dental activities. Fort Campbell is an Army installation that supports active and Reserve component units, Army civilians, Army families, retirees and veterans.