UK Grad Sleighs Expectations, Makes History at Winter Olympics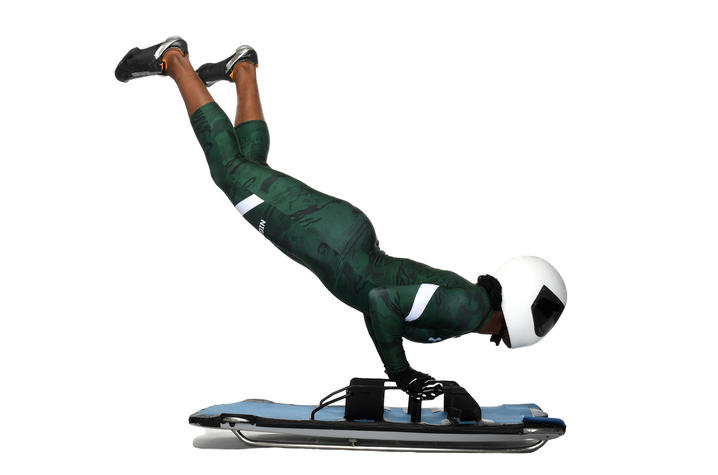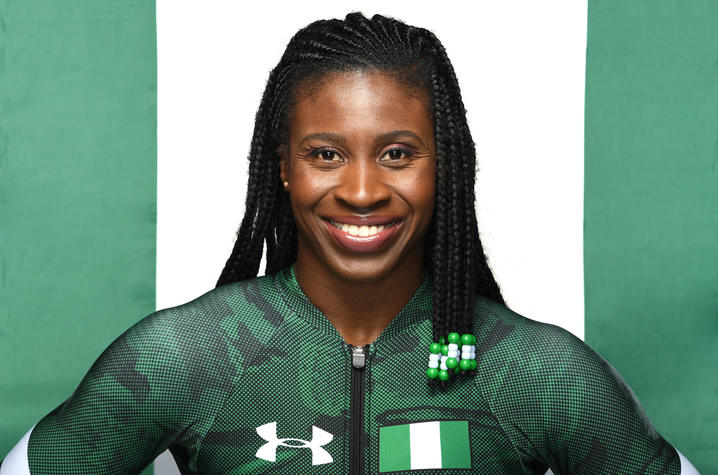 LEXINGTON, Ky. (Feb. 13, 2018) — It was September when she first touched a skeleton sled out of curiosity. September 2017, that is. As in ... five months ago. Before then, she had never heard of the sliding sport where an athlete hurtles head-first down a frozen track.  
This month, University of Kentucky alumna Simidele "Simi" Adeagbo makes history as Nigeria's first female skeleton athlete, Africa's first female skeleton Olympian and the first black female skeleton Olympian.
"It feels amazing to be an Olympian, but this journey is about the bigger significance of what I'm doing: showing a future generation of athletes what's possible and showing people that it's up to you to create your future."
Her story could arguably be one of the best comebacks in sports. Not only did she come out of a 10-year retirement to compete in the Olympics, but she became one of the best in the world at a sport she mastered in less than six months.
"Why not me, why not now?" is a question the 36-year-old has frequently asked herself over the past few weeks. It wasn't a conventional path to the Olympics — but in a way, she's been preparing for this her whole life.
Adeagbo was born in Toronto to Nigerian parents and lived in Nigeria for several years as a child, later growing up between the U.S. and Canada. She eventually made her way to UK. While earning her journalism degree here in the early 2000s, Adeagbo was also breaking records on the UK Track and Field team. She was a four time All-American and remains the outdoor school record holder in the triple jump. She was also an Academic All-American and Arthur Ashe Jr. Sports Scholar, and an NCAA and Southeastern Conference scorer.
"You have to be powerful, strong and fast for both sports," she said.
The first few seconds of a skeleton race begin with a running start that is "very similar to a long jump and triple jump," where Adeagbo bolts as fast as she can. Except in skeleton, she's running on a frozen ice track, pushing a nearly 80-pound sled, then hurling herself onto the sled and down an ice roller coaster at 80 mph — with her face inches from the ice. No big deal.    
Although new to the sport of skeleton, this isn't Adeagbo's first crack at the Olympics. After a lot of success on the UK Track and Field team, she became a two-time U.S. Olympic Trials finalist in the triple jump, narrowly missing a spot on the 2008 team.
"I thought my athletic journey had ended," she said. "Not making the team was a huge disappointment and it took its toll on me, but I knew I had given it my all."
Having earned a journalism degree and a master's degree in communication from UK, she began a new journey working as a marketing manager for Nike in Johannesburg, South Africa.
"I use those skills I learned at UK every day in my job, and to be able to communicate effectively is so important in any field."
While at UK, she says a community of different people around her — track coaches, professors, CATS tutors — helped her navigate being a student and an athlete. She came back to visit that community in 2016 and walked around the transformed campus with Associate Professor Scoobie Ryan.
"These banners on campus with different accomplishments stood out to me — everyone on those banners challenged convention or took a risk. They left legacies. That's what I wanted to do."
"Simi already has left quite a legacy here at the school," said Ryan, associate director of the School of Journalism and Media in the College of Communication and Information. "She was an outstanding student and a joy to work with. How she managed to excel in our program and in her athletic career amazed and impressed me. While I was surprised to hear from her that she planned to compete in the 2018 Olympics, and in skeleton of all things, I shouldn't have been. She's a woman who can do anything once she puts her mind to it. She proved that to all of us long ago. I'll be rooting for her."
In 2008, she thought her athletic career was over. Fast forward nine years and Adeagbo came across a story about the Nigerian women's bobsled team aiming to be the first ever African bobsled team to compete at the Winter Olympics.
"Yes, let's get Africa represented!" she thought. And then she thought some more … she had heard of track and field athletes moving into bobsledding … "Why not me, why not now?"
She reached out, but the team was already in place. They connected her to the Bobsled & Skeleton Federation of Nigeria. Next thing she knew, in August of 2017, she was on a 24-hour flight from Johannesburg to Houston. She proved her strength and speed in tryouts for the federation, and few weeks later she got the call inviting her to a team camp.
"That's where I first touched a skeleton sled," she said. "Every day since then I've been learning."
After a whirlwind of a journey competing in qualifying races in Calgary, Alberta (Canada); Park City, Utah; and Lake Placid, New York, Adeagbo officially qualified for the Olympics on Jan. 15. She's in South Korea now, preparing for the women's singles skeleton competition, scheduled for Feb. 16-17.
"I'm just excited for the whole experience — marching in for the opening ceremonies, competing, cheering on my teammates, attending the other events. Nobody was sure how this would turn out. I'm blessed with this opportunity and beaming with pride."
Follow Simi's journey as she breaks history online at www.simisleighs.com, on Twitter: @simisleighs and on Instagram: @simisleighs.
This year, "Blue" will be going for the "Gold," too. We will take you on the journey with special athletes and those who support them and have insight into what makes the Olympics so special. Be sure to visit www.uky.edu/Olympics and follow along on all of our social media channels by looking for #olympiCats.