UK Helps Launch Jockey-Themed Literacy Project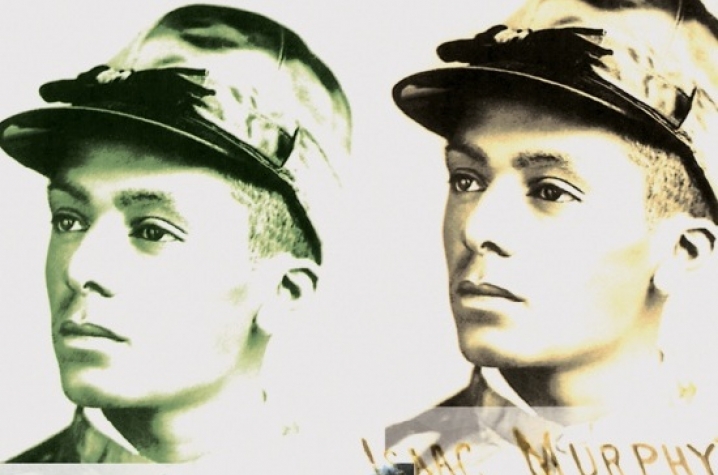 LEXINGTON, Ky. (Aug. 11, 2010) -Isaac Murphy is considered one of the greatest jockeys in American history. He won 628 out of 1,412 races, a 44 percent victory rate that has never been matched and many think will never be surpassed. Murphy was the first and one of only two African- American jockeys to be inducted in the National Museum of Racing and Hall of Fame.
"Isaac Murphy would be the equivalent of Tiger Woods or Michael Jordan in his time period," University of Kentucky English professor Frank X Walker told the Danville Advocate.
With these stellar credentials and the 2010 World Equestrian Games waiting in the wings, Murphy was the perfect candidate to promote Kentucky's new statewide literacy project, aptly titled: the Isaac Murphy Every Body Reads Project (IMEBRP). Modeled after the national Big Read program, the IMEBRP will officially launch Saturday, Aug. 14, with a professional development training program at UK's Singletary Center for the Arts.
IMEBRP is designed in cooperation with the UK College of Arts & Sciences and a group of educators from around the Commonwealth as a statewide literacy project to coincide with the 2010 Alltech FEI World Equestrian Games (WEG).
The reading project will include Patsi Trollinger's children's book, "Perfect Timing" and Walker's new collection of poetry, "Isaac Murphy: I Dedicate This Ride, " both of which are about the famous African American jockey.
The Lexington Children's Theater will also mount a theatrical production of the Isaac Murphy story adapted from Walker's book of poems as part of its fall season, Sept. 26-Oct. 3, presenting an excerpt from the play and distributing group ticket information at the launch.
Unlike most reading projects centered around a single book, Walker says this two-book project is not only designed to promote literacy, but it seeks to engage entire families, appeal to a broader audience and to engender intergenerational, multi-racial dialogue, conversation and enthusiasm around reading and the exploration of Kentucky's rich history. The UK College of Arts & Sciences is sponsoring the professional development workshop to prepare IMEBRP representatives from participating organizations.
"Saturday's event is an effort to engage the larger community in a project that is broad and inclusive and designed to be intergenerational," explained Walker. "It's a proactive way to enrich what people know and believe about Kentucky history. The WEG presents a perfect background to point out how important Isaac Murphy's story is to Kentucky's story."
The first 50 pre-registered participants will receive complimentary signed copies of Walker's new book; free admission to UK Art Museum's "The Bluegrass Palette of Andre Pater" exhibit, which features rare images of black jockeys including "Red Cap," a piece inspired by Isaac Murphy; and an illustrated guide to Horse Mania 2010, among other related gifts and educational materials.
Both authors will be available at the workshop to read and discuss their work. Educators and IMEBRP experts will be on hand as well to share web-based support, copies of age-appropriate study guides, discussion questions and additional thematic materials.
To pre-register for Saturday's workshop, e-mail fxw2@uky.edu. For more information call 859-967-8737.