UK Holds Wing Design Competition for High School Students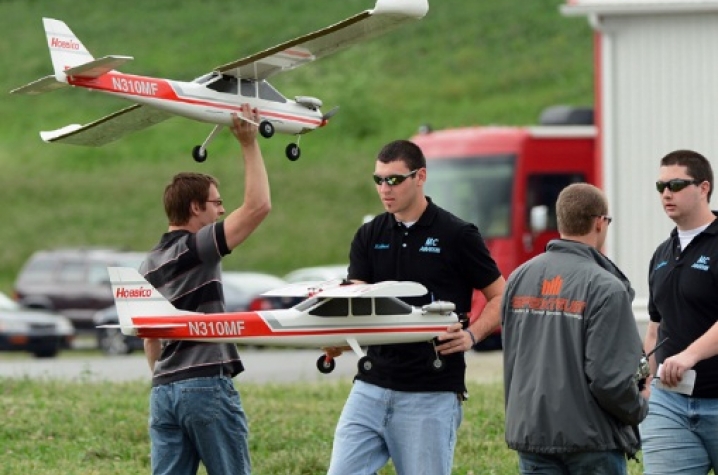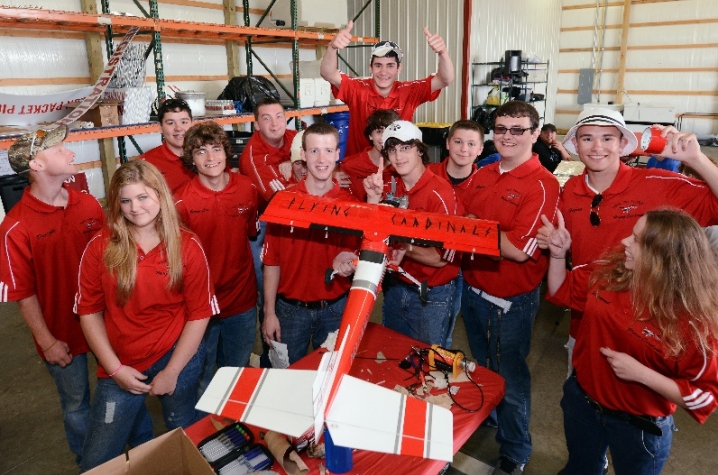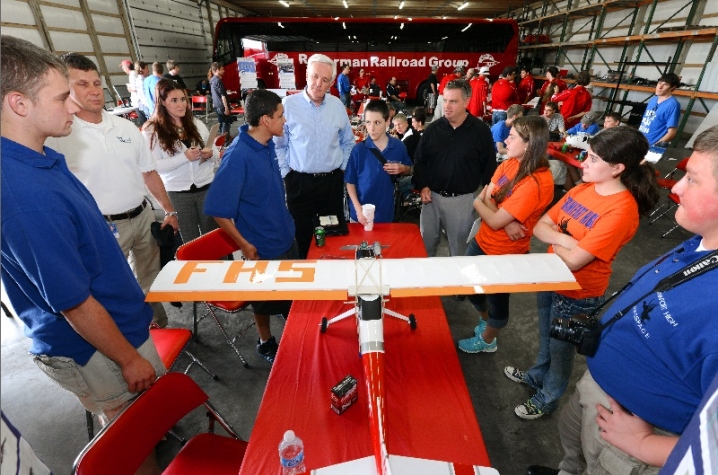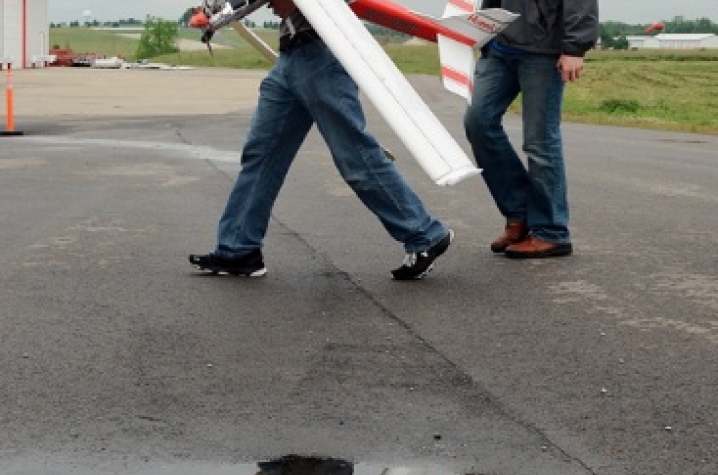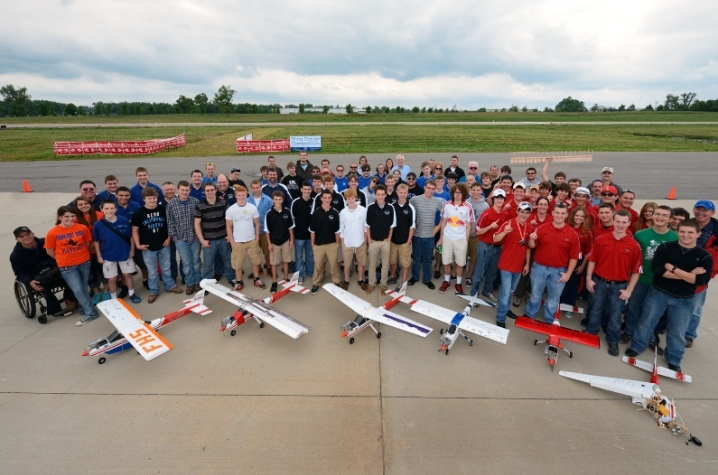 LEXINGTON, Ky. (May 29, 2012) — Planes designed and built by nine Kentucky high schools took to the air Monday, May 14, in the second Kentucky Institute for Aerospace Education (KIAE) Wing Design Competition, held at Lucas Field in Nicholasville, Ky. The event was once again hosted by R.J. Corman Aviation Services and coordinated by the University of Kentucky College of Engineering and NASA Kentucky.
Teams were challenged to design and construct a wing for their remote-controlled aircraft with one notable change from last year's event; in addition to last year's scoring for wing size-to-payload ratio, a new "speed round" required teams to build for speed and strength. Teaching modules on aerodynamics and stability were provided by UK mechanical engineering professors Sean Bailey and Jesse Hoagg.
"The hope is that the students who learned the material from the teaching modules this year will pass it on to new students next year, creating an accumulated body of knowledge that grows as it is handed down year after year," said Hoagg.
During a break for lunch, students watched remote-controlled vehicle stunt pilot Brendan Jones put on an entertaining show. Attendees also had a front-row seat to see R.J. Corman Aviation's Learjet take off from the same runway teams were using for the competition.
Plagued throughout the competition by a troublesome landing gear, the Taylor County High School team's plane carried enough payload on its final run to move past Rowan County High School and take first place. Team members, all of whom were decked out in matching shirts, erupted with applause when pilot Dylan Skaggs landed the aircraft on the repaired landing gear.
"We need to put that roll of duct tape in the school's trophy case!" suggested one team member.
Monroe County High School finished in third place after making the most of the event's final flight. Having crashed shortly after takeoff during their first run of the day, the team spent hours making repairs — with a few team members even foregoing lunch until after the competition had ended. Their determination also earned them the "Most Tenacious Team" award.
Other awards went to Rowan County High School for "Fastest Lap"; South Warren High School for "Heaviest Payload"; Corbin County Area Technology Center for "Most Spectacular Crash"; and Taylor County High School for "Best Color Scheme." Danville High School was given the "Aviator's Award," which is based on team interviews with the competition's judges. Bryan Station High School received an "Aviator's Award" honorable mention.
Tim Smith, director of KIAE, said events like the Wing Design Competition give students engineering experience in a fun environment.
"A lot of students will say they'd like to go into engineering, but they don't really understand what engineers do. By coming up with a prototype, testing it and determining whether or not their design was successful, they are going through the engineering process. Because they are doing this in high school, they will have a better idea of whether or not this is something they want to do with their life."
Suzanne Smith, director of NASA Kentucky and professor of mechanical engineering at UK, concurred.
"This competition inspires students with flight, but gives them a great hands-on opportunity to apply math, science and problem solving in ways they don't get in a classroom. They have experiences they will always remember. They've met aviation and aerospace professionals. For NASA and Kentucky, these students are the future — whether they decide to pursue careers specifically in aviation and aerospace engineering or whether they choose another field — they will have tried something very difficult, succeeded at some aspects and learned a lot along the way."
MEDIA CONTACT: Jenny Wells, (859) 257-5343; Jenny.Wells@uky.edu