UK Honors Donors at Philanthropy Day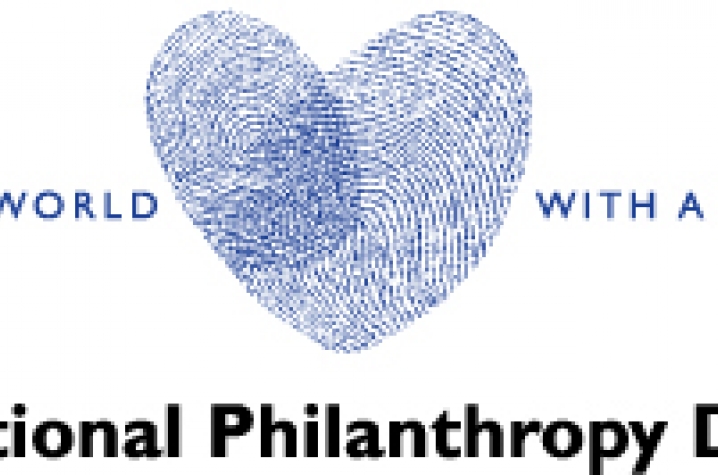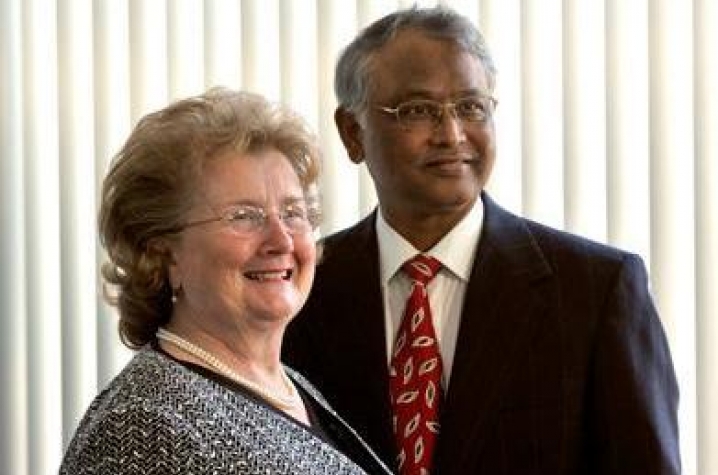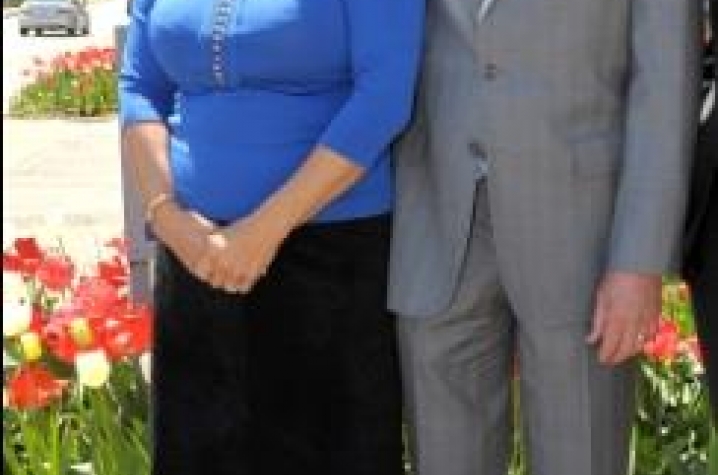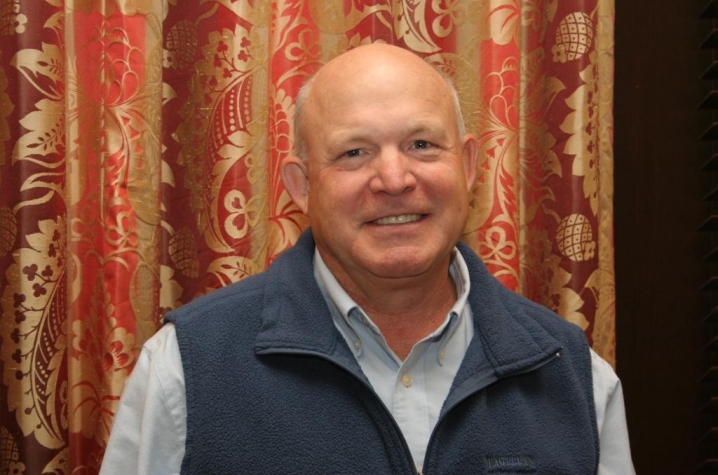 LEXINGTON, Ky. (Nov. ##, 2010) –The University of Kentucky joined organizations from around the Lexington community in honoring a few of its own during the annual Bluegrass Chapter of the Association of Fundraising Professionals' (AFP) National Philanthropy Day luncheon on Nov. 9.
The awards luncheon honors the philanthropists and volunteers in Central and Eastern Kentucky who give their time, talents and resources to help others.
Several nonprofit agencies select an outstanding volunteer or patron to honor at this event, while the Distinguished Philanthropist Award winner this year went to Pearse and Deirdre Lyons and Alltech. 
Many colleges, programs, and groups affiliated with UK were among the not-for-profit agencies that selected an outstanding and generous volunteer or patron to honor at the celebration.
Honorees recognized by UK groups include: Dr. Sibu and Becky Saha, College of Medicine and the Arboretum; L. Stanley and Karen C. Pigman, College of Engineering; and William F. Beaven, College of Social Work.
[IMAGE2]
Dr. Sibu and Becky Saha
For nearly 35 years, Sibu and Becky Saha have considered Lexington their home. They remain steadfast in their community involvement and generous philanthropy. They have been longtime UK benefactors and share a passion for scientific research and education.
In 2010, they made a special gift to establish the Saha Cardiovascular Research Center Fund. This endowment will substantially add to the center's resources, bolstering the efforts of UK's physician -scientists and researchers to better understand and seek cures for cardiovascular diseases.
After a distinguished career in private practice, Dr. Saha joined the faculty of the UK College of Medicine in 2002 as professor in the Division of Cardiothoracic Surgery. In addition to an active surgery schedule, Dr. Saha conducts outreach clinics in several rural communities in Eastern Kentucky. He is an avid mentor to surgical residents and medical students and also currently serves as the chair of the Gill Heart Institute Director's Council.
Becky Saha is past president of Friends of the Arboretum. During her tenure as president, Friends of the Arboretum launched a major campaign to establish the Kentucky Children's Garden, which is scheduled to open in 2011.
[IMAGE3]
L. Stanley and Karen C. Pigman
The definition of philanthropist includes such words as humanitarian, generous donor, good hearted person and patron. The Pigmans fit this definition through their untiring support of students in the UK College of Engineering. Without question, the pair are the College's most engaged scholarship supporters. Over the years, they have generously supported many, many students with their philanthropy. They are involved in every aspect of the scholarship process, meeting with each recipient and talking with parents to insist that their students attend the college's annual scholarship luncheon. They call, write, visit and host every student throughout the year. The Pigmans are mentors, career placement counselors, cheerleaders and parents to every student. They know each student's strengths and encourage them to work hard toward their life goals.
Applying Stanley Pigman's entrepreneurial spirit to the College, they founded the Leadership Development Program one of only a few of its kind in the country. They have fully funded the program's activities for the 15 engineering seniors who are selected through a rigorous interview and application process. The Pigmans are tireless in their advocacy for improving the lives of all those around them, whether it be a student scholarship recipient, a family member, a cancer patient, a business colleague or a stranger needing a helping hand. They see the best in every person and everything within their reach and do not stop until everyone else sees the same.
[IMAGE4]
William F. Beaven
Beaven graduated from UK's College of Social Work with a Master's in 1975. He was a student that often thought outside the box and challenged the traditional ways of thinking and problem solving. Beaven's unique skills enabled him to become a successful social entrepreneur. After working in the social services disabilities field for a number of years, Beaven formed his own company, Eidetik, in 1990. Eidetik is dedicated to assisting and supporting people with developmental disabilities discover and realize their life goals.
Beaven has always been an ardent supporter of his alma mater & a good friend to the College. For many years, he served on the College's advisory board and has remained a close advisor to the dean.
Beaven's support to the College of Social Work includes significant financial contributions for several initiatives. He funded a scholarship for doctoral students, as well as a Co-op scholarship program for Master's students interested in working with adults with developmental disabilities. This is a paid internship opportunity that provides students with furnished housing, transportation to and from the Eidetik work-site in any of three states, as well as tuition reimbursement.
In addition, Beaven has answered the call for assistance and he has helped the College when in need. Recently, Bill donated a significant gift to start an endowed discretionary fund so that the Dean's office could support initiatives that otherwise would go unfunded. Beaven's integrity and fine reputation has inspired others to give as well.
"The National Philanthropy Day luncheon is a wonderful opportunity to publicly recognize the individuals and groups who have given so much of their time and resources to make our university and community better," said Mike Richey, vice president for Development at UK.
The AFP Bluegrass Chapter, which works to advance philanthropy through advocacy, research, education, and certification programs, represents 30,000 fundraisers in more than 197 chapters throughout the world.
For more information on the AFP Bluegrass Chapter, visit http://www.afpbluegrass.org.