UK MANRRS Students Beautify African-American Cemetery Through Project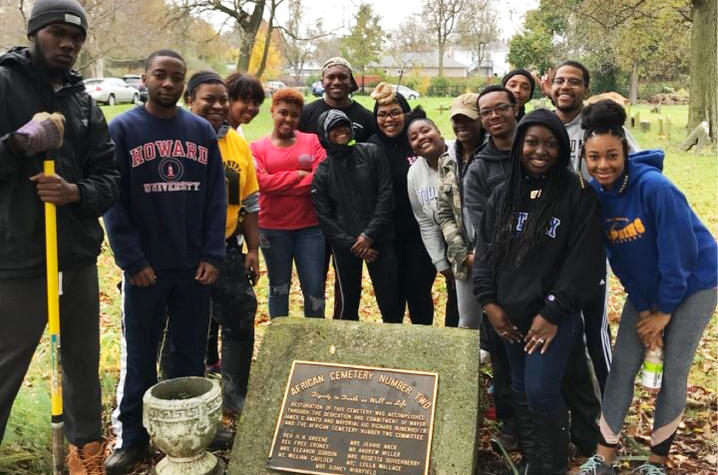 LEXINGTON, Ky. (Nov. 15, 2017) —  Members of a University of Kentucky College of Agriculture, Food, and Environment student organization recently helped beautify the land at Lexington's African Cemetery No. 2.
UK soil scientist Mark Coyne reached out to the UK Minorities in Agriculture Natural Resources and Related Sciences (MANRRS) members for their help in adding some much needed trees to the cemetery grounds. The African-American cemetery is one of Lexington's oldest hidden treasures, having been purchased by The Colored Peoples Union Benevolent Society No. 2 in 1869. Coyne has maintained the grounds with the help of many local community members for several years.
MANRRS leaders agreed to help and partnered with Lexington's Town Branch Tree Experts. Together, they planted more than 50 trees. Getting a chance to learn about history, the students were also able to learn how to plant trees. Coyne said he was grateful for the support.
"We had more volunteers than I was able to count, and because of their hard work we were able to plant more than 50 trees in a little less than two hours," he said. "This site now has over 35 different tree and shrub species that will provide shade, environmental protection, and fall color for the immediate and distant future. It will also be an outdoor laboratory for neighboring schools to come and investigate biology and plant identification. They have made a permanent investment in Lexington for the future."
With more than eight acres, the cemetery contains over 8,000 burials, yet only 1,132 graves are marked. The land is the earliest recorded cemetery owned and managed by African Americans in Lexington and is the resting place of former slaves; veterans of the Civil War, Spanish-American War and World Wars I and II; and some Buffalo Soldiers. This is also the burial site of many African Americans in the equine industry, including Oliver Lewis, the winning jockey of the first Kentucky Derby.
Students will be able to visit the cemetery and see their work grow for years to come. Located on East 7th Street in Lexington, the cemetery is always open to visitors. Kentucky Educational Television will air the documentary "Eight Acres of History: Lexington's African Cemetery No. 2"  at 11 a.m. Monday, Nov. 27.