UK Named Most Bicycle-Friendly College in America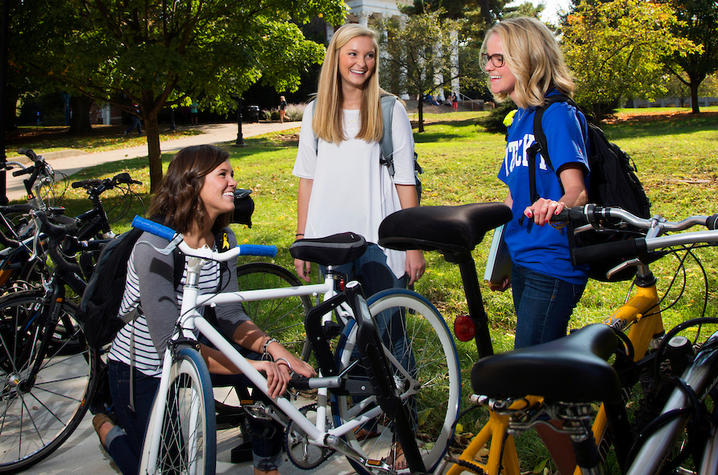 LEXINGTON, Ky. (Nov. 30, 2018) — The University of Kentucky has recently received national recognition for going the extra mile for bike accessibility. 
Bicycling Magazine, the world's leading cycling magazine, has named UK the most bicycle-friendly college in America out of 45 universities, ranging from small liberal-arts colleges to large, public universities. Amelia Neptune, program director at the League of American Bicyclists (LAB), said the university stood out from other schools because of the creative incentives offered to students, staff and faculty and the dedication that the university puts forth toward overseeing the support of cycling. 
"It's truly an honor to have all of the university's bicycling efforts recognized by an organization as well-renowned as Bicycling Magazine," said Sandra Broadus, UK's alternative transportation manager."We still have a lot of room for improvement, but Transportation Services and the Bicycle Advisory Committee (BAC) have dedicated a lot of funding for infrastructure improvements, outreach, education, and incentive programs for cyclists over the last six or seven years."
Bicycling Magazine mirrored their ranking process off of LAB's program, which rates schools who apply for the Bicycle Friendly Award from bronze to platinum based on the "Five E's": engineering, education, encouragement, enforcement and evaluation. Although a rigorous application, the process forces colleges to notice holes in initiatives they have in place and to improve their current bicycle accessibility on campus. 
The university first applied to the Bicycle Friendly Program in 2011, shortly after the inception of UK's BAC, led by Transportation Services, consisting of faculty, staff and students. Since applying for bicycle friendly status in 2011, the university has quickly made its way up LAB's ranking, improving bike accessibility throughout the campus. Earning an honorable mention in 2011, bronze status in 2012, silver status in 2015 and gold in 2018. 
What's next for the university when it comes to bicycle accessibility? Well, quite a bit.
"We've got big things coming down the pipeline," Broadus said. "The national accolades are just more motivation to keep us rolling. We're getting ready to open the university's first indoor bike room, complete with shower stalls, lockers, a fix-it station and water bottle fillers. Wildcat Wheels Bicycle Library is also getting ready to acquire a bicycle parts vending machine, so cyclists will be able to purchase basic parts like a new inner tube or a new chain right here on campus."
"Our major goal for 2019 is to create a comprehensive Bicycle Master Plan for campus, which we haven't done since 2005. That plan should highlight the big infrastructure projects needed to continue building on the progress we've made."
This distinction serves as a reminder of Transportation Services' dedication to making the university accessible and safe for all modes of transportation. 
To see who else made the magazine's list, click here. For more information about UK Transportation Services, visit https://www.uky.edu/transportation/.