UK Celebrates New Gatton Student Center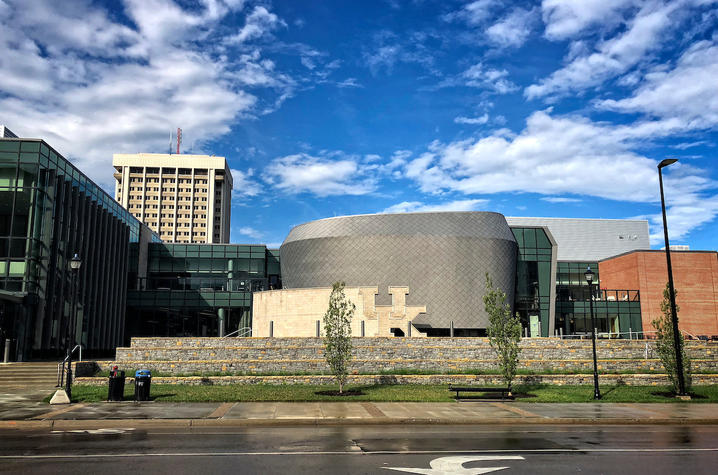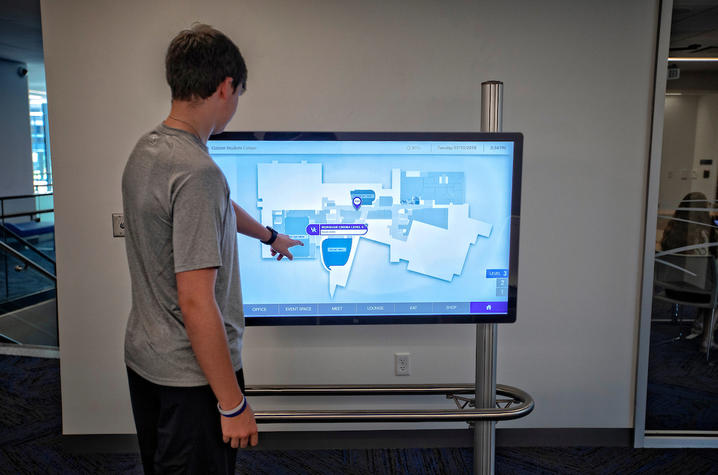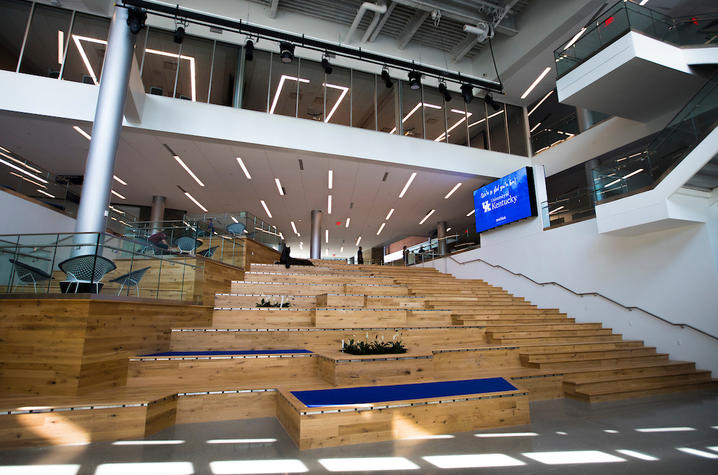 LEXINGTON, Ky. (Aug. 30, 2018) — The new Gatton Student Center at the University of Kentucky is open and welcoming Wildcats. The grand opening celebrating the center will begin 11 a.m. Friday, Aug. 31, and will continue throughout the day. Festivities will feature a few remarks and a Coke toast to the building's namesake at noon.
In addition to the toast, Friday's celebration will include a DJ, performances by student groups, free food, giveaways, a Ben Sollee concert and much more. A list of all the day's activities can be found here: www.uky.edu/gattonstudentcenter/grandopening.
UK's student center is named for businessman and philanthropist Carol Martin "Bill" Gatton, whose $20 million foundational gift made the major three-year renovation and expansion of the building possible.
John Herbst, executive director of the Gatton Student Center, says this is the "culmination of work by many, many students, faculty and staff engaged in the development of the re-imagined and completely transformed Student Center. This is a remarkable tribute to students past, present and future. It celebrates the unique community and culture building experiences that will take place in this grand venue. I believe it will stand out for many years as a pinnacle student center experience among the finest in North America." 
The $200 million, 378,000-square-foot facility is a mix of tradition and modification. It contains modern high-tech spaces for students and visitors while also showcasing Kentucky pride in its history.
The Gatton Student Center offers many of the same programs and services of the old building, but with extensive upgrades. What's inside:
a new, expanded Cats Den;
a new larger ballroom space;
a new on-air studio and production area for WRFL;
technologically advanced meeting rooms;
a high-tech state-of-the-art upgraded Worsham Cinema;
a renovated UK Federal Credit Union;
a new two-story UK Bookstore operated by Barnes & Noble with a Starbucks and Apple Tech store; and
a new space for Wildcard IDs.
Dining space includes retail dining as well as the 750-seat Champions Kitchen — where students and employees can experience multiple dining concepts including a scratch bakery, breakfast station, hand-tossed salad bar and a "worry-free zone" where food is prepared in a gluten-, peanut-, tree nut- and shellfish-free kitchen.
New spaces have also been added to the Gatton Student Center for the students' convenience and experience. New additions to the center include Auntie Anne's Pretzels, interactive maps and wayfinding, a UK Police Office of Community Affairs, a PNC Bank space, a Student Government Association Senate Chamber for use by student organizations and university departments, new spaces for student organizations and the UK Visitor Center. Large outdoor plazas feature fireplaces and rooftop terraces for students or visitors to study, socialize or relax and enjoy the beauty of campus.
Alumni Gym Fitness Center is also incorporated into the overall footprint of the Gatton Student Center. Architects were able to keep the original 1924 exterior of Alumni Gymnasium intact, which can be seen both inside and outside of the Student Center. The gym has a variety of amenities along with healthier refreshment options in the Wildcat Pantry. Alumni Gym is free to students, and employees have the option to purchase a membership.
Philip Latiff, associate director of business and operations at Gatton Student Center, praised the collaboration between the past and future: "We've tied the historic legacy part of the space into the cutting-edge new pieces, and I think they did it in a really seamless way."
The student center also features artwork as well as tributes to Kentucky within the architecture. The carpets in the ballroom are an interpretation of the Lexington city map. The social staircase not only features the embedded letters of the university fight song, but the detailed design was inspired by the way water carves through Kentucky limestone in the creeks and riverbeds at Raven Run and is meant to reflect the river of knowledge flowing through the university.
The Gatton Student Center was created with the idea of building a bridge to the next generation and that's exactly what Brandon King, a Gatton Student Center tour guide and College of Nursing student, thinks it does. "I enjoy having a student space dedicated for the students, and that's represented in its architecture and facilities as well."
The student center is open from 6 a.m. until midnight seven days a week during regular academic terms, with events held during these times such as films or gatherings for students in the Cats Den.
Tours of the Gatton Student Center are available Monday through Friday. Learn more about tours here: www.uky.edu/gattonstudentcenter/student-center-tours. Information about room rental rates for university departments and outside organizations can be found here:  https://www.uky.edu/gattonstudentcenter/rates.
UK is the University for Kentucky. At UK, we are educating more students, treating more patients with complex illnesses and conducting more research and service than at any time in our 150-year history. To read more about the UK story and how you can support continued investment in your university and the Commonwealth, go to: uky.edu/uk4ky. #uk4ky #seeblue