UK Opens Interfaith Prayer and Meditation Room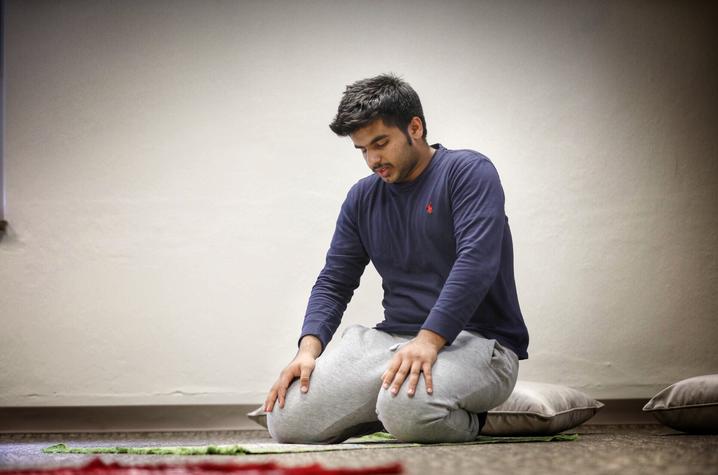 LEXINGTON, Ky. (Feb. 17, 2017) — Last October, members of the University of Kentucky Board of Trustees met with a group of students who represent the rich tapestry of diversity across the campus. From the conversations that took place in October's meeting, an idea emerged — an idea to open a new interfaith prayer and meditation room on campus available to students, faculty and staff from all backgrounds, perspectives and religions.
Yesterday, many of those students, members of the Board of Trustees and the campus community came together to celebrate the fruition of that idea and the dedication of the space in room 76 of McVey Hall. This space will be the temporary home of the meditation and prayer room until permanent space can be located in the new UK Student Center next year.
The new space is more than five times larger than the previous location in Bradley Hall and more centrally located on campus.
"We are committed to a campus community where everyone who calls this special place home feels a sense of belonging. A key element in creating that community is a range of initiatives and programming that provide and promote rich, diversity-related experiences for the entire campus community — whether a cultural exchange, global experiences with food and entertainment, or a simple space like this one that provides an opportunity for quiet reflection across faith traditions," UK President Eli Capilouto said. "The dedication of this space in McVey Hall as an interfaith prayer and meditation room is another illustration of our commitment to community."
Terry Allen, UK interim vice president for institutional diversity, said the new space will aid in sustaining a culture of belonging for all members of the university community.
"Our shared values of integrity, mutual respect and human dignity, and diversity and inclusion take a step forward with this initiative," Allen said. "We owe a special thanks to the students that challenge this institution to become better."
During Thursday's grand opening, UK freshman Yousuf Al Mamari was excited to see the new space he plans to utilize as part of his everyday life on campus.
"I think it's a great place for Muslim students especially because we have five prayers a day. We have class but when we have a break we can come here and pray," Al Mamari said. "It's easy for us. I would like to thank UK."