UK Professor Offers Tips for Lighting on a Budget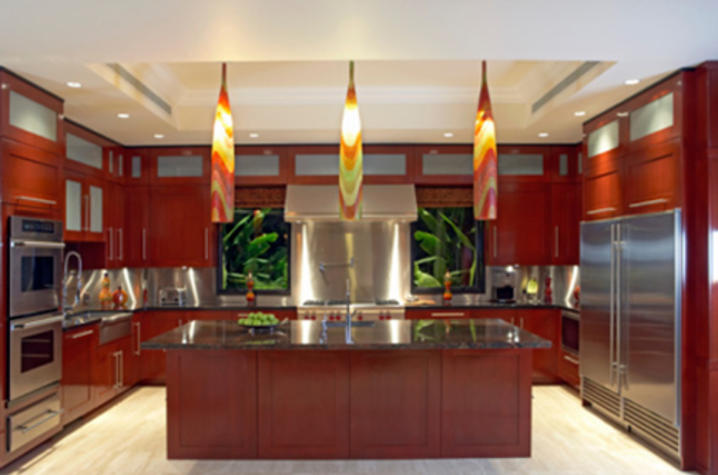 LEXINGTON, Ky. (Jan. 7, 2011) − There's good news for homeowners wanting to freshen up their décor without splurging on new furniture in the living area or a costly renovation in the kitchen or bath. A few simple – and budget-friendly – changes in any room's lighting will make a noticeable difference. Regardless of which room needs updating, the correct lighting choice is the most significant single factor in a room's decorative appeal notes the American Lighting Association (ALA) and Joe Rey-Barreau, of the University of Kentucky College of Design.   
"You can even achieve the look of custom lighting on a limited budget," says Rey-Barreau, a certified lighting designer, education consultant for the ALA, and associate professor at the UK School of Interior Design. "I find the best way is to use sconces whenever possible. The majority are very reasonably priced. The ideal type of sconces for achieving the best effects are either very small – which brings attention to them – or versions that direct the light upward."
Libbe Milicia, director/decorative product development for Progress Lighting, agrees that putting extra illumination on the wall can make a significant impact. "Adjustable swing-arm lamps are available in direct-wire and plug-in models for maximum flexibility. Not only do they serve as decorative elements, but they also add an extra layer of light," she says.
"Consumers have a 'less is more' attitude today, so the products purchased must represent quality, functionality and performance," says Milicia. "Wall sconces can function as tableside reading lamps in place of a traditional table or floor lamps to suit less-cluttered interiors."
If dual functionality is the goal, consider one of the new energy-efficient ceiling fans. "There are some amazingly interesting light kits for ceiling fans that can create a focal point in any space," Rey-Barreau says." Those that have indirect light shining above the motor offer a lot of visual appeal and can make a room look larger."
Another good technique is to hang mini-chandeliers in numerous areas of the home. "Many small-size chandeliers are affordable and provide a lot of aesthetic bang for the buck. I recommend using only chandeliers with shades; decorative lighting should not have the bulbs visible," Rey-Barreau says.
Kitchen Lighting
If you're looking to add some visual oomph for the kitchen without springing for new cabinets, countertops or appliances, try colorful pendants. These highly affordable fixtures are perfect for putting aesthetic and functional punch in dining rooms and entertainment areas, according to Rey-Barreau.
Not enamored with pendants? No problem. Milicia suggests another cost-conscious option: interior hanging lanterns. "There are many functional – yet decorative – models that would enliven a kitchen. You can hang the lanterns individually over a breakfast nook for extra light, or place them in multiples of two or more over the kitchen island. It's a fresh approach that earns points for style in a non-traditional fashion," she says.
"If you want to have less energy consumption and a lower budget, consider a linear chandelier, which will cover more surface area than pendants while achieving maximum performance."
Another way to update a kitchen is to use a small chandelier with glass or fabric shades. "Shades are critical because they control glare, and also direct light down to the surface of the island," say Rey-Barreau. "You could also use one over the breakfast nook."
Installing LED undercabinet lighting is one of Rey-Barreau's favorite ways to increase functional illumination at the countertop work area. "One of the most interesting styles is very tiny 'tape' LEDs where single LEDs are actually embedded on a roll of tape that can be attached to the underside of the cabinet," he says. "The tape has an adhesive on one side, so it's as simple as putting Scotch® tape on a surface."
Bathroom Lighting
The typical master bath renovation is costly, but installing some new lighting is not only much cheaper, but can yield just as much impact to anyone using that space. "I always recommend at least three layers of light," Rey-Barreau says. "The primary one would be at the vanity, which is best achieved with lighting above and on the sides of the mirror. Although not my preference, small recessed lighting above the mirror can also create a very dramatic effect."
If you like the look of recessed, Milicia suggests mounting the downlights 24 to 36 inches on the centers between your face and mirror. She also suggests placing wall sconces on either side of the mirror to help reduce shadows that could be cast on the face and to supplement the ambient lighting.
How much illumination is enough? Rey-Barreau says the lighting at the vanity should be approximately 120 watts of incandescent at the top of the mirror and 60 watts on each side. If you're using compact fluorescent bulbs, that would be approximately 30 watts at the top and 15 watts on the sides.
The second layer of lighting he advises is to have an overhead fixture. "The most dramatic would be one that is close to the ceiling and provides both direct and indirect light," Rey-Barreau suggests.
Want another nice luxury touch? Install a simple, UL-listed shower light. This is not a standard feature in many builder homes and is a highly functional amenity. Milicia adds, "Accent lighting with natural textures will offer a pampered touch to any vanity and provide more bang for the buck."
Bedroom Lighting
Looking to romance the bedroom a bit? Rey-Barreau recommends wall-mounted picture lights. "These can be either permanently installed or they can be plugged into an outlet (with the wire concealed by a decorative cover)," he explains. "This type of lighting brings a high level of sophistication, and also creates a soft type of indirect light as it illuminates the painting or print." 
Similarly, wall sconces on either side of the bed add a fresh visual element while performing double-duty as task lighting, according to Milicia. Decorative accents such as styles featuring hand-forged ironwork or textured forged leaves will bring a romantic, rustic flair to the space, she says.
No matter which room you choose to update, big differences at a modest price can be made by the careful selection of lighting. Visit www.AmericanLightingAssoc.com to view products and find a store in your community.