UK recognized as a Military Friendly School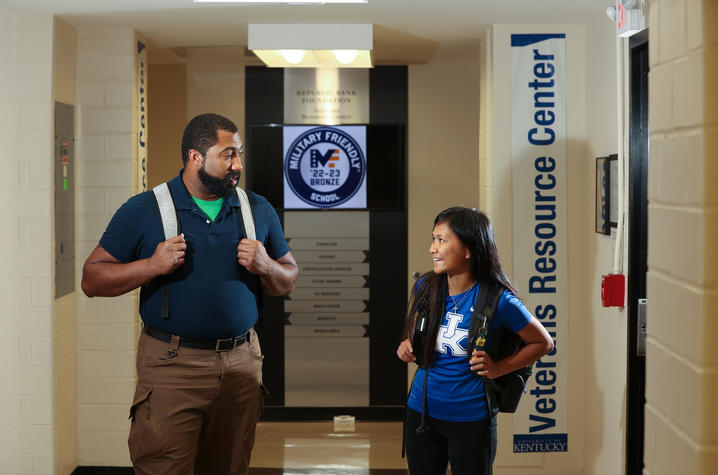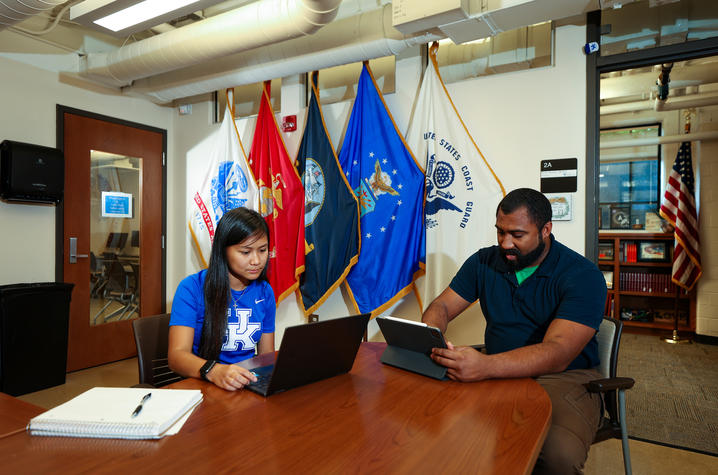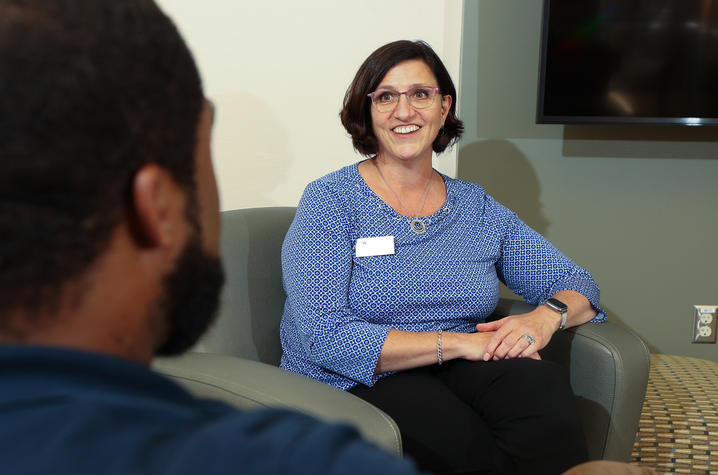 LEXINGTON, Ky. (Sept. 20, 2022) — For Harry Smith, Lexington native and mechanical engineering and mathematics major, it all started in 2015 with free printing services.
"Coming out of the service I initially tried to avoid interacting with the veteran scene, but when I heard of the free printing opportunities, I was intrigued by the Veterans Resource Center (VRC)," Smith said. 
Housed in the Office for Student Success, the University of Kentucky Veterans Resource Center — located in the Republic Bank VRC facility — works to ensure that student veterans have a smooth transition to college by providing support, community and resources.
After Smith slowly continued to come around, he realized all that the VRC could offer him, outside of free printing services. 
"The VRC has provided me with financial, educational and networking opportunities that have really helped with my transition into college and the workforce," Smith said. "The thing about the VRC is that there is always someone in that office who has been where you currently are, they've taken those classes and can pass on the techniques and tips necessary to succeed here on campus."
Jerone Capili, neuroscience major and biology minor from the Philippines, has had similar success with the VRC. 
"I wanted to meet other veteran students, so I went to Erickson Hall to see what the VRC had to offer, and the rest is history," Capili said. "They have great staff whose sole purpose is to help you succeed at UK."
UK students aren't the only ones taking notice. 
Recently, UK earned the 2022-2023 Bronze Level Military Friendly® Schools designation and the Military Friendly Spouse Schools designation.
The Military Friendly Schools survey is the longest-running most comprehensive review of college and university investments in serving military and veteran students. Award-level schools have gone above and beyond the standard, showing true commitment and dedication in their efforts to support military students.
"Earning both the Bronze Level of the Military Friendly® Schools designation and the Military Spouse Friendly Schools designation is very meaningful to me," Beth Austin, director of the VRC, said. "In my time as director of the VRC, I have heard continual pledges of support and gratitude for our student veterans and military-connected students from UK leadership, colleagues and students. Now we have third-party confirmation that the University of Kentucky is a welcoming and supportive institution for military veterans and military spouses.
"I am grateful for the partnership with my colleagues from Institutional Research, Analytics and Decision Support (IRADS), Chris Thuringer and Kim Wielgus, as we worked together and carefully considered a wide variety of data as we prepared this year's Military Friendly Schools survey."
Institutions earning the Military Friendly Schools designation were evaluated using public data sources and responses from a proprietary survey. Final ratings were determined by combining the institution's survey responses and government/agency public data sources within a logic-based scoring assessment, then measuring the institution's ability to meet and exceed thresholds for retention, graduation, job placement, repayment, persistence and loan default rates for all students and specifically, for student veterans.
Over 1,800 schools participated in the 2022-2023 survey, 665 schools earned award-level designations in Gold, Silver and Bronze for their leading practices, outcomes and effective programs.
"I have heard the VRC referred to as 'a hidden gem' and 'the best-kept secret' on campus. I want the VRC and the supportive resources and services we provide to be well-known to all student veterans and military-connected students at UK," Austin said. "I have devoted my entire career to working with the military community, and I am excited to be able to do this work here at UK. My plan is to listen carefully to our veteran military-connected population and to continue to expand the programming and resources that best fit their needs. This is a challenge I am delighted and honored to accept."
UK also recently ranked in the Top 100 of the Military Times Best for Vets Employers rankings. In its 13th year, the Military Times' Best for Vets Employers rankings are based on the results of a voluntary survey that covers the policies and practices that make companies an attractive place to work for current employees and future job seekers within the military community, taking an analysis of a company's efforts to recruit, retain and support current and former service members, military spouses and military caregivers.
While outside recognition is a great indicator of the effectiveness of university programming, it is testimonies like Smith's and Capili's that illustrate the commitment of the VRC to serving the military community, and it is the people in the office who truly move the needle on what is possible. 
"Every visitor to the VRC is warmly greeted by a friendly smile every time, and every effort is made to provide the assistance that every visitor needs," Austin said. "That is the 'secret sauce' that makes UK stand out as a military-friendly school."
The Republic Bank VRC is located on the ground floor of Erickson Hall. Thanks to the Republic Bank Foundation, the VRC has recently undergone a renovation and expansion, allowing for improved support for UK's military and veteran populations.
To learn more about the VRC at UK, visit its website here.
At the University of Kentucky, students are at the center of all that we do. From the moment you become a Wildcat through graduation and beyond, the Office for Student Success is committed to supporting you. Comprised of five areas and 25 units, together, they have one vision — to help students live a life of meaning. Student Success works through an equitable, holistic and inclusive lens to design and deliver unparalleled services and support a diverse community of learners in achieving their wildest ambitions. In the Office for Student Success this is what we do — this is who we are. You can explore resources available to you here. If you have additional questions, you can reach a Student Success team member by calling the helpline 859-218-YouK (9685).