UK's Bicycle Friendly University Status Goes Gold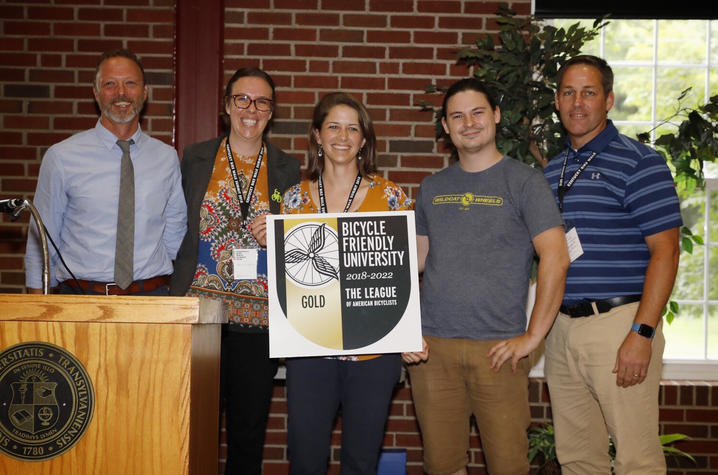 LEXINGTON, Ky. (Aug. 23, 2018) — The University of Kentucky's Bicycle Friendly University status has gone gold. UK was notified recently by the League of American Bicyclists that it has been awarded the first gold level designated university in not only the Commonwealth, but in the entire Southeastern Conference (SEC).
"I am extremely proud of the progress we have made over the past decade and am grateful for our campus partners that have contributed funding as well as their time, effort and energy toward improving campus bicycle infrastructure, increasing bicycle awareness and education, and establishing programs to further bicycling as a viable commuting option," said Lance Broeking, director of Transportation Services, after learning of the status update.
Kentucky currently only has four other Bicycle Friendly Universities (BFUs): Morehead State University (Silver), Transylvania University (Bronze), University of Louisville (Silver) and Western Kentucky University (Bronze). Nationwide, there are 182 BFUs: five Platinum, 21 Gold, 53 Silver and 103 Bronze. Georgia Tech (Georgia Institute of Technology) is the only other Gold BFU in the southeastern U.S.
The League of American Bicyclists, a nonprofit organization, grants universities' their bicycle-friendly status. The program evaluates each application based on the institution's efforts to promote bicycles based on the five Es: engineering, encouragement, education, enforcement and evaluation/planning. The goal of these evaluations is to recognize higher education institutions for making campus more bicycle-friendly.
Sandra Broadus, UK's alternative transportation manager and campus lead on all bicycle programs and infrastructure, accepted the award on behalf of the university at the Kentucky Bike Walk Summit on Friday.
"I am so honored by this award, and happy to have been able to contribute to making my alma mater more bicycle friendly. This gold status sets UK apart from other schools both in the Commonwealth and throughout the region, and really exemplifies Transportation Services' commitment to making all modes of transportation convenient and accessible," Broadus said.
Since the inception of the BFU program, UK has worked to increase its ranking. In the spring of 2011, UK earned honorable mention status. In the fall of 2012, UK moved up to bronze status, and in 2015, ascended to silver status. And now, UK has achieved its gold ranking.
"The University of Kentucky has shown incredible progress and commitment to bicycling since it first applied to the Bicycle Friendly University program in 2011," said the League's Bicycle Friendly America Program Director Amelia Neptune.
UK's Bicycle Advisory Committee (BAC), headed by Transportation Services, is composed of faculty, staff and students and was created in 2011. Since then, the BAC has been responsible for steering our bicycle-friendly campus to reach its new status.
UK Transportation Services has developed and nurtured numerous bicycle programs including the Wildcat Wheels Bicycle Library (founded in 2004), the Big Blue Cycles program, departmental bikes and much more. The Wildcat Wheels Bicycle Library also helps teach cyclists how to fix their bikes in a hands-on environment.
In addition, UK offers a bike voucher program, free commute planning assistance and free bike permits to help deter bike theft. Most recently, the university entered into a partnership with Spin, a stationless bikeshare service, to help increase mobility across campus. More information about the Spin partnership can be found here and a comprehensive list of UK bike programs can be found here.
"UK is well-positioned to continue improving, most notably in hiring an alternative transportation manager, continuing to invest in bicycle infrastructure on campus and introducing innovative policies and programs like the Cash Out Program," Neptune said.
The BAC also focuses on cycling education in the form of many bicycle-related events that aim to encourage students and employees to use bicycle as their primary form of transportation, such as  Pedalpalooza, Bike Week, Winter Bike to Campus Day and more. To learn more, subscribe to Transportation Services' Bike E-News.
For more information on parking options and transportation alternatives, visit www.uky.edu/transportation. UK Transportation Services is also on Twitter @UKParking or tune into 1700 AM (WQKH 253) to hear daily campus parking and transportation updates. The station broadcasts 24 hours, seven days a week.