UK Social Work Ph.D. Grad Is Meant to Serve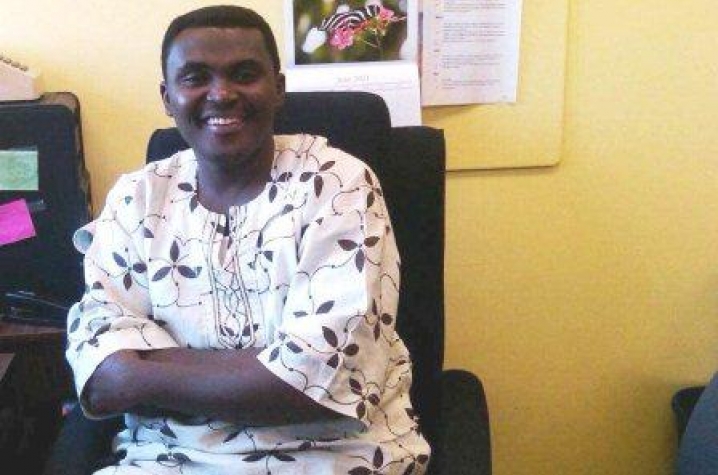 LEXINGTON, Ky. (June 24, 2011) — Christson Adedoyin is passionate about people. The energy and enthusiasm he exudes when helping others is unmatchable — except for perhaps his faith.  He believes divine intervention led him to the University of Kentucky in 2007 and to his recent doctoral degree in social work from UK.
Adedoyin throws himself headfirst into his work, becoming an authority on whatever project he undertakes, from how to best educate African Americans in the U.S. about the most effective media interventions for cancer screening, to evaluating the Fayette County Model Court program's adherence to national best practices — all experiences he had while in the social work program and working with the College of Social Work's Training Resource Center.
Adedoyin's time working in the Fayette County court system was "emotional and eye-opening," as there are no properly organized and formal family or child welfare courts in many African countries. "You have these kids, and their parents are abusive or undergoing court-mandated rehabilitation, but they don't want to leave," he said, his face growing solemn. "It's very humbling. You see the world from a child's perspective. Kids are unaware of the dangers that they are faced with."
As much as Adedoyin loves his work in the social work field now, there was a time when his life could have taken a most divergent path.
A native Nigerian, Adedoyin was still living there after completing college when he was given a choice of going into banking or finance, neither of which interested him. During his call to National Youth Service, a program for all university graduates mandated by the Nigerian Government, Adedoyin realized that he wanted to work with people.
Adedoyin's parents did not support social work as a path of study for him, so he compromised with them and settled on information science.  However, the true turning point in his career came after his mother was diagnosed with a terminal disease and his father had a stroke.
Spiritual health is combined with medical interventions in Africa, so Adedoyin and his brother took both parents to visit a highly recommended healing evangelist in his state as part of their treatment. After waiting in the car while his parents were seen by the evangelist, Adedoyin eventually went to check on them and was shocked when the evangelist, who no one in the family had previously encountered, directed his spiritual words at Adedoyin.
"The evangelist asked my parents why they were stopping this boy from doing what he wanted to do," Adedoyin said. "Social work was what I had been created to do, and here was spiritual proof."
The evangelist also told Adedoyin to go back to a relationship with a young woman that he had previously broken off and make her is wife. Adedoyin did as the evangelist instructed, now with his parent's approval.  For the evangelist to turn his attention to Adedoyin and away from Adedoyin's unwell parents was obviously important, he said. "Spirituality is a defining part of our lives in Nigeria.  It decides the way we live. I am not on my own. I have a divine compass." 
The journey toward Kentucky was now taking shape.  Adedoyin received his master's in social work in Nigeria and then began looking for doctoral programs in the United States and Britain. He decided on Kentucky, after receiving enthusiastic feedback and encouragement from Professor David Royse, the director of the Ph.D. program in UK's College of Social Work.
"No matter what question or problem I might have had, UK's College of Social Work was going to help me and figure out a way for me to come and study here," said Adedoyin who resigned from a good job with university administration and left his wife back home in Nigeria for three months to get settled in Kentucky. Most of his peers didn't understand what or why he was doing what he was doing.  Even when he was in the U.S. consul's office in Nigeria to explain why he was going to Kentucky, a consular official recommended he live in a more cosmopolitan city than Lexington.
"But I always remember that day with the evangelist," Adedoyin said. "This was my prophetic assignment and direction for life, so I had to follow it." Now, he can't imagine doing anything else. And he can't imagine having gone anywhere else but UK for his doctorate in social work.  "I go at my own pace here. The faculty and the community have all been great in their assistance to me."
Adedoyin's wife, Oreoluwa, is now pursuing her doctorate in Pharmaceutical Sciences at UK. And they both love Lexington.