UK Social Work Pioneer Will Be Missed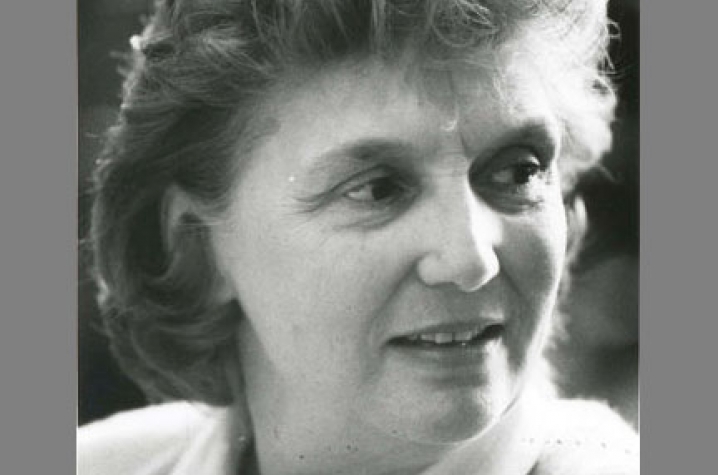 LEXINGTON, Ky. (Aug. 5, 2010) - University of Kentucky College of Social Work professor Constance "Connie" P. Wilson transformed mental health, child welfare and social work education in her five decades of service to the public and private sectors of Kentucky
Wilson, who was instrumental in starting the college graduate program at UK, died Monday, Aug. 4, at age 86. She is survived by husband P. David Wilson and three sons: Warren Wilson of New York City, Wayne Wilson of Lexington and Paul Wilson of Versailles.  She was preceded in death by another son, Dwight Wilson of Lexington.

"It can be said with no hyperbole that Connie and her friends…changed the Commonwealth in fundamental ways during the years they were lobbying for improved social policy and practice," said Jim Clark, associate dean for research in the UK College of Social Work and UK Constance Wilson Professor of Mental Health.
Long before it was fashionable to talk of interdisciplinary and professional collaboration, Wilson fought for  broad-based educational programming linking the helping professions into a unified, leadership-focused graduate education to serve Kentucky.
Her dream came true in 1980 when psychology, social work and gerontology came together to form UK's College of Social Work. The humble but opinionated social work professor served 43 years and was graduate studies director of the college from 1979 until 1997.
Wilson's previous students call her an "inspiration," and many based their social work values and beliefs on her teaching. "I 'strayed from my home state,' however, I never forgot the voice of my social work professor telling me to stay true to myself, to the field of social work and most importantly to the individuals and groups who 'were on the other side of the desk' -- those without the power to totally control their life's situations," said one former student.
Wilson was the first woman elected as a faculty trustee on UK's Board of Trustees and served three terms. She also was the first woman to be elected chair of the UK Senate Council, and the first female faculty member inducted in the UK Chapter of Omicron Delta Kappa.
"For many women, Connie Wilson was a tremendously important role model because she showed young women ... if you work hard you can do it all," Kay Hoffman, former dean in UK's College of Social Work, told the Lexington Herald-Leader.
Wilson was a founder of the Central Kentucky Mental Health Association in 1965, which incorporated Kentucky's first regional mental health board. She was an advocate for children as well, supporting the establishment of the Kentucky Child Welfare Department and helping to found the Kentucky Child Welfare Foundation.
"Connie was that rarest of educators: A real-life prophet," said Clark. "She taught by leading and led by serving. Through her beautiful life of public service, she helped us choose lives of meaningful service. Not easy, not financially lucrative, not free of conflict and distress, but meaningful and hopeful lives."