United Way: Neighbor Helping Neighbor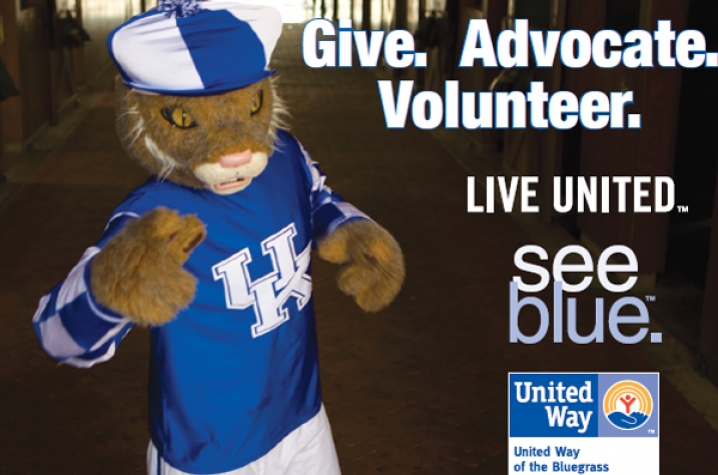 LEXINGTON, Ky. (Oct. 2, 2009) – Live United…for your community, for your neighbor, for your co-worker.
The annual University of Kentucky United Way (UKUW) campaign is in full swing through Oct. 31. At some point over the next four weeks, each employee will be asked by a United Way volunteer from their department to consider making a contribution. 
In a recent e-mail, UK President Lee T. Todd Jr. encouraged all employees to join him in making a pledge during the 2009 United Way of the Bluegrass Campaign. Participation in the fundraising effort is voluntary.
"Even though we continue to face economic challenges, I am confident that the UK family can be counted on once again to do our part. United Way makes it possible to do things no one person or organization can do alone," said Todd.
Last year, UK employees and retirees contributed more than $458,000. Each individual's donation provided basic needs and crisis services to more than 42,000 individuals and families, including some in the UK community. 
UK's goal this year is $500,000 for United Way of the Bluegrass, which recently announced a new regional agenda to deal with specific local challenges suggested by surveys completed by more than 1,000 Central Kentuckians. This Agenda for Change focuses on three areas – education, income and health – to equip Central Kentuckians with the tools and resources necessary to help themselves, to provide for their children and to realize stable futures.
"This year, the needs may be even greater given the state of the economy.  I am confident that UK employees can be counted on once more to do their part in sustaining these life-enhancing and even life-preserving services for others in need," said UKUW chair James W. Tracy, vice president for research.
Beginning today, pledge forms will be available to all faculty and staff through a UKUW cabinet member or department solicitor or online with instructions.  Employees can contact the cabinet member designated for their college or administrative area for campaign events and details in your area. 
"Your generosity and involvement matter. Thank you for your support of the United Way of the Bluegrass and your dedication to our community," Todd added.
For more information about the UK campaign, visit www.uky.edu/uw. 
.