VIDEO: How UK's Disability Resource Center Helped Jennifer Harris Succeed
Video produced by UK Public Relations and Marketing. To view captions for this video, push play and click on the CC icon in the bottom right hand corner of the screen. If using a mobile device, click on the "thought bubble" in the same area.
LEXINGTON, Ky. (Feb. 22, 2019) — Each year, the University of Kentucky Disability Resource Center (DRC) serves close to 2,500 students with a wide range of disabilities.
"We assist with the determination and provision of academic, housing, dining and parking accommodations for UK students with disabilities to ensure equal access to post-secondary education opportunities," said David Beach, director of the DRC.
The office works to make sure all eligible students receive the appropriate accommodations on campus, from providing accessible programming to coordinating interpreting services.
"We are here to make sure that the classroom setting is such that they have an equal opportunity to get the instruction they need in a way that they can best express their knowledge," Beach said. "We develop relationships with them. We become their advocates and their cheerleaders. We love to see them cross the stage at graduation and we love when they come back and share their successes in life with us. This is what motivates us and brings us back to work every day ready to make a positive impact on our students."
Beach was especially motivated by the story of a recent graduate of UK, Jennifer Harris. The Danville native, who studied architecture, is deaf. Beach said Harris faced many barriers throughout her life but has never let that stop her.
"With Jennifer, a lot of her support centered around the provision of interpreters and making sure that they were available, and the instructors knew how to interact and understand some of the etiquette around working with students that are deaf," Beach said.
Harris feels thankful for the support.
"They did such a wonderful job just meeting every need during my entire career here at UK — especially with providing my interpreters, making sure I had skilled interpreters that met my needs and my preferences, but that also were capable and competent to understand architecture in and of itself because that can be a difficult topic to interpret," Harris said.
Beach views the DRC as a crucial part of the university's efforts to build belonging on campus.
"Our office works with students, faculty and staff to craft individualized accommodation solutions to create a community of inclusion," Beach said. "We seek to work with our campus and community partners to create an environment that allows students with disabilities to discuss their needs for accommodation without fear of judgment or reprisal and to allow them to enjoy access all of the other campus facilities and activities."
Watch the video above to learn more about how the DRC supported Harris and discover what words of encouragement she would give anyone facing obstacles in life.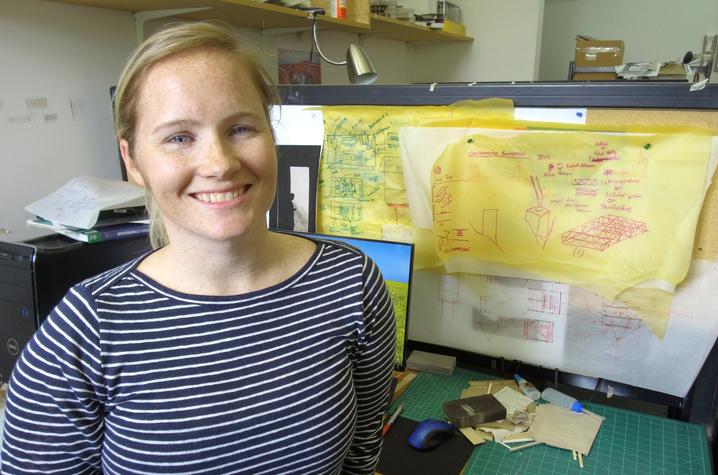 Seventy years ago, Lyman T. Johnson forced open the doors of the University of Kentucky by becoming the first African-American student. He, along with countless others, opened a door and created a path for us to follow. It's the idea that anyone — regardless of who they are, the color of their skin, what they believe, how they identify themselves, or where they are from — can find a place at the University of Kentucky. Yet, our story demands that we acknowledge progress on this path has not been a straight line. There have been moments where we have, as an institution, not honored our aspirations. Those moments provide a compelling reminder that building a community of belonging is a journey, not a project. This month, as part of Black History Month, we are chronicling the stories of the trailblazers, innovators and champions, who bravely stepped forward or are pushing us ahead today. Their stories speak to us and guide us still.