VIDEO: UK Students Honor Winners of the 2018 Great Teacher Awards
LEXINGTON, Ky. (Jan. 31, 2018) — Six University of Kentucky educators have been officially named recipients of the UK Alumni Association 2018 Great Teacher Award. They received their public recognition, award and reward last night.
The recipients are:
Read below and watch above what the students who nominated their teachers had to say about them:
Dadi: Civil engineering graduate student Zamaan Al-shabbani, a student, teaching assistant and research assistant of Dadi, said, "He teaches his classes in a way that makes students interested in the materials and in attending class. He always encourages students to ask questions, and he elaborates answering the question to cover all aspects of the question in detail." Al-shabbani added that Dadi is "fair and consistent with his students and his classes are informative and provide real world skills that can be used (at the) construction site." Civil engineering doctoral student Elyas Jazayeri describes Dadi as a "young and passionate professor" and a "pioneer in his research field" with "great confidence." But that is not why Jazayeri nominated Dadi. "Creativity is one of the features that (Dadi) is great at; he always uses new and creative materials in his classes. Students are comfortable talking and discussing in his class. The way he (talks) to students is very unique, and you feel like you are discussing your problem with your friend."
Fuentealba: Ethan Khazali has taken a number of classes taught by Dr. Fuentealba and he believes that his professor "genuinely cares about his students and wants them to succeed. He has made himself available to his students even after school." Khazali also pointed out Fuentealba's dedication to Mission Lexington Dental Clinic, a clinic where the underserved can receive free dental care. "He takes time away from his family to give back to those who need it most." Another of Fuentealba's students, Karah Brown, agreed that he has a special way of teaching. "Although Dr. Fuentealba is known as being a difficult professor, he is one of the reasons why UK College of Dentistry graduates such fantastic clinicians. The bar is set high for (his) class for a reason. He wants us to be good at what we do. He deals with students' questions in a way that challenges us."
Minkova: Laura Manning, a graduate student in educational sciences, admires Minkova for her expertise. "The depth of subject knowledge she has cultivated is astounding, really, and it comes forth in every professional context. She is very wise in the presentation of content, so that students are engaged. Her responses to students' questions are competent, comprehensive and comprehensible." Manning went on to praise Minkova's creativity in the classroom. "She gives voice to the people of the past, so that it comes alive. She teaches her students to hear these voices when reading literature." She was full of admiration when she describes the comfort students feel in Minkova's presence. "(She) is a professor that students are comfortable to go to in order to discuss not only matters directly relating to coursework … , but also for navigating difficult life situations and striking a career-life balance."  
Paratley: A senior in natural resources and environmental science, Cecelia Tio describes her professor, Robert Paratley, as "undoubtedly one of the smartest people I have ever met. You could put this professor in the middle of woods, with no prior knowledge of the area, and he could identify almost every plant and tell you its history." Describing an experience she had with Paratley during a group research trip to Costa Rica, Tio said, "He would take us on hikes in the rainforest and be able to identify almost every plant and tell us about them. … It's very hard to be able to identify plants at such a level because there are hundreds of thousands of plants that live in the rainforest ecosystem." Back in the classroom, she describes her professor as "always enthusiastic and engaging. He always answers students' questions with the utmost respect and no question is too dumb in his class. He makes students feel like equals and individuals rather than a name on a roster."
Sachs: In addition to his admiration for his professor's language and research skills, UK junior Jourdan Owens believes that the time Sachs spent living in France improved his talent, "as such (he) can speak accurately to a variety of French mannerisms, customs and the French way of life." Sachs encourages his students to speak and write in French as much as possible, and to make liberal use of a translating dictionary and student essays written entirely in French. "He stresses that it is far more important to speak haltingly, but still in fact speak, than it is to not attempt to use that 'muscle' of forming coherent thoughts in a new language at all." The students' attempts are always met with the utmost respect and patience. "Dr. Sachs is incredibly invested in the continued success and growth of his students. He makes himself available to talk over difficulties … and devotes a large amount of time getting to know the particular strengths and weaknesses of each student."
Swetnam: It's no secret why Swetnam was recently named associate dean for students in the College of Design. The devotion created in his students is quite obvious. Graduate student Kathryn Sanders recognizes Swetnam's "extensive experience and knowledge as a practicing architect," but it was the way he shares that knowledge and experience that impresses Sanders. He "encourages hands-on learning," Sanders said. To instruct students on the acoustic properties of buildings," Swetnam took his class to the UK Singletary Center for the Arts to test sound levels of different noises with decibel meters. "He dedicates an abundance of his time and resources to his students and any projects they need help with," she said. For example, Sanders explained, he facilitated a studio for students interested in humanitarian architecture to work on one of his own projects, designing an expansion of a Haitian orphanage. "He used his Kentuckian Masonry Institute Endowment," she said, "to create the opportunity for the students to travel to the site and understand the project on a more complex level."
Award recipients were honored at the UK Alumni Association Great Teacher Award Recognition Dinner last night at the Hyatt Regency in Lexington. They were recognized during the Vanderbilt University vs. Kentucky men's basketball game later that evening as well.
The Great Teacher Award, started in 1961, is the longest-running University of Kentucky award recognizing teaching. In order to receive the award, educators must first be nominated by a student. The UK Alumni Association Great Teacher Award Committee, in cooperation with the student organization Omicron Delta Kappa, then makes the final selections. Recipients receive an engraved plaque and monetary reward.
The UK Alumni Association is a membership supported organization committed to fostering lifelong engagement among alumni, friends, the association and the university. For more information about the UK Alumni Association or to become a member, visit www.ukalumni.net or call 1-800-269-2586.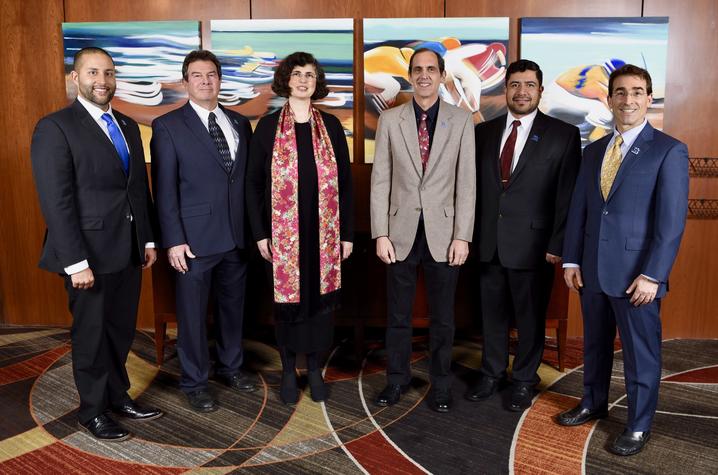 UK is the University for Kentucky. At UK, we are educating more students, treating more patients with complex illnesses and conducting more research and service than at any time in our 150-year history. To read more about the UK story and how you can support continued investment in your university and the Commonwealth, go to: uky.edu/uk4ky. #uk4ky #seeblue