American Nurses Association President Discusses Shifts in Health Care During Nursing Leadership Lecture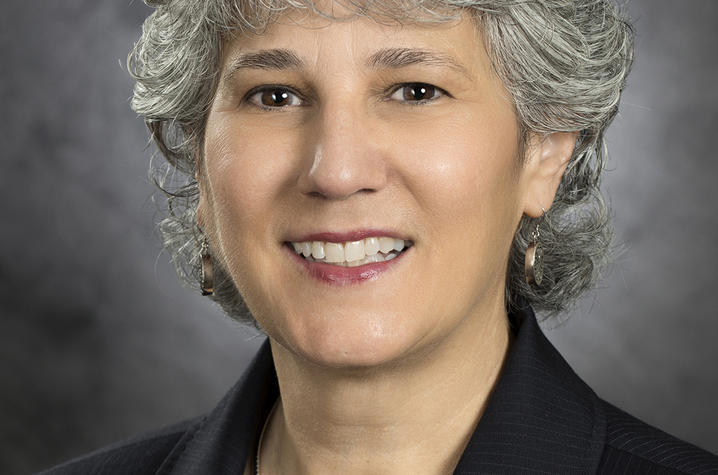 LEXINGTON, Ky. (April 20, 2016) — President of the American Nurses Association (ANA) Pam Cipriano will discuss the influential role of nurses at a turning point in the nation's health care system during a lecture at the University of Kentucky Chandler Hospital on Friday, April 22.
The 35th president of the largest nurses association in the nation will deliver the final presentation part of the Nursing Leadership Lecture Series, presented by UK HealthCare, the UK College of Nursing, and the Kentucky Nurses Association (KNA). Open to UK students, faculty and staff, and members of the KNA, the lecture starts at noon in the UK Chandler Hospital Pavilion A Auditorium.
Throughout her career, Cipriano has held executive positions in health care systems, academic institutions and national professional organizations. In 2015, she was named one of the "Top 100 People in Health Care" and one of the "Top 25 Women in Health Care" by Modern Healthcare magazine. Prior to becoming ANA president, Cipriano was senior director for health care management consulting at Galloway Advisory by iVantage. She has served in faculty and leadership positions at the University of Virginia (UVA) since 2000 and currently holds a faculty appointment as research associate professor at the UVA School of Nursing.
"Hosting Dr. Cipriano is an honor and pleasure for the entire nursing community at UK and the Commonwealth of Kentucky," Janie Heath, dean of the UK College of Nursing, said. "We know nurses are playing a integral role in transforming health care environments, and exposing our nurses and students to distinguished leaders, who are positioned at the very height of our profession, inspires us to achieve even more and work harder to advance health policy and nursing practice."
Throughout the spring, the Nursing Leadership Lecture series brought three all-stars of the nursing profession to campus for presentations on the future of nursing leadership. Cipriano's lecture, UK HealthCare community and UK College of Nursing students and faculty, the series is designed to cultivate an influential future generation of nurses and health care leaders. For more information about the lecture series, click here.
MEDIA CONTACT: Elizabeth Adams, elizabethadams@uky.edu