Final Call to Join the DanceBlue Family: Fundraising Deadline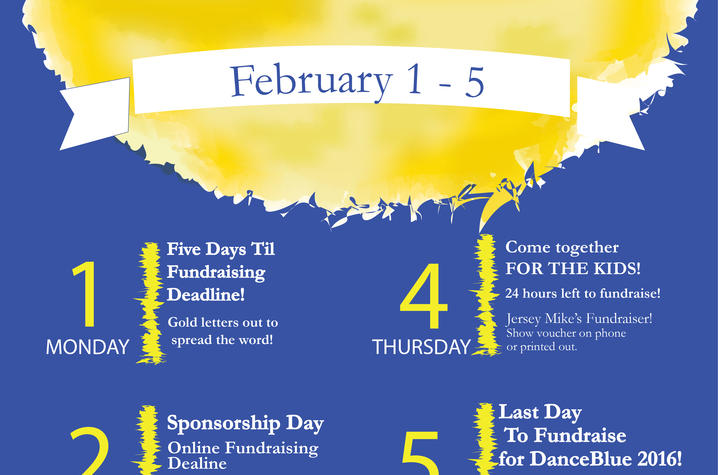 LEXINGTON, Ky. (Jan. 29, 2016) — We are less than a month away from the 2016 DanceBlue Dance Marathon!
As January ends, DanceBlue plans to kick February off with its annual Blitz Week event, which runs from Feb. 1-5, and features fun activities and interaction with the committee through tabling and social media.  Most importantly, it's students' final chance to fundraise individually or for a team to dance during the marathon.
Feb. 2 is the final day for online donations and Feb. 5 at 4 p.m. is the overall fundraising deadline. If students need extra incentive to fundraise, there is no better time than now to think FTK.
FTK means For The Kids, and these three words embody the feelings and emotions surrounding DanceBlue. The joy witnessed on a child's face during the marathon is the same joy DanceBluers experience every day from the patients the organization supports at the DanceBlue Kentucky Children's Hospital Pediatric Hematology/Oncology Clinic: the kids. By being for them, DanceBlue aims to celebrate them.
During Blitz Week, students get a chance to be a part of this celebration. So, this is what DanceBlue has planned:
Monday, Feb. 1 – Just five days until the fundraising deadline! Come check out the FTK photo booth at White Hall and help spread the word on social media while learning more about DanceBlue.
Tuesday, Feb. 2 – The online fundraising deadline is today! Come by the table at White Hall to thank the donors in a special way! Also, today is the Euclid Papa John's All Day Fundraiser. Order anything to benefit DanceBlue 2016.
Wednesday, Feb. 3 – Come check out Elena's Lemonade Stand at White Hall and maybe catch a picture with Stitches, Kentucky Children Hospital's mascot! 
Thursday, Feb. 4 — Come together FOR THE KIDS - 24 hours until the fundraising deadline!
Friday, Feb. 5 – DanceBlue 2016 Fundraising Deadline! Turn in money at the Ticket Office in Bowmen's Den by 4 p.m. Come ask any questions at White Hall and celebrate! It is almost time for DanceBlue 2016!
By living FTK, DanceBlue also ensures donations are put to good use. Now in its 11th year, DanceBlue has raised more than $8.2 million for pediatric cancer research and child life efforts. Every cent of that has gone toward funding distributed through the Golden Matrix Fund. Some of these funded projects include a child life specialist, social workers, encouragement and education programs, and renovating the DanceBlue Kentucky Children's Hospital Hematology/Oncology Clinic, to name a few.
DanceBlue is one of the purest examples of a community on the University of Kentucky campus. From supporting the families in the clinic to dancing, sweating and laughing together during the marathon, the bonds the organization creates are unbreakable. In order to be part of this, though, student have to fundraise. During Blitz Week, students have the chance to celebrate the process of becoming a part of DanceBlue.
The 2016 DanceBlue Dance Marathon takes place from 2 p.m. Saturday, Feb. 27, through 2 p.m. Sunday, Feb. 28, at Memorial Coliseum on UK's campus.
DanceBlue is the University of Kentucky's 24-hour no-sitting, no-sleeping dance marathon that benefits the Golden Matrix Fund and the DanceBlue Kentucky Children's Hospital Pediatric Hematology/Oncology Clinic. For more information about DanceBlue, registration information or to support its efforts, please visit danceblue.org. Connect with DanceBlue on Facebook at facebook.com/danceblue and on Twitter at twitter.com/UKDanceBlue.
DanceBlue is a program housed in the UK Center for Community Outreach. The CCO seeks to serve, connect and unite the University of Kentucky with the surrounding community in collaborative efforts to promote life-long community service.
MEDIA CONTACT: Katy Bennett or Rebecca Stratton, katy.bennett@uky.edu or rebecca.stratton@uky.edu, 859-257-1909/859-323-2395