Jessamine County Accredited Through Safe Communities Initiative at UK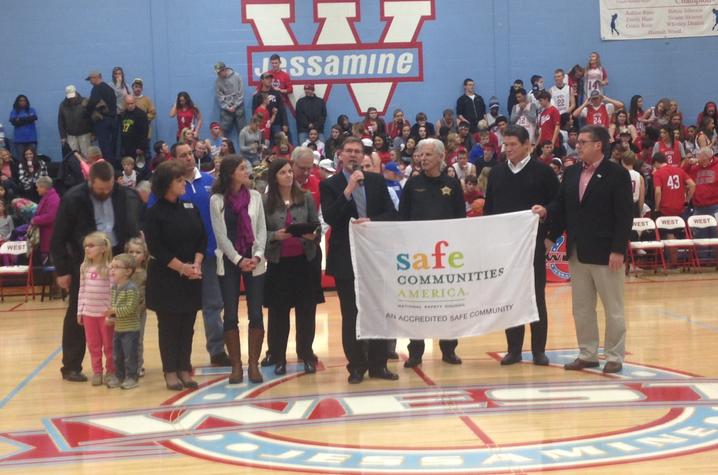 LEXINGTON, Ky. (Feb. 18, 2016) — Jessamine County civic leaders celebrated their community's accreditation from the National Safety Council's Safe Communities America program on Feb. 5.
Jessamine County is the second county in Kentucky to receive this national designation with assistance from the Safe Communities America Initiative based at the Kentucky Injury Prevention and Research Center (KIPRC). Safe Communities America director Carrie Nie, Jessamine County Judge-Executive David West and Nicholasville Mayor Pete commemorated the accreditation at a ceremony held at West Jessamine High School Auditorium.
A program of the National Safety Council, Safe Communities America accreditation represents a unified commitment to making the local community a safer place to live, work and play. The Kentucky-based Safe Communities support program is housed within KIPRIC, a center part of the University of Kentucky College of Public Health. The goal of Safe Communities America is to grow and sustain a vibrant, engaged network of safe communities to reduce injuries and deaths at the community level. 
For more information about the Safe Communities America initiative at KIPRC, click here. For more information on the National Safety Council's Safe Communities program, click here.
MEDIA CONTACT: Elizabeth Adams, 859-940-8104, elizabethadams@uky.edu