Nearly 1,000 Attend UK Center for Clinical and Translational Science Conference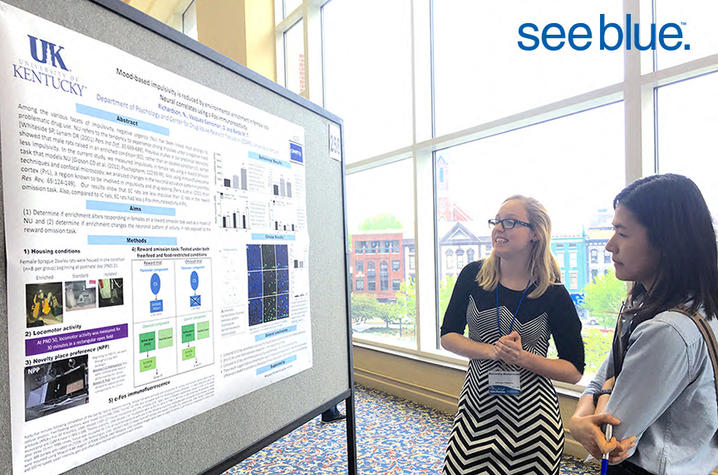 LEXINGTON, Ky. (April 22, 2016) – The 11th Annual Spring Conference of the University of Kentucky Center for Clinical and Translational Science (CCTS) drew nearly 1,000 researchers, students, community members and institutional partners to the Lexington Convention Center on Thursday, April 21.
Personalized health was a focus of the multidisciplinary conference, which was held in conjunction with several college and center-specific programs including the College of Dentistry Research Day, College of Engineering Biomedical Research Day​, College of Health Sciences Research Day​, College of Nursing Scholarship Showcase, College of Public Health Research Day, 31st Annual BGSFN Spring Neuroscience Research Day, and the 34th Annual Symposium in Women's Health and Reproductive Science.
The UK CCTS is federally funded by the National Institutes of Health to accelerate the translation of discoveries into tangible improvements in health, particularly in Kentucky and Appalachia. Through the support from a Clinical and Translational Science Award, the Center fosters innovative team science and community-engaged research across multiple campuses and states. 
The annual conference presents an opportunity for the UK community and institutional partners to share research, enhance collaborations, and mentor the upcoming generation of clinical and translational researchers. With the scope and expertise of a national research conference, the event offers the unique convenience of being free and within walking distance of UK's campus.
This year's conference focused on personalized health, an emerging field that combines genetics, genomics, and biologic and lifestyle information to help predict risk for disease or how a patient will respond to treatments. In 2015, President Obama infused significant investment into personalized health research through the Precision Medicine Initiative (PMI).
Dr. Philip A. Kern, director of the CCTS, says that the scientific and medical communities are making advances in prevention and treatments that are tailored to each individual's body and situation.
"With the sequencing of the human genome and better understanding of epigenetic and other influences, there is now great recognition that many diseases are influenced by individual differences," Kern said. "It's easy to see on the horizon that medical care can be better tailored to each person."
The conference featured an array of expert speakers, including three faculty members who have recently joined UK's research and academic leadership and together bring a dynamic charge to the institution's public and personalized health capabilities. Donna Arnett, Ph.D., who joined UK as the dean of the College of Public Health in January 2016, gave the keynote address, exploring the intersection of public health and personalized medicine.
She said that the development of personalized health technology is outpacing our clinical evidence base, and that rapidly expanding consumer and business aspects, including companies like 23andMe that provide genetic testing and analysis, will likely push the field faster than experts initially envisioned.
"I think where it has the most immediate potential is in undiagnosed diseases or diseases caused by serious mutations, like cystic fibrosis, but that's going to affect a very small number of individuals," she said. "I do think it will help us in identifying treatments for which there's a high failure rate, like cancer treatments, and finding new pathways for both drug treatments and prevention."
Arnett is particularly interested in how to integrate powerful capabilities of precision medicine and personalized health with the ongoing need for disease prevention at a population health level.
"We need to strike the right balance between how much we invest in these new technologies and how much we invest in addressing the scourge of diseases that are best prevented through lifestyle interventions," she said.
The conference's morning plenary session featured Dr. Robert S. DiPoala, who joined UK as the dean of the College of Medicine in March 2016, and conference chair GQ Zhang, Ph.D., who joined UK in August 2015 as the inaugural director of the new Institute for Biomedical Informatics and co-director of the CCTS biomedical informatics core. Samden Lhatoo, MD, chair of neurology at Case Western Reserve University School of Medicine, also gave a presentation about personalizing big data for brain research.
"The increasing pace of scientific discovery and new diagnostics is providing opportunities for clinical research to be more targeted and precise, with the potential to have greater impact for patients and our community," DiPaola said.
Zhang noted the essential nature of biomedical informatics in the development and utilization of personalized approaches to health.
"The way to enable this approach is through personalized information, to know what is specific about each person – their medical history, behavior, environment, family genetics, all of which come into play. Collecting that information, making it available in the context of health care, and monitoring wellbeing is how we can make advances. Biomedical informatics is an indispensable part of it, and initiatives like the PMI put it into the national spotlight," Zhang said.
The conference also featured sessions on patient empowerment, informatics tools for clinical research, and community health projects funded by the Community Leadership Institute of Kentucky (CLIK). CLIK, jointly sponsored by the CCTS, the UK Center for Excellence in Rural Health, and the Kentucky Office of Rural Health, is an intensive leadership development program that enhances research and capacity-building competencies in community leaders.
More than 300 researchers and students also gave poster presentations and received feedback and mentoring from expert faculty.  The annual conference is a key opportunity for training and supporting the upcoming generation of clinical and translational scientists, which is a primary focus of the CCTS.
As part of that aim, the CCTS recognizes outstanding mentors at each annual conference.  2016 mentor award recipients included:
Ann Coker, Ph.D., MPH, professor in the UK College of Public Health Department of Epidemiology and Verizon Wireless Endowed Chair in the Center for Research on Violence Against Women
Robin Cooper, Ph.D., RN, associate professor in the UK College of Arts and Sciences department of biology
Mark Dignan, Ph.D., MPH, professor in the UK College of Medicine Department of Internal Medicine
Dr. Philip A. Kern, professor of internal medicine, director of the CCTS, and associate provost for Clinical and Translational Science
Carl Leukefeld, DSW, professor in the UK College of Medicine Department of Behavioral Sciences
Joseph C. Stemple, Ph.D., CCC-SLP, FASHA-H, professor in the UK College of Health Sciences Department of Rehabilitation Sciences
"This is a critically important event to promote team and interdisciplinary sciences. We're bringing together people from all of our health colleges to interact and facilitate team science across campus," Kern said.
MEDIA CONTACT: Mallory Powell, Mallory.powell@uky.edu  
UK is the University for Kentucky. At UK, we are educating more students, treating more patients with complex illnesses and conducting more research and service than at any time in our 150-year history. To read more about the UK story and how you can support continued investment in your university and the Commonwealth, visit uky.edu/uk4ky. #uky4ky #seeblue