Online Doctoral Program Brings Together School Leaders From Across Globe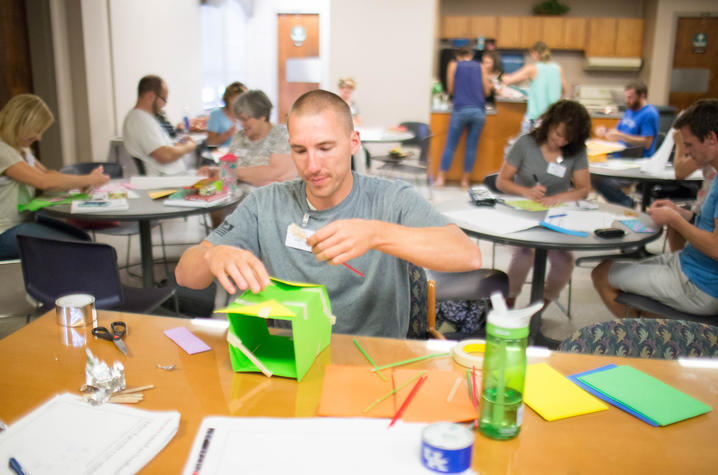 LEXINGTON, Ky. (Aug. 31, 2016) — Robert Appino is a South Dakotan working in Vietnam, while pursuing a doctorate at the University of Kentucky College of Education. He is part of a cohort of students working toward a doctoral degree online through the college's Educational Leadership Studies department.
Appino logs into live, face-to-face doctoral courses from his Mac, sometimes in the odd hours of the night in Vietnam. His classmates are far flung – hailing from places like Hawaii, Iowa, Hong Kong and Kentucky.
The distance does not get in their way. The doctoral program puts them with like-minded innovators, helping create a bond that is, in some ways, stronger than relationships within their daily lives.
"A human relationship underlies the program and socially connects everybody. It strengthens our motivation and desire to achieve," Appino said. "It feels like we are not alone. We are a group making an impact on education."
The cohorts converge each summer in Lexington for #EDLDocWeek, which faculty describe as a week of social events, opportunities to talk one-on-one with faculty, and serious intellectual work. They write, pitch research and attend a variety of faculty-led sessions.
During doc week Appino, along with classmates Taylor Clements and Steph Anderson, sat down to discuss their experience in the program. While they represent a focus on the area of school technology leadership, there are a variety of specializations offered within the Educational Leadership Studies department.
Many students in the department work full-time and are known as innovators in their schools, constantly on the lookout for ways to update students' learning experiences to match the ever-evolving, technology-rich careers they will enter.
As school leaders, many in the program are facilitating conversations with teachers, administrators, school boards and parents to help update the learning process. The doctoral program gives them a research base for this type of transformation.
"We are able to say 'this is what the world is doing, and this is where we need to be going,'" said doctoral student Anderson, who is an elementary school principal in Iowa. "The foundation in research and things we learn in the program help us facilitate those conversations to make an impact on teaching and learning."
Clements is a high school math teacher in Louisville who has used his experience in the program to approach issues in his school, such as updating policies on cell phones and social media. The program gave him a wider perspective and deeper understanding of the issues, he said.
"I love how it's not just the ivory tower research, it's hands on," he said. "Everyone here is definitely thinking about the right now. For instance, one of our faculty members (Dr. Justin Bathon) helps run the Fayette County STEAM Academy. Here is a faculty member who is working passionately in a high school and knows all the kids. He is a Ph.D. and is actually applying it."
The program addresses the process of school change. In an #EDLDocWeek session on design thinking John Nash described a high school he has worked with that had been on an academic watch list. A typical reaction would have been to add stricter policies and rules to solve what ailed the school, he said. Instead, they brainstormed a solution and piloted it – a new schedule that doesn't use bells – with a group of 300 students from the school of 1,800. Journalism students operated as person-on-the-street interviewers, getting spot interviews and user feedback on how it was going. Some of the idea went to scale, and it worked.  Soon, principals from higher performing schools were asking for their secret.
"It worked because it involved users from the start," Nash said. "Empathy works and can bring solutions that are very surprising."
In addition to sessions like the one on design thinking, faculty put together a week's worth of activities for the students while they were in Lexington. They toured distilleries, played Breakout Games and attended a BBQ in faculty member Jayson Richardson's back yard.
"Any time we are together it's fun," Appino said. "Whether we are working or having dinner together, we are having conversations about education, how we use tech in schools, where the vision is going and what the research is saying. We work with a rock star leadership in this program. The faculty running it are heavy hitters with a lot of knowledge. It is powerful to work with this incredible faculty and a diverse, strong group of students who are education leaders that will impact learning."
Education leaders will be faced with a new issue this fall — many students are returning to school after spending a summer immersed in Pokémon Go gaming.
"Pokémon is this new thing, and we don't know how long it will last," Appino said. "I'm excited that it is teaching augmented reality to the masses and we need to leverage that in the classroom. We have an incredibly eager faculty at my school in Vietnam and one of the first questions they will ask me when I get back is 'Robert, how can we use this?' and 'Where might this fit in our curriculum?'
"It is part of my role as a tech integration specialist. If it doesn't fit with standards and goals, then maybe we can use it as a team building thing, or maybe not at all. But what I come back to is that we are in a very exciting time for education and this doctoral program is helping up polish and dive deeper into this excitement in a way that I wouldn't have had if not for this community of learning I'm working with."
Click here for more information on programs in the Department of Educational Leadership Studies at the UK College of Education.
UK is the University for Kentucky. At UK, we are educating more students, treating more patients with complex illnesses and conducting more research and service than at any time in our 150-year history. To read more about the UK story and how you can support continued investment in your university and the Commonwealth, visit uky.edu/uk4ky. #uk4ky #seeblue
MEDIA CONTACT: Whitney Harder, 859-323-2396, whitney.harder@uky.edu