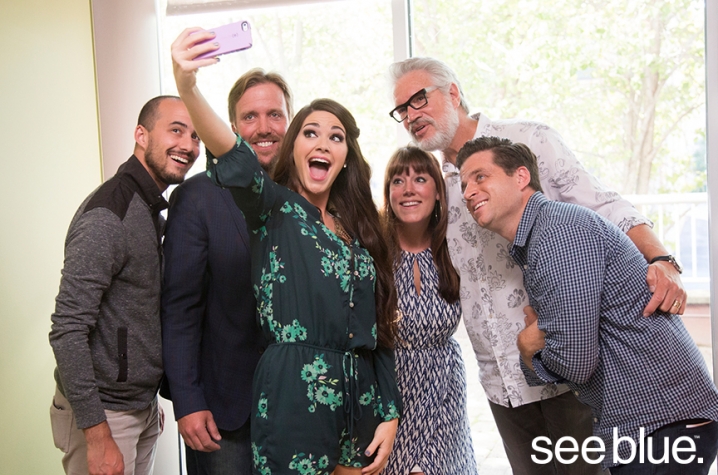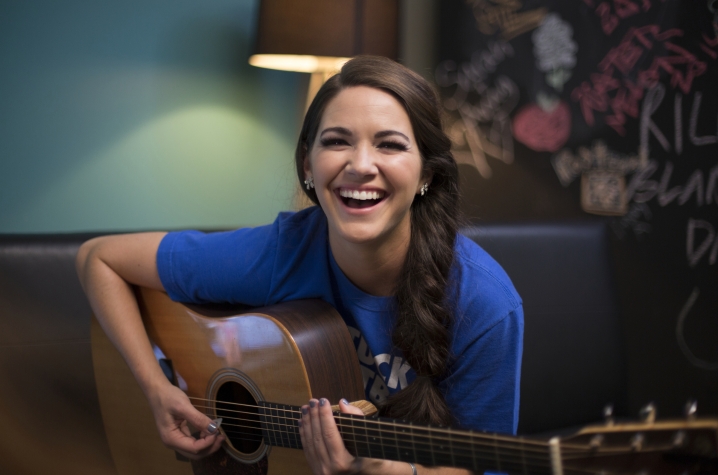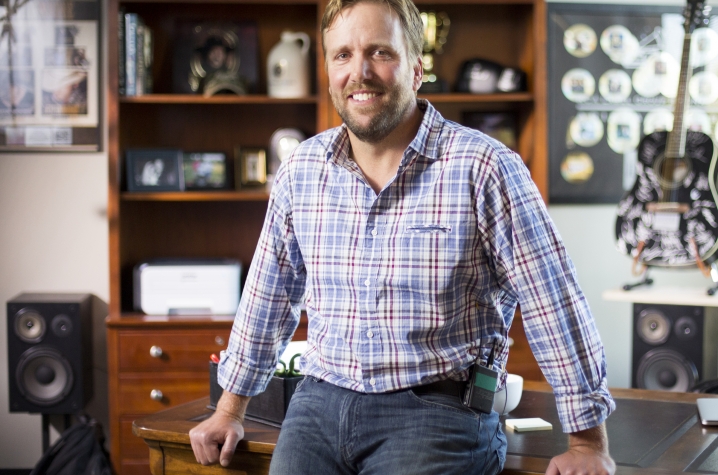 LEXINGTON, Ky. (March 9, 2015) — From an early age, Hannah Ellis loved to make a joyful noise.
"As far as my musical background, I guess you could say that I've been singing before I was talking," Ellis said. "We have videos of me not really being able to put sentences together but I knew the words to 'Amazing Grace.' My parents were both singers and it came really natural to me and all my siblings to start singing as soon as we were able to make noise."
Another noise she liked to make growing up — cheering for the University of Kentucky Wildcats.
"I grew up in a small town, Campbellsville, Kentucky, and I have been a UK fan my entire life. My parents raised us as UK fans. We were those people that when we won the NÇAA men's basketball championship when I was seven we drove an hour and a half to meet the team coming off of the plane. It's been true fandom the whole way through. I don't even know that I applied to another college honestly. It was just kind of a non-option for me."
But Ellis did have another option — to go to Nashville to pursue her dream of becoming a recording artist.
"I was about to graduate high school when I had this epiphany that music was what I wanted to do with my life. At that time I had already received a full-ride scholarship to the University of Kentucky, so it was kind of this moment of 'Do I go to college or do I just move to Nashville?' With a little bit of coaxing from my parents because I was just 18, and knowing that going to UK was the plan all along, I went to UK and prayed that my degree and a full-time music career would go hand-in-hand in some way."
"It is funny to think about now, but when I first actually applied to go to UK I thought I was going to go in and take all these classes to become a sports therapist. That was my initial thinking when I applied for school and registered. Then about a semester into my freshman year, I was like 'This does not contribute to a music career at all.'"
"So I decided to major in integrated strategic communication because it was something that was going to actually speak to the career path I had chosen as a musician. My major and attending UK really taught me how to market myself as a musician."
[IMAGE3]
After graduation in 2012, Ellis loaded up her car and left the Bluegrass State and moved to Music City — Nashville. While her heart never strayed far from her old Kentucky home, she never thought her Kentucky roots would play such a big role in her country music career.
"I was talking to a friend of mine about how much I love the state of Kentucky and he said 'Oh that's so funny my lawyer is actually a guy from Kentucky.' I said 'Wow, that's crazy!' and he's like 'Yeah, you actually ought to meet him because if you don't have a lawyer that's something you're going to need in this career.'"
Ellis and Safford did meet. And just like that, the Big Blue Nation walked right back into Ellis' life in the form of UK alumnus Scott Safford.
"I wanted to be in the music industry since before I attended UK," Safford, a 1995 College of Arts and Sciences and 1997 College of Law graduate, said. "The fun part of my job is helping people like Hannah navigate the music industry, which can be complex and scary for people new to the business."
"When you find out that somebody else graduated from UK, you want to work with them," Ellis said. "From the very first time I met Scott, we sat around and talked about Keeneland and our hometowns and the University of Kentucky campus and different things that we had in common because we had kind of walked on that same path. It was really great for us to bond over that from the very beginning and we were like 'Ok this relationship is special, it's something going to have a huge bearing on our life.' It's just been a really awesome thing to go on this journey with somebody that knows where I came from and what I experienced."
"Here in Nashville, it's like UK south," Safford said. "There are so many UK alums in town and we support each other and a lot of us are honestly just friends. It's not because 'Hey you went to UK, therefore I'm going to support you.' It's we have known each other for a long time but still there's that sense of community amongst UK alums here. Anytime there is an event on television or an important game, at any number of places in town there will be a gathering of UK alums and that's kind of unique and special to us."
[IMAGE4]
"As a matter of fact, the very first person I met in the music business was a UK alum. She was instrumental in helping me grow relationships and meet people in the business, which ultimately led to the job I have today. It helps so much to have one person who can kind of bring you into a family, and it was great that I found somebody with whom I had a common connection to UK when I first started in this industry. It's been fun to pass that along to Hannah as part of our interaction and to bring her along as the next generation. UK, that pride and passion, transcends generations here. I think what makes us different at UK is the passion with which we support the university and each other. It's that passion and the relationships that go along with it that makes us special."
"Being able to be in another state in another city and to meet someone that shares your love of the University of Kentucky is very special," Ellis said. "It kind of feels like a little piece of home away from home, so to speak. You don't have family in town with you, but you do have someone that gets it. They get why you get crazy in the month of March, and they get why your closet is over three-fourths blue. Having somebody that totally knows where you're coming from, and just feeling like, there's just a different level of even friendship there. Because there's this kind of understanding that comes with it."
"A big part of what I do is being a champion for somebody who has come to Nashville with a dream," Safford said. "It's such a courageous step to come here and to declare 'I'm going to be a songwriter or an artist in Nashville' because the odds are astronomically stacked against you. People who fight through that and make it, I'm so proud to be a part of that process with them. But what they need are champions. It's fun for me to be a part of that story and that process."
"For me, being a musician is such a special job because I truly, truly believe that music moves people," Ellis said. "I honestly feel really blessed to be able to pursue something that I'm truly passionate about. And I'm finally at a point where I can say that this is my career and it's something that is just such a blessing and such a gift to be able to pursue something that can positively impact other people. Not everyone gets to do their dream job and yet here I am. I just don't know how I got that lucky."
"UK really sets you up to make your mark on the world. UK is a place that supports you as a person, you as an individual, you as whoever it is that you want to be, you as anything that you're trying to accomplish."
Before the Wildcats take the court in this year's Southeastern Conference (SEC) Tournament, Hannah Ellis will perform during the Greater Nashville UK Alumni Club SEC Tournament Pep Rally on Friday, March 11.  The event, which takes place at the WIldhorse Saloon, runs from 2 – 5 p.m. (CDT). 
For more information, visit: http://www.ukalumni.net/s/1052/semi-blank-noimg.aspx?sid=1052&gid=1&pgid=6822&cid=12407&ecid=12407&crid=0&calpgid=13&calcid=664. 
UK is the University for Kentucky. At UK, we are educating more students, treating more patients with complex illnesses and conducting more research and service than at any time in our 150-year history. To read more about the UK story and how you can support continued investment in your university and the Commonwealth, go to: uky.edu/uk4ky. #uk4ky #seeblue
MEDIA CONTACT: Katy Bennett, katy.bennett@uky.edu, 859-257-1909
VIDEO CONTACTS: Amy Jones-Timoney, 859-257-2940, amy.jones2@uky.edu; or Kody Kiser, 859-257-5282, kody.kiser@uky.edu