UK Clinical Nursing Specialists Elevate Patient Care and Assume Leadership Roles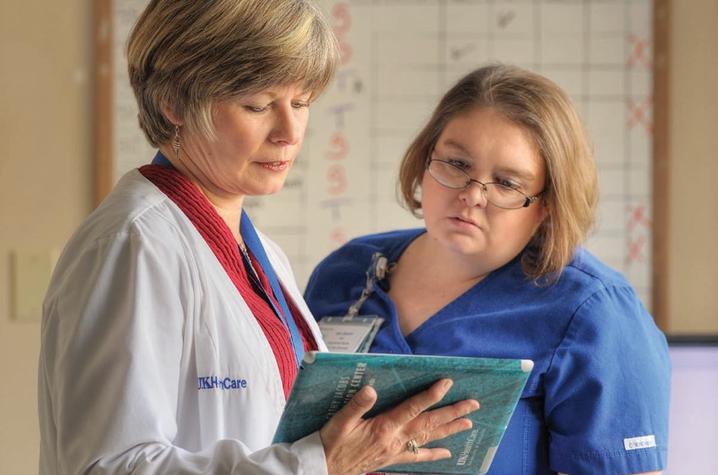 LEXINGTON, Ky. (Sept. 6, 2016) — The clinical nurse specialist (CNS) track at the UK College of Nursing trains nursing professionals to act as experts, leaders and transformers of health systems in clinical care settings.
With advanced expertise in a specific field of health care, these advanced-practice nurses use evidence-based knowledge to refine health care delivery systems, improve the flow and efficiency of patient care, reduce costs and strive for better outcomes for their patients. A CNS certificate positions the nursing professional as an authoritative figure and patient asset on health care teams. CNSs can diagnose conditions, develop long-term treatment plans, and, in some states, prescribe medications. They serve as organizational leaders by translating and implementing evidence-based practices and models of care to clinical practice. In fact, several leaders at UK HealthCare and in the UK College of Nursing include CNS credentials behind their name.
For instance, Janie Heath, the Warwick Professor of Nursing and dean of the UK College of Nursing, is a clinical nursing specialist in acute care medical surgery. Colleen Schwartz, the chief nursing officer for UK HealthCare, received a CNS certificate in trauma and critical care. Deborah Moser, the Linda C. Gill Chair in Nursing and co-director of the RICH Heart Program, also obtained the specialty to provide advanced care for critical care patients. Jill Dobias has worked as an oncology nurse at UK HealthCare since 1983 and received her CNS in acute care adult gerontology from the UK College of Nursing in 2015. UK HealthCare employs 15 nurses with a CNS certificate, and the UK College of Nursing had awarded certificates to registered nurses since it offered the certificate seven years ago.
The UK College of Nursing and UK HealthCare will observe National Clinical Nurse Specialist Recognition Week, Sept. 1-7, to highlight the patient care and leadership contributions of CNS professionals. Across America, nearly 72,000 CNSs ensure high-quality, patient-centered care based on recent research evidence.
Health care professionals, students and faculty can meet with CNS specialists and learn more about the opportunities of this career path on Wednesday, Sept. 7, at the Biomedical Biological Science Research Building (BBSRB) atrium from 4:30 to 6:30 p.m. To learn more about the CNS track at UK, click here. 
MEDIA CONTACT: Elizabeth Adams, elizabethadams@uky.edu