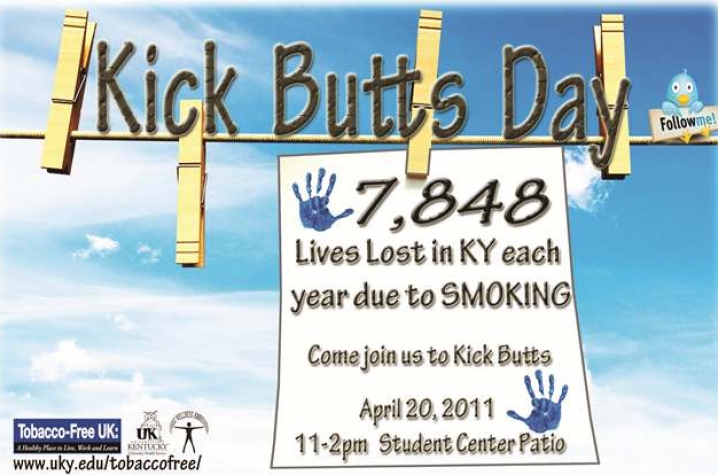 LEXINGTON, Ky. (April 15, 2011) − In the ongoing effort to make the University of Kentucky campus a healthier place to live, work and learn, students, staff and faculty will have the opportunity to stand out, speak up and seize control over Big Tobacco at UK's first Kick Butts Day from 11 a.m. - 2 p.m. on Wednesday, April 20, at the Student Center Patio.
The goal of Kick Butts Day is to bring awareness to the issue of tobacco use and how it impacts Kentuckians. The event is being coordinated around Earth Week activities to stimulate discussion of the environmental impact of tobacco use. Many cigarette butts end up on the ground and they are not biodegradable. Not only are they unsightly, it takes 25-30 years for butts to decompose; meanwhile the over 7,000 chemicals and additives they hold are leaching into the ground and polluting the soil.  Tobacco use also contributes to deforestation of our planet as one tree is wasted for every 300 cigarettes produced, mainly used to provide fuel in the drying process.
"Nearly 8,000 people die each year in Kentucky due to smoking," said Fadyia Lowe, tobacco treatment specialist at University Health Service. "That's 22 people per day." 
To illustrate the huge number of people who lose their lives to tobacco, a display of white sheets covered with handprints, with each handprint representing five lives lost each year. Some of the handprints will be in black paint to represent the 30 percent of UK students who use tobacco.
Two hundred remaining hand prints are needed to represent the almost 1,000 lives lost each year in Kentucky among nonsmokers exposed to secondhand smoke. Information and resources will be available on how to stop using tobacco or how to help someone else quit. 
There will be plenty of free giveaways including free fountain drink coupon from campus dining locations. Students can enter to win a raffle for a $25.00 Best Buy gift card and T-shirts. Students, faculty, and staff can also learn about how to become a Tobacco-free Take Action! ambassador to increase compliance with UK's tobacco-free policy.
Kick Butts Day is sponsored by University Health Service, Student Wellness Association and the UK Tobacco-free Task Force. For more information on UK's tobacco-free policy, go to www.uky.edu/Tobaccofree
MEDIA CONTACT:   Ann Blackford, (859) 257-1754, ext. 230 or ann.blackford@uky.edu