UK Student Wins Scholarship to Study Literature at Cambridge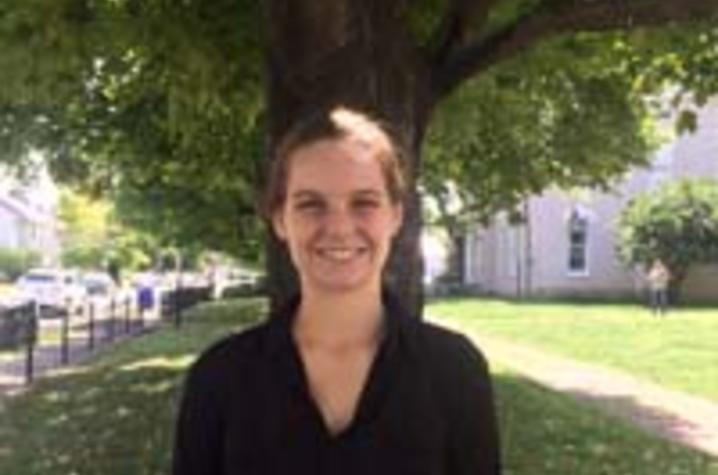 LEXINGTON, Ky. (Feb. 17, 2017) – University of Kentucky's Abby Schroering, a theatre and English junior from Louisville, Kentucky, has been awarded an English-Speaking Union (ESU) Scholarship presented by the English-Speaking Union Kentucky Branch. The scholarship will cover Schroering's expenses for summer study at the University of Cambridge.
The Kentucky Branch of the English-Speaking Union awards a limited number of scholarships to qualified Kentucky college students for courses offered at institutions in the United Kingdom. Scholarship awards include tuition, lodging and two meals daily for three-week courses at the institutions chosen by the scholarship winners. Scholarships also include one week's lodging in London and a cash allowance.
ESU scholarships are awarded for studies in English literature, history and social sciences at Oxford, Cambridge and Edinburgh University for the summer of 2016. Scholarship winners, selected through an essay and interview process for the program, are expected to become articulate lifelong ambassadors for British/American cultural exchanges. 
Schroering's scholarship will fund three-weeks of English literature studies at Cambridge.
The daughter of Becky and Steve Schroering, of Louisville, Schroering is a 2013 duPont Manual High School/Youth Performing Arts School graduate. A Gaines Fellow, Chellgren Fellow and Honors Program member at UK, Schroering pursued majors in theatre and English for the skills the programs instill in students. "Theatre, English and the humanities in general are fields in which we learn how to relate to each other and solve problems that are often overlooked in the pursuit of STEM and commerce."
As part of her theatre studies, Schroering has served as a stage manager for UK Department of Theatre and Dance's performances of "Much Ado About Nothing," "(Re)actions Dance Concert," "Hair!" and "The 25th Annual Putnam County Spelling Bee." She has also tested her directing and playwriting skills on such productions as "Extenuating Circumstances," "Episodes in Offices," "The Lady Next Door," "Paper Flowers," "Jefferson Hawthorne" and "Seek and Tell: a one woman show." Schroering's work and studies have also led to several undergraduate research projects, including "Stage Managers and Actors Can be Friends," "Gothic Art: Why the Catholics Need Theater," "Shakespearean Punctuation from the Folio to No Fear" and "T.S. Eliot's 'The Waste Land' as a Poetic Drama" that included a dramatic interpretation.
Schroering credits the world of theatre for giving her the strength to get involved. "As a child my shyness was crippling, and it was only through participation in theatre that I was able to get outside of myself and interact with other people in a meaningful way."
In the summers, the stage continues to call Schroering's name. The UK student has spent time working with both the Jenny Wiley Theatre and The Lexington Theatre Company.
"My summer making theater in Appalachia taught me more about the purpose of art — and life in general — than I can adequately express in words."
Upon completion of her undergraduate degrees, Schroering plans to pursue a doctoral degree in theater/performance studies.
The ESU of the United States is a nonprofit, nonpolitical, educational service organization whose mission is to promote scholarship and the advancement of knowledge through the effective use of English in an expanding global community. Headquartered in New York City, the organization implements programs through a network of 70 branches throughout the United States. The Kentucky branch of the ESU was chartered in 1923 by local business and civic leaders. Since 1960, more than 450 Kentucky teachers and college students have been awarded scholarships by the Kentucky branch of the ESU.
UK students interested in the ESU Scholarship may apply through the university's Office of Nationally Competitive Awards. Part of the Academy for Undergraduate Excellence within the Division of Undergraduate Education, the office assists current UK undergraduate and graduate students and recent alumni in applying for external scholarships and fellowships funded by sources (such as a nongovernment foundation or government agency) outside the university. These major awards honor exceptional students across the nation. Students who are interested in these opportunities are encouraged to begin work with Pat Whitlow at the Office of Nationally Competitive Awards well in advance of the scholarship deadline.
MEDIA CONTACT: Whitney Hale, 859-257-8716; whitney.hale@uky.edu