"see blue." #selfie: Max Legaspi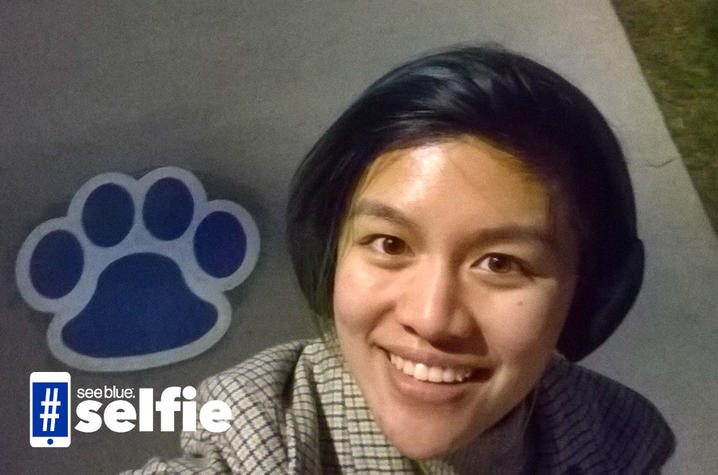 LEXINGTON, Ky. (April 11, 2017) — Want to get to know the people behind some of the biggest student leadership positions on campus? We did, too! That's why we've introduced "see blue." #selfie — a series on UKNow that lets student leaders from across campus tell us a little bit more about themselves and their organizations. Up this week, University of Kentucky Creative Filming Club Co-President Max Legaspi.
Meet Max Legaspi, this year's co-president of the Creative Filming Club! She is a sophomore kinesiology major from Pleasanton, California. Legaspi was exposed to film during high school and decided to dig deeper into her passion at UK. Spending countless hours each week dedicated to the club and its members, Legaspi claims the group as family. Learn more about Legaspi in her "see blue." #selfie.  
UKNow: What is your major and what year are you?
Max Legaspi: I'm a sophomore and my major is kinesiology.
UK: Where are you from?
ML: I'm from Pleasanton, California.
UK: Tell me about your position in Creative Filming Club.
ML: I'm co-president of this club. It's an open forum kind of thing, but the officers make the final decision. We keep it open to the students to make sure it's a safe area for students to share their creative ideas. 
UK: What does the Creative Filming Club do?
ML: On a weekly basis, we focus on all aspects of film, writing, acting and editing and getting to know what to do with cameras. When we do have a project going on, we talk about updates and we plan during club meetings and shoot on the weekends.
UK: How often does the club meet? 
ML: We only meet officially once a week, but it really depends on the project. Right now, we are editing a film that we shot last semester and some people work on it on their own time or we have an "editing party" once or twice a week.
UK: How many members are in the club?
ML: Right now, we have about 20-ish active members. This semester, the numbers are increasing. This is the biggest we have ever been.
UK: How long have you been involved?
ML: Since my freshman year. 
UK: When did you become interested in film? 
ML: I would say at some point in high school. We had a lot of videoing going on for AP (advanced placement) classes.
UK: Has there been an unexpected challenge during co-presidency of this club?
ML: What I learned the hard way is things never go as planned. We had to learn a lot of organizational skills for a filming day. Especially last semester when we had to shoot a 50-page script. We expected for it to be finished by Thanksgiving break and we couldn't finish it until the end of the semester to accommodate everyone's schedules. It was a lot of work! The one we filmed this semester, we stayed on track pretty well because it was dependent on the actors and their lines.
UK: Who comes up with the ideas for the films?
ML: The members. What we did for this semester, we have a script call and we made up terms for a set motif for happiness, purpose and satisfaction. In our last meeting, we had a couple of ideas and we plan to help write it over summer or this semester.
UK: So, it's a group effort?
ML: Yes, definitely.
UK: Is the club split into different groups based on members' interests? 
ML: You're hands-on with everything basically. It's really fluid. Our members aren't fixated on one thing, they get to experience different aspects of film.
UK: How does your kinesiology major compare to your passion for film?
ML: I really like science, but at the same time I don't want to deal with a lot of blood. I get to focus on human body movement. I've done sports and that sparked my interest in how muscles work when you perform different actions and that's why I want to do physical therapy as well. There really isn't much of a comparison with film other than learning how to balance and be physically able to carry heavy camera equipment, whether it be on set or simply transporting them from different locations.
UK: What else are you involved in?
ML: I work at the Media Depot too, and we do a lot of filming projects there. They have a club that is more educational filming, so how to learn to work a camera, use an Adobe product, or special effects and people can come in and we can teach them. It's interesting because not a lot of students know you can get Adobe software for free. Also, I am the treasurer of the Filipino American Student Organization. We started last semester, so we're just trying to get our name out there, grab more members and fundraise. The best idea we thought was to host a culture night, so we teamed up with the International Student Council for April 22, where we will showcase a fashion show for different cultures, a multicultural talent show and have a food tasting. I'll be doing slam poetry and choreographing this traditional Filipino dance called tinikling. 
UK: What brought you to UK from California?
ML: The schools in California were a lot more expensive than here. Since I want to do physical therapy, undergrad here is four year, so I can finish sooner. I had never been to the east side of this country, so I wanted to see what it looked like. I was so shocked by all the green and the land.
UK: What has been your most memorable moment thus far with the club?
ML: Last year we filmed this project called "Office Hours." We were editing it over winter break but the Media Depot wanted to have their own screening three days after winter break. We spent 72 hours straight just editing the video. It was really crazy and we were dying from lack of sleep but it was a pretty good bonding experience. In regards to this semester, the club produced a film called "What Are Friends For?" It's about this boy with depression that wanted to host a party in his apartment … and "his apartment" was actually my apartment. Scheduling was so bad, but we had fun.
UK: What advice would you give an incoming freshman coming from out-of-state?
ML: I would say don't be afraid to go to school events. I had no friends basically, so I went to all the events and got all kinds of free stuff, especially food. How I got involved was going to K Week events and looking through OrgSync and going to those meetings. Fliers help too. If you see something interesting definitely go for it. 
UK: What is your biggest fear? 
ML: Not being content in the future. If I'm in a place where I make a lot of money but I don't enjoy what I do, I would be very disappointed. I don't want to be someone who just does something for practical reasons; I want to make sure I have some sort of passion with my work to deliver better content or work ethic. I run a lot on passion.
UK: If you had a film created about your life, what would the title be?
ML: " 0___0::" Whenever something weird happens I just respond with that. I'm naturally awkward. That just sums up my life. 
"see blue." #selfies will appear every other Tuesday on UKNow. Know a student leader we should feature? Contact Rebecca Stratton at rebecca.stratton@uky.edu to nominate someone.
UK is the University for Kentucky. At UK, we are educating more students, treating more patients with complex illnesses and conducting more research and service than at any time in our 150-year history. To read more about the UK story and how you can support continued investment in your university and the Commonwealth, go to: uky.edu/uk4ky. #uk4ky #seeblue