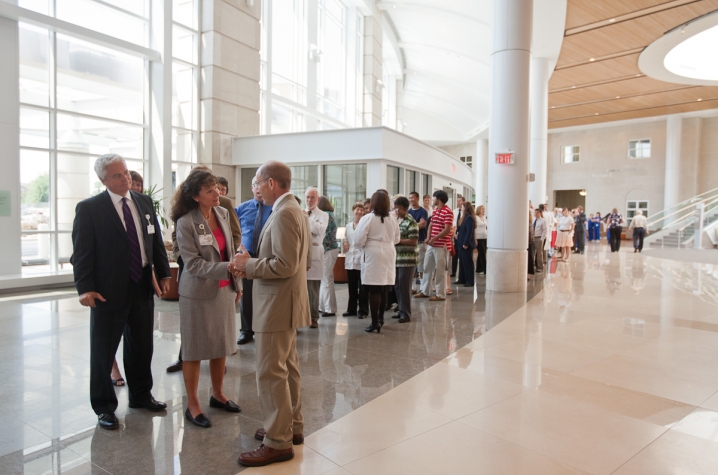 When I arrived at the University of Kentucky, I wanted to spend time learning about the campus, listening to our faculty and interacting with our students. As the start of the fall semester approaches, I've redoubled my efforts to reach out across campus and carryon the fruitful dialogue we've begun.  
My aim is to understand from our talented faculty and staff, the nature of the considerable strengths and challenges facing our institution and your individual colleges. I want to talk about where we go from here and how we build on our strong foundations of productive research, rigorous academic programs and service to our community. Once we get a collective sense of where we are, we can talk about how we best build a plan for continuing our success, harnessing the strength of our faculty, staff and students and progressing toward a more prosperous future for Kentucky.
As part of this effort to get to know our University more deeply, I have committed to spending time with our faculty, staff and the administrative leadership of each of our colleges over the next three months.
Last Friday, I kicked off my endeavor with a visit to the College of Health Sciences. Dean Lori Gonzalez prepared an aggressive schedule and introduced some of the great programs within the College and outreach services they provide around Lexington, the Commonwealth and the world. Our rich conversation helped me understand their work and how it affects our campus and community.
After meeting with Dean Gonzalez and her senior administration, I finished my day with a roundtable discussion with 10 outstanding Health Sciences faculty from many different departments. They shared many of the things that they are most proud of about the University of Kentucky and the College of Health Sciences.
Faculty commended graduates of the College who are working in counties across Kentucky, multiple states and countries throughout the world. More than one person spoke up about the incredible support from the College for their research and opportunity to be entrepreneurs in their own field. A few told stories about how their interaction with colleagues outside of the University and how many of those outside UK are impressed by our faculty's multi-disciplinary research and teaching opportunities.
One thing that struck me was their commitment to translational bench-to-bedside research and practical application. The faculty show a joint commitment to conducting research that benefits the people of Kentucky. In 2008-09, 166 students from the College of Health Sciences completed 962 rotations at 139 locations in 70 Kentucky counties, 23 states and 6 countries. Those numbers are even higher today.
The Health Navigator Program connects students with Kentuckians to help navigate through an often, overwhelming healthcare system to find the resources, medical treatments and health information they need. Not only does the program provide a vital service for the people of Kentucky, but it also provides a cross-disciplinary opportunity for students to learn more about their own field of study and seek assistance from those in other fields as well.
Our faculty work with the Kentucky Appalachian Rural Rehabilitation Network to help persons with spinal-cord injuries receive the long-term care they need. We were a part of the first Rural Spinal Cord Injury Rehabilitation conference held at the Center for Rural Development in Somerset, Ky., which included 230 collaborators from different specialties, universities and health care providers across the Commonwealth.
The College of Health Sciences' outreach extends well beyond the borders of Kentucky and the United States. Professor of Physician Assistant Studies Sam Powdrill spends a month each year practicing in Kenya in the mobile eye care clinic he helped launch. Since 1992, more than 250 students and faculty from both universities have traveled between the College of Health Sciences and the University of Wolverhampton in England to engage in academic study, clinical rotations and collaborative research.
These are just a few of many stories I heard during my visit to the College of Health Sciences. When I came to UK, I made it a key goal of mine to share the good works of our institution with the people I meet. We provide an incredible service to our community, the Commonwealth and many parts of our world. There is so much happening on campus in which to take great pride, and we should constantly work to expand these opportunities, foster collaborative research and better teaching practices -- all with the goal of finding new ways to fulfill our state's hopes and dreams.
To conclude, I want to especially thank Dean Lori Gonzalez. Recently, she was named the new Executive Vice President and Provost of Appalachian State University. One consistent message I heard from the faculty of Health Sciences was their love and admiration for Dean Gonzalez. She has done an incredible job fostering a collegial environment in Health Sciences and has tirelessly promoted the good work of her faculty and the services they provide to Kentucky. We are lucky to count Dean Gonzalez as a member of our University family, and I wish her the greatest success in her new endeavor.