Ambati Elected to Prestigious Society of Physicians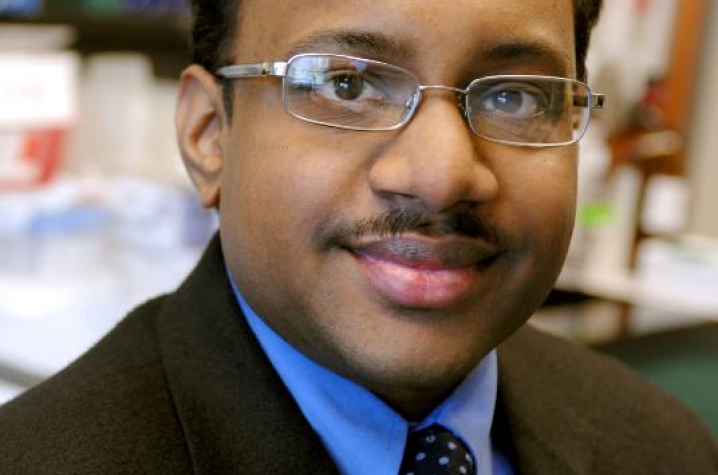 LEXINGTON, Ky. (April 15, 2010) − Dr. Jayakrishna Ambati, professor and vice chair in the Dept. of Ophthalmology and Visual Sciences and the Dept. of Physiology at the University of Kentucky College of Medicine has been elected to the Association of American Physicians (AAP), a professional organization for the advancement of scientific and practical medicine. AAP members are a prestigious and selective group of around 1,200 physicians in the U.S.  Ambati is the first ophthalmologist to be elected to the AAP.
The goals of AAP members include the pursuit of medical knowledge, and the advancement through experimentation and discovery of basic and clinical science and their application to clinical medicine. Each year, individuals having attained excellence in achieving these goals, are recognized by nomination for membership by the Council of the Association. Their election gives them the opportunity to share their scientific discoveries and contributions with their colleagues at the annual meeting.
Ambati's lab has made numerous foundational contributions in macular degeneration research with numerous papers published in Nature, Nature Medicine, Proceedings of the National Academy of Sciences and the Journal of Clinical Investigation. Ambati is the Dr. E. Vernon Smith & Eloise C. Smith Endowed Chair in Macular Degeneration, and he was the first ophthalmologist to win the Doris Duke Distinguished Clinical Scientist Award and the Burroughs Wellcome Fund Clinical Scientist Award in Translational Research. He was also elected to The American Society for Clinical Investigation, and serves on the editorial boards of Investigative Ophthalmology & Visual Sciences and Ophthalmology.
Ambati's pioneering investigations have provided profound insights into the molecular bases of physiological avascularity and pathological neovascularization in the cornea and retina. His landmark contributions have defined the role of innate immunity in dry and wet age-related macular degeneration by revealing surprising functions of chemokines, small RNAs, and toll-like receptors in the pathogenesis of these diseases, and have set the stage for formulating new therapeutic strategies.
Ambati will be introduced into the AAP membership at the 2010 annual meeting which will be held on April 24 in Chicago, Ill.