'Battlewise' Inducted Into ROTC Hall of Fame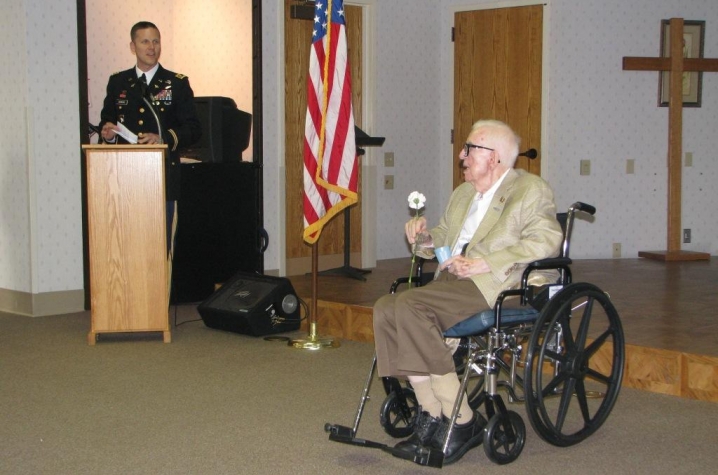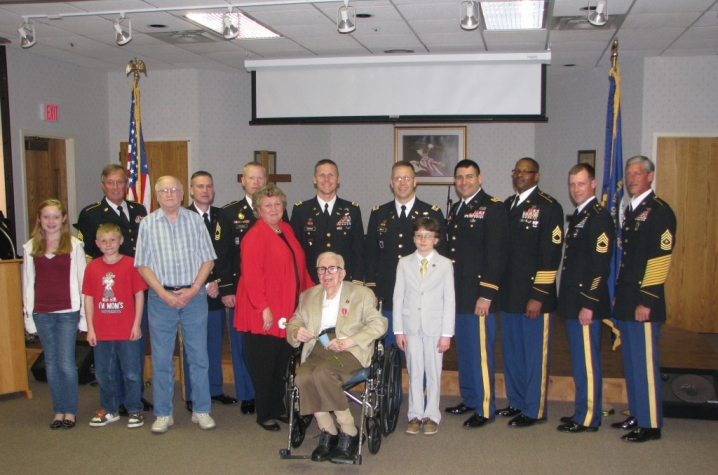 LEXINGTON, Ky. (April 14, 2010) - Lexington resident William Alexander Dunlap Jr. has worn many hats, awards and uniforms, too.
From the Distinguished Service Cross, the United States' second-highest award for bravery, to the Pisgah Presbyterian Church in Woodford County, Ky., Dunlap has given to his fellow man throughout his life.
Dunlap was inducted into the University of Kentucky Army ROTC Hall of Fame for his service on Monday, April 5.
"I am so very happy and proud that he has been publicly recognized," said Army Major James Mills,  Dunlap's grandson and nominator. "He is such a great and kind man. I am honored to be of his lineage and so glad that his life and military service will provide all future cadets of the UK ROTC programs a prime example of selfless service and a sense of their unit's magnificent history."
In 1943, while a UK student and ROTC cadet, Dunlap and 168 of his fellow cadets were activated to enlisted service for World War II. Dunlap was subsequently selected to attend Officer Candidate School and graduated June 13, 1944. 
During the war, Dunlap's infantry regiment liberated the Flossenburg Concentration Camp in Bavaria, Germany while participating in the 65th Infantry Division's "March Across Germany," where he was given the nickname "Battlewise."   
Dunlap was wounded three times during this particular engagement, earning the Distinguished Service Cross during the campaign. 
"Ignoring his wound, he advanced alone to knock out the German machine-gun emplacements, clear an enemy house, and reconnoiter other enemy installations before allowing his men to continue forward," said Dunlap's Distinguished Service Cross citation record and an interview with Mills in October 2007. "He continued to press the attack, shouting orders to his platoon even after he had been wounded a second and third time."
After recovering in England and Memphis, Tenn. for over a year, Dunlap was released from the Army and returned to Lexington. The Woodford County native continued his education, graduating from UK in 1962 and later worked for the university.
"I was honored and humbled to be a part of Mr. Dunlap's Wall of Fame Induction," said UK Military Science Professor Kris Morlen. "If one watched a movie of his deeds on the day he earned the Distinguished Service Cross, it would be very difficult to believe. Equally impressive is the fact that he returned to UK to finish his degree and his commitment to serve his community after the war." 
In addition to the Distinguished Service Cross, Dunlap has been awarded a Bronze Star Medal; a Purple Heart with one oak leaf cluster; a European Campaign Medal with two bronze service stars; an American Campaign Medal; a World War II Victory Medal; and the Combat Infantryman Badge.
Following his military service, Dunlap served as a UK Contract Team Member in the service of the Indonesian and Thai governments, as well as an administrator and director of Volunteers of America-Kentucky Post. He also volunteered at the Pisgah Presbyterian Church, the Spendthrift Farm and was a reunion organizer for the 2nd Platoon, Baker Company, 261st Infantry Regiment, 65th Infantry Division.
"He is the living embodiment of the seven Army Values of Loyalty, Duty, Respect, Selfless Service, Honor, Integrity and Personal Courage," said Morlen, who spoke to Dunlap following the ceremony. "Hero is a term that is overused these days, but Mr. Dunlap is truly an authentic American hero. Thank you for your service to America and to your community after the war."