UK Percussionist/Professor Receives Yamaha Legacy Award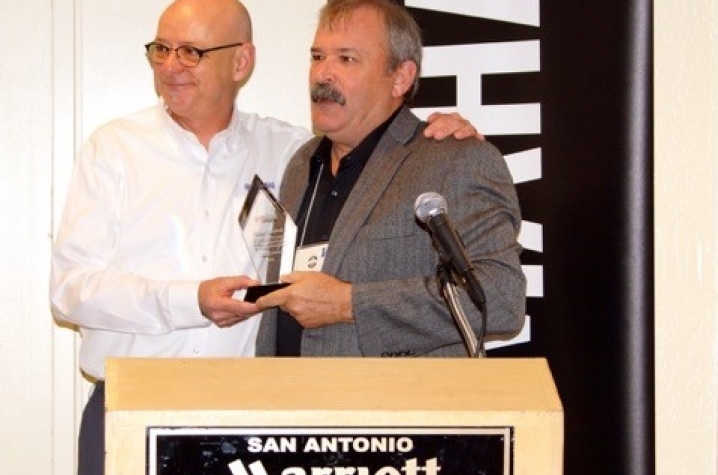 LEXINGTON, Ky. (Dec. 9, 2015) — James Campbell, University of Kentucky Provost's Distinguished Service Professor and director of UK Percussion Studies, has been named the recipient of the 2015 Yamaha Legacy Award, which is presented annually to an individual considered to be legendary in their effect on music education.
"We take great time and give careful thought when considering who will receive the award, and are proud of the profound impact our artists continue to have within the music education community and beyond," said Yamaha artist relations assistant Jalissa Gascho. 
This is the latest of numerous awards presented Campbell over his storied career. In 2013, he was inducted into Music for All's Bands of America Hall of Fame at the Music for All National Festival in Indianapolis, Indiana, where he was recognized for greatly impacting Bands of America, the nation's band activity and music education.
Campbell is responsible for much of the modern look and sound of today's drum corps percussion ensembles. With a legendary background as an instructor and arranger for the Guardsmen, of Schaumburg, Illinois, and the Rosemont Cavaliers Drum and Bugle Corps, of Rosemont, Illinois, from the 1970s through the '90s, Campbell's drum corps credits include winning three High Percussion Awards and two World Championships during his tenure with the two corps, as well as being named to the Drum Corps International Hall of Fame.
Campbell is also credited with helping to introduce world music concepts and contemporary performance practice into marching percussion arrangements. As an equipment designer, he has helped design the modern tenor drum array, holds two patents for drum head design and pioneered the use of the front ensemble (pit) percussion.
At UK, the Percussion Ensemble, under Campbell's direction, has won the prestigious Percussive Arts Society (PAS) Collegiate Percussion Ensemble Contest five times, the only collegiate group to have achieved that honor. The feat earned the ensemble featured performances at PASIC (PAS International Convention). Campbell's other university groups, the UK Indoor Drum Line and UK Steel Band, have received the highest recognition in their fields. In addition, at the PAS 2005 Composition Contest, Campbell took first place for his work, "Garage Drummer," scored for multiple percussion solo with CD accompaniment.
Individually, Campbell's current and former students at UK have been selected as finalists in the PAS International Solo Competition nine times, including five first place honors. Many of his alumni are now faculty at other institutions or performers in major ensembles across the country.
Campbell, a Yamaha Performing Artist, has toured extensively throughout North and Central America, Europe and Asia. Locally, he also continues to perform with the Lexington Philharmonic and the Kentucky Jazz Repertory Orchestra. Campbell has published works for concert and marching percussion with Alfred Publishing Company, where he served as percussion team author for the Expressions Music Curriculum, as well as numerous other music publishers.
Campbell is on the faculty of the UK School of Music in the College of Fine Arts, which is known for high-caliber education in opera, choral and instrumental music performance, as well as for music education, composition, theory and music history.
MEDIA CONTACT: Whitney Hale, 859-257-8716; whitney.hale@uky.edu