Video on Famed UK Broadcaster Wins Award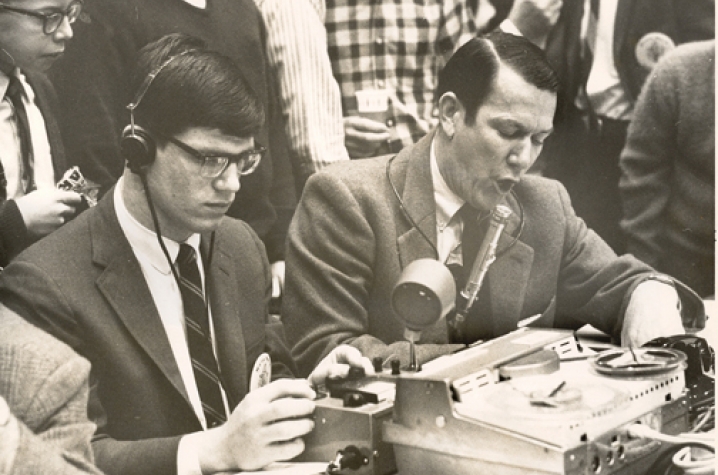 LEXINGTON, Ky. (June 29, 2010) − The University of Kentucky can add another trophy to those already overflowing cases. The honor recognizes a video biography created for UK Libraries titled "Claude Sullivan: The Best Seat in the House," which recently won a Telly Award for its portrayal of the late legendary sports broadcaster.
Since 1978, the Telly Awards honors the best in local, regional and cable television commercials and programs, as well as the finest in video and film productions. This year the judging committee, comprised of top advertising and production professionals, received more than 13,000 entries from across the U.S. and other countries.
The Claude Sullivan biography video was produced by Video Editing Services to help promote the Claude Sullivan Audio Collection at UK Archives. The collection consists of 254 audio tapes by the broadcaster of many famous games, including several UK basketball championships. To watch the award-winning video on Claude Sullivan, visit UK Archives YouTube channel at www.youtube.com/watch?v=tEW-hBXhLG0.
The Sullivan Collection is just one small piece of an entire UK sports archive that is considered one of the best college sports archives in the country, the Big Blue Sports Archives.
Big Blue Sports Archives houses more than 4,000 videotapes; 1,500 audiotapes; 1,500 films; 10,000 photographs; 30 scrapbooks; and 150 boxes of clippings, programs, and media guides related to UK Athletics. To check out the Big Blue Sports Archives, visit Explore UK at http://exploreuk.uky.edu/u/ukatharc/. Coming soon, fans of Sullivan will be able to listen to his collection of audio broadcasts on this website.
Sportscaster Claude H. Sullivan was born in Winchester, Ky., Dec. 29, 1924. He began his broadcast career on the air at WMCA in Ashland in 1942. From 1943 to 1946, he was with WAVE in Louisville, and he began broadcasting UK football games in 1945. From 1946 until 1962, Sullivan was associated with WVLK in Lexington broadcasting UK football and basketball games. In 1951, he organized the Standard Oil Sports Network, which included more than 20 stations carrying football and basketball broadcasts originating in 37 states. Named "Kentucky's Outstanding Broadcaster" by the National Association of Sportscasters and Sportswriters from 1959 to 1964, Sullivan received the "Golden Mike" award from the Kentucky Broadcaster's Association in 1967. He died Dec. 6, 1967, in Rochester, Minn., and was buried in Winchester.