Blyton Remembered as Gifted Teacher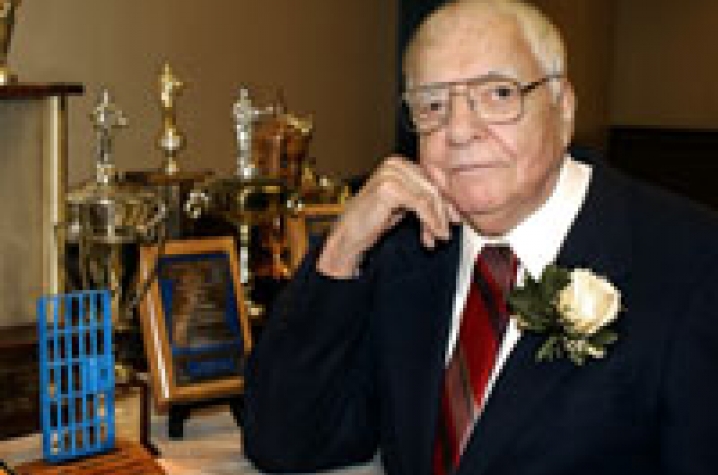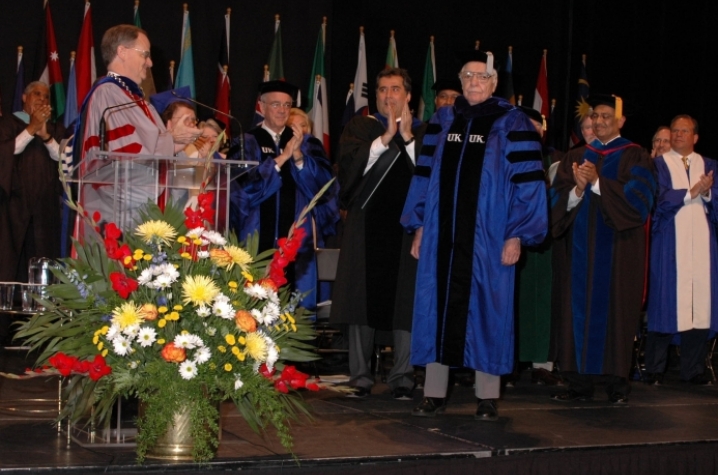 LEXINGTON, Ky. (Jan. 13, 2011) − Gifford Blyton, a speech and communications professor at the University of Kentucky for nearly 30 years, passed away recently at the age of 102. He is remembered by friends, colleagues and former students as a gifted teacher and a friend to the university inside and outside the classroom. Blyton taught at UK from 1948 to 1975, and coached the award-winning UK debate team for 21 years. He served as a parliamentarian with the University Senate for 35 years.
"I was just one of the many students that Dr. Blyton taught and was privileged to become a debater for UK," said Stan Craig, a 1966 UK graduate and one of Blyton's debate team members. "In the classroom and out, he was a friend, mentor and one who helped many students become successful. I would have never been able to stay at UK or graduate had it not been for his kindness and assistance." 
Blyton was born in 1908 in Clarkston, Wash. He grew up on a fruit ranch in Wawawai, Wash., where his playmates were Nez Perce Indian children. He spent his first eight years of school in a one-room schoolhouse. Blyton later graduated from Lewiston High School in Idaho, paying his way through high school by delivering papers. He earned money for college by making fruit boxes and performing other tasks during summers. He attended the University of Washington in Seattle, paying his tuition by washing dishes in a sorority house and working for Metro Goldwyn Mayer. While working aboard a yacht called the Caroline, earning money to complete school, he met a wealthy oilman from Louisiana who offered to help Blyton pursue his Ph.D. at Louisiana State University. Blyton met his wife Marion Geren while in Baton Rouge, and later finished his Ph.D. at Ohio State University.
Blyton's son Ben said his father encouraged him in his own studies as well. "He was a lot of things to a lot of people," Ben Blyton said. "I know a lot of people had really great experiences with him."
Blyton taught at Ohio University and Western Michigan University, making his way to UK in 1948. In addition to coaching the highly regarded UK debate team, Blyton served on the University Senate for more than three decades.
"We had a number of very wonderful discussions about the history of the university," said Jeff Dembo, professor of oral and maxillofacial surgery in the UK College of Dentistry and former UK trustee, who worked with Blyton while serving as Senate Council chair. "He was always very modest but proud to discuss what he did with the university, and the students that he worked with. It was never in a boastful way; it was just a point of pride that he made a difference in the lives of young people."
Dembo said Blyton was proud of the many countries to which he had traveled. But it was his debate team that made him proudest.
"A trophy case was set up for the many trophies he and his debate team won," Dembo said. The trophy case is located in the lobby of White Hall Classroom Building.
Blyton's many contributions to UK led Dembo, former Senate Council Chair Kavi Tegavi, and former Senate Council Chair and UK trustee Ernie Yanarella to push for Blyton to receive an honorary degree from UK. The request was granted in 2008, when the university presented Blyton with an honorary Doctor of Letters degree.
"I drove him from his house to Rupp Arena and sat with him on stage when he received it," Dembo said. "He told me that was the proudest moment of his life, to be there and receive the honorary degree."
Blyton was a charter member and president of the American Forensic Association, charter member and secretary of the National Council of Communication Society, national vice-president of forensics honorary society Delta Sigma Ro, president of the Michigan and Kentucky speech associations, director of Kentucky High School Speech Leagues, co-founder and past president of UK Association of Past Emeriti Faculty, and was inducted into the prestigious Society of Fellows. He wrote several books and articles and reviewed books for numerous publications. He was listed in Community Leaders of America, Who's Who in the South, Southwest, and Who's Who in Community Service. He was an inductee to the Kentucky Forensics Hall of Fame. Blyton was a member of the Southern Speech Association, Kentucky Speech Association, Michigan Speech Association, American Speech Association, and the American Platform Association. He received UK's Great Teaching Award in 1970. The UK College of Communications and Information Studies named Blyton the 2004 Friend of the College.
"He was a teacher, a scholar, a humanitarian, a parliamentarian, a humanist -- there are a lot of words to describe an individual who lived many years and touched the lives of many people," Dembo said. "It's so nice to be able to celebrate somebody's life and to be able to see the trickle down that occurs when a person has such a positive effect on others."
The College of Communications and Information Studies established the Gifford Blyton Professorship in Oral Communication and Forensics in 2002 to honor his legacy as a teacher and scholar. The professorship is unique, because it was made possible through the donations and efforts of Blyton's former students. The effort to raise money for the professorship was spearheaded by Craig.
"He took great pride in debate teams, his students and his family. He loved UK," said Craig. "I am pleased that his debaters were able to create a living memorial in his name before he passed away. Whenever we talked, he always asked about his teams and students, naming them and smiling. He was a beloved coach and professor who never missed a moment to teach life lessons."