CAFE Recognizes its Top Researchers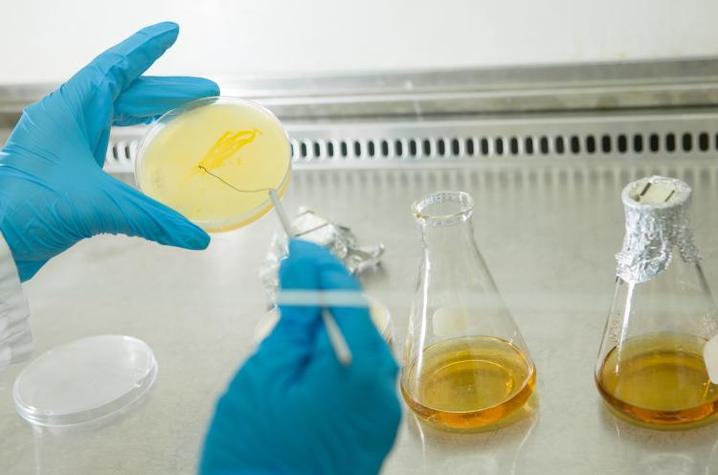 LEXINGTON, Ky. (June 13, 2019) — The University of Kentucky College of Agriculture, Food and Environment recently recognized outstanding research projects from the past year.
The Kentucky Agriculture Experiment Station awarded the Prestigious Research Paper Award, the Bobby Pass Excellence in Grantsmanship, Research-Extension Impact Award and the Thomas Poe Cooper Research Award to deserving scientists in the college conducting cutting-edge research.
"The college is proud of the outstanding accomplishments of these researchers," said Robert Houtz, director of the Kentucky Agricultural Experiment Station and the college's associate dean for research. "Each year, the college honors excellence through several faculty awards. We are fortunate to have so many who qualify for these awards, and it is a pleasure to bring special recognition to some of them."
The Prestigious Research Paper Award is given to a scientist whose work is published in a high impact research journal. Clare Rittschof, assistant professor of entomology, received the award for a paper published in the journal Nature Communications. In the paper, Rittschof showed how the mechanisms in the brain that control honey bee's social behavior may be similar to those in other organisms' brains including humans.
The Bobby Pass Excellence in Grantmanship honors a faculty member who has received the most significant external award or combination of awards. It is given in memory of Pass, who was chair of the UK Department of Entomology from 1968-2001. Nicholas Teets, UK assistant professor of entomology, received the award for his project, in which he will study the genetic mechanisms that allow fruit flies to survive in extreme temperatures. Teets received more than $800,000 from the National Science Foundation for the study.
Bernhard Hennig, professor in animal and food sciences, and Dawn Brewer, assistant professor in dietetics and human nutrition, received the Research-Extension Impact Award. It is given to a project that effectively implements research-based knowledge into an everyday setting. Hennig and Brewer won for their Superfund Community Engagement project. Hennig is the director of the UK Superfund Research Center, which is funded by the National Institute of Environmental Health Sciences in the National Institutes of Health. Brewer leads the center's Community Engagement Core. She developed extension programming based on Hennig's research that showed a diet containing omega-3 fatty acids and plant-derived, antioxidant-rich foods can reduce the risk and incidence of heart disease in individuals who live near a site polluted by hazardous substances. Local extension agents present the nutrition education and provide blackberry bush planting and maintenance education to program participants with the end result being a sustainable source of blackberries for a local community organization.​
Hongyan Zhu, professor in plant and soil sciences, is the recipient of the Thomas Poe Cooper Research Award. The award was established by Cooper, a former dean of the college. It honors a professor who has made significant scientific contributions throughout their career. Zhu studies nodule formation on legumes and ways legumes can more efficiently fix nitrogen in the soil, thus reducing the need for nitrogen fertilizers. His research has generated about $3.5 million in funding, and his findings have been published in several high impact research journals.