Fitbit Benefit Helps Employee Meet Well-Being and Weight Goals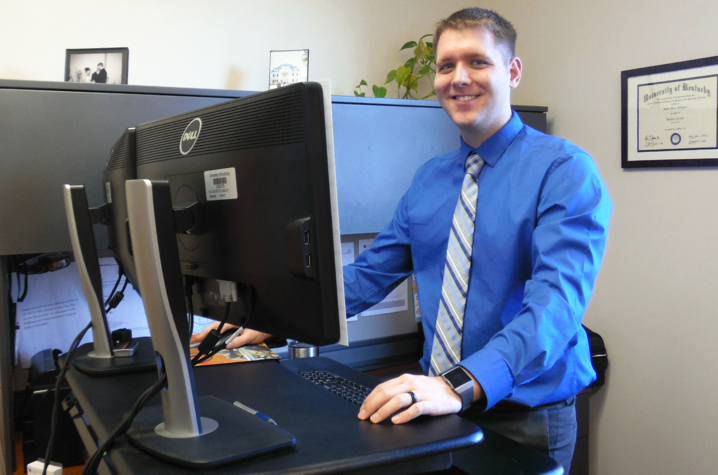 LEXINGTON, Ky. (Jan. 31, 2018) — The Fitbit benefit offered to University of Kentucky employees ends today, Jan. 31. To order a Fitbit, log in to your UK Human Resources Health and Wellness dashboard.
Stefan Schagane is one of more than 9,000 employees to order a Fitbit for free or at a substantial discount using this benefit.
Schagane began tracking physical activity with the Fitbit Flex and then purchased a Charge HR with UK's first Fitbit promotion in 2016.
This year, he upgraded to the Ionic smartwatch — receiving about 40 percent off.
"I chose the Ionic because it's waterproof and swimming is my favorite form of exercise," Schagane said.
Schagane swims at the Lancaster Aquatic Center during open swim hours for employees and has participated in their Wildcat Masters Swim Club, which is open to the community.
At first, increased awareness from tracking his exercise helped Schagane become more dedicated to swimming and running. He says seeing and feeling results also helped.
"I experienced pretty immediate weight loss," he said. "Going down a couple of pant sizes is a good feeling, but it's also great to have so much more energy."
Schagane attributes losing 50 pounds over the last two years to using a Fitbit, being more mindful about eating, and participating in university-wide challenges hosted by HR Health and Wellness.
The Fitbit promotion has also inspired about 10 colleagues in his office to take physical activity breaks together.
"After holiday break, our director had the idea to start doing short, high intensity interval training workouts in the hallway. It boosts our team morale, and it's been a fun way to break up the day and move, especially during the winter."
Having a community at work also committed to physical activity helps Schagane maintain dedication.
"The two biggest things that keep me exercising is variety in what I'm doing, and having my colleagues, my wife and my friends involved too," Schagane said. "It's easy to keep going when I'm not doing it alone."
After the benefit for employees (spouses and retirees with UK health insurance are also eligible) ends, UK employees may use a 15 percent discount for family and friends starting Feb. 1. See frequently asked questions for more details.