Impacted by UK Mentor, Education Alum's Work Now Impacts High School Students Worldwide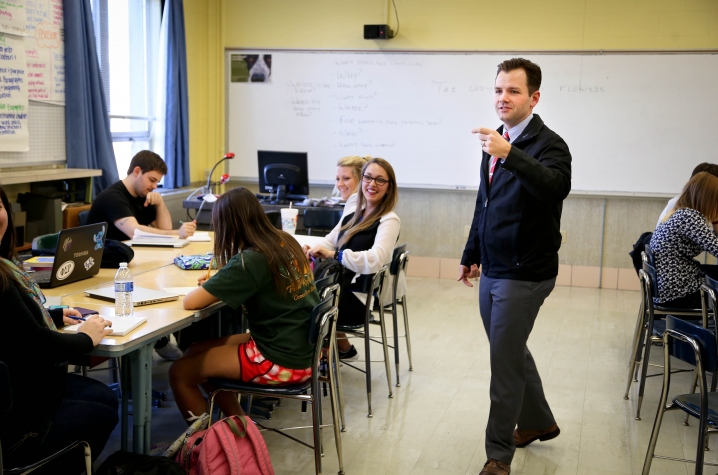 LEXINGTON, Ky. (March 18, 2015) — A seemingly insignificant moment can launch a chain of events that shape a lifetime. Some call it the butterfly effect. Perhaps you begrudgingly put down a good book to go out with a friend, and end up meeting the person with whom you start a family.
The twists and turns of life are often shaped by mentors. University of Kentucky College of Education alumnus Brandon Abdon ('03) had one of those moments when he met Les Burns, English education program faculty chair and an associate professor of literacy in the college's Department of Curriculum and Instruction.
At the time, Abdon was in postgraduate classes at UK and Burns was taking over the English education program. The two easily connected and a mentoring relationship began. It was Burns who told Abdon about the Bread Loaf School of English at Middlebury College in Vermont, where he earned one of his master's degrees and developed contacts that have mentored, challenged and supported him since.
"If not for various mentors, I never would have taken the chances and been given the opportunities I have been given in my life and career," Abdon said. "Sometimes they pull you aside and sometimes you have to seek them out — in either instance mentors are available and give freely of themselves."  
Abdon recently became director of AP English Curriculum and Content Development for the College Board, where he will help design and manage two of the largest AP courses: AP English Language and AP Literature. This means his work will indirectly affect more than 1 million students in 10,000-plus high schools around the world annually.
He relocated to Atlanta from Fort Thomas, Kentucky, where he taught English at Highlands High School, to take the position. He spent evenings and summers in Lexington during the past several years, giving back to his alma mater by instructing UK courses designed for future English teachers.
Abdon is a 1997 graduate of Greenup County High School and began his college studies as an undergraduate at UK in English education with a minor in classical languages and literature. He also has a master's in education from UK and has since earned a master's in English from the Bread Loaf School and a specialist degree in education from Northern Kentucky University.
Abdon said the best aspect of his studies at UK was "being immersed in the context of a (high) school the entire time so that we were constantly reminded of our audience and how the different research and projects we did would fit within the larger program of a school. It made me immediately feel I was part of something bigger."
He will take these experiences to the College Board, where he is responsible for collaborating with colleges and high schools to create, revise and implement English curriculum that meets college standards while fitting in the high school calendar.
"I would not be here at all were it not for my mentors," Abdon said. "Especially considering Les Burns, who was the first phone call I made when I got the notice I was being considered for the position. Dr. Burns advises and mentors well beyond his current students.
"He is committed to the growth of those around him and the field of English education in general. Anyone who seeks out his advice or perspective regarding career, educational opportunities, programs at UK, and so on will find him ready and eager, not just willing, to help. He has questioned and challenged me when needed and taught me to understand myself better and be ready and able to explain and justify my reasoning," Abdon said.