Outstanding Staff Awards Announced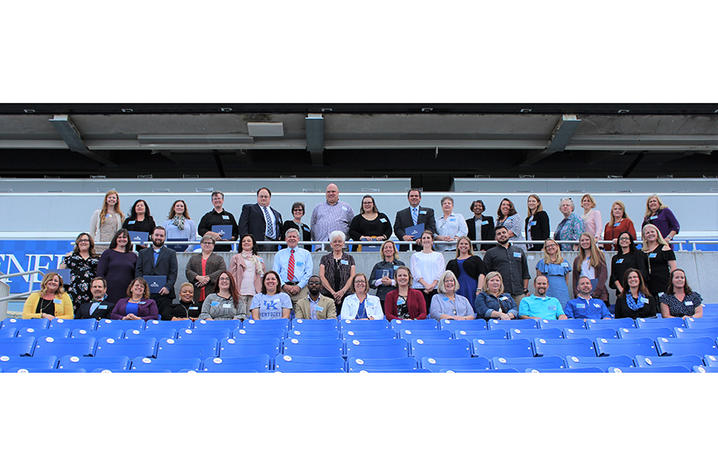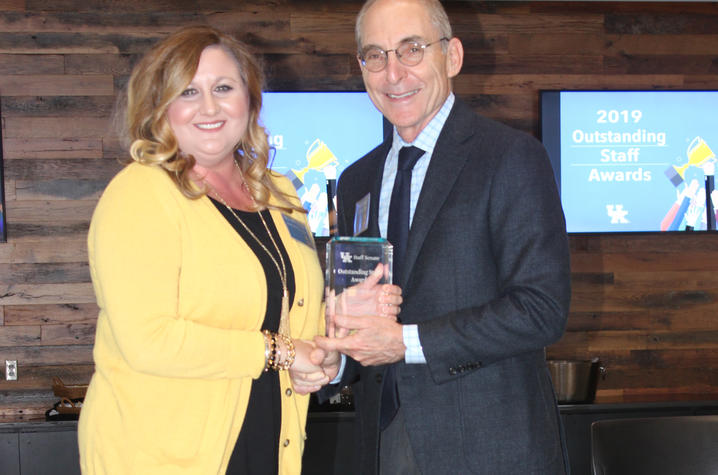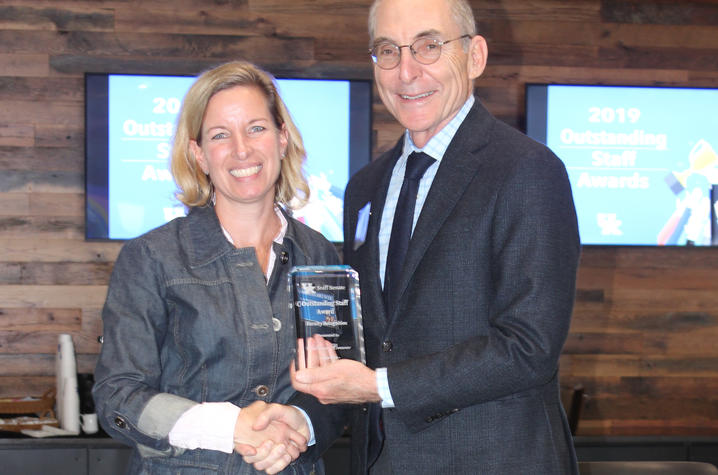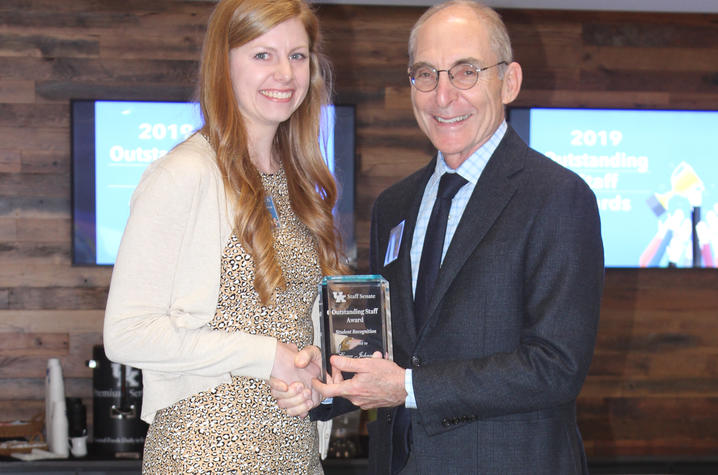 LEXINGTON, Ky. (Nov. 1, 2019) — Nearly 75 University of Kentucky staff members were honored recently by their colleges and divisions during the 2019 Outstanding Staff Awards (OSA) recognition ceremony. This is the 10th year for the event.
Sponsored by the President's Office and UK Staff Senate, the Outstanding Staff Awards recognize staff members who have been given an award within their department on a university level. Over 150 people were in attendance to honor the 72 staff members who received departmental awards.
In addition to the departmental winners, 15 finalists and three winners were named for the campuswide Outstanding Staff Awards. Each award is driven by nominations from either student, staff or faculty.
Outstanding Staff Award winners and finalists were:
Faculty Recognition – Sabrina Brewer (winner), Sheila Brothers, Terri Dawson, Mary Ann Isaacs, Lisa Witt
Student Recognition – Grace Johnson (winner), Sandy Anderson, Shelley Ferrin, Zac Lewis, Mark Williams
Staff Recognition – Hillary Glenn (winner), Christy Chapman, Michelle Garth, Carol Taylor Shim, Daun Wickline
Glenn, the staff recognition winner, was also named Outstanding Staff Member of the year. Glenn works in the Pre-Op Clinic in UK HealthCare. She came into the office more than two hours prior to her shift to accompany a patient who had no family through a procedure. She said she felt that people should not have to go through "something like that" on their own.
"Hillary (Glenn) is the type of staff member we should all aspire to be," Jon Gent, chair of the Staff Senate, said. "All of our winners and finalists show the importance of a job well done, and we're happy that this event allows us to tell these sorts of stories about the University of Kentucky family."
The 72 OSA winners represented over 40 colleges and administrative units across the university. In addition, UK's cardiopulmonary team was recognized for winning the Quilt of Teamwork Award for Nursing Support.
The 2019 OSA department winners are:
Tarin Adams
Mitch Barnhart
Ann Bassoni
David Beach
Christina Bevevino
Nathaniel "Louie" Bosworth III
April Brooks
Will Buntin
Allison Burton
John Caldora
Rebecca Charles
Kathy Collins
Nicholas Cprek
Caroline Crane
James Crowden
John Cruz
Chance Davenport
Michelle Del Toro
Cheikh Diop
Deborah Michelle Dunn
Lori Eckdahl
Jennifer Forman
Crista Fornash
Danielle Gabbard
Sherry Griggs
Hugo Hamilton
Beth Hanneman
Tanya Harper
Jacob Heil
Jennifer Herrin
Tammy Herring
Libby Hogan
Andrea Howard
Keisha Humphries
James Hutchins
Nicki Jenkins
Lynne Jensen
Nita Khatiwada
Clinton Knight
Eileen Kopp
Kristie Law
Kara Lee
Joseph Lohr
Michelle Lowe
Kimberly Maggard
Robby Martin-Curry
Brandy Mathews
Betty McCann
Diane Mier
Kristi Moore
Robin Notton
Mary Payton
Jamie Risen
Karolyn Roberts
Chris Rodgers
Alyssa Rose
Terri Runyon
Jennif​er Sciantarelli
Marcia Shrout
Patrick Smith
Bob Stokes
Lindsay Stradtman
Kai Su
Ward Suthon
Lisa Thompson
Pam Thompson
Chad Tucker
Bailey Ubellacker
Katy Walker
Teri Walters
Pat Whitlow
Laura Williams
For more information on Staff Senate, visit their website. 
UK is the University for Kentucky. At UK, we are educating more students, treating more patients with complex illnesses and conducting more research and service than at any time in our 150-year history. To read more about the UK story and how you can support continued investment in your university and the Commonwealth, go to: uky.edu/uk4ky. #uk4ky #seeblue