Thinking About Retiring Soon? Attend a Planning Conference This Fall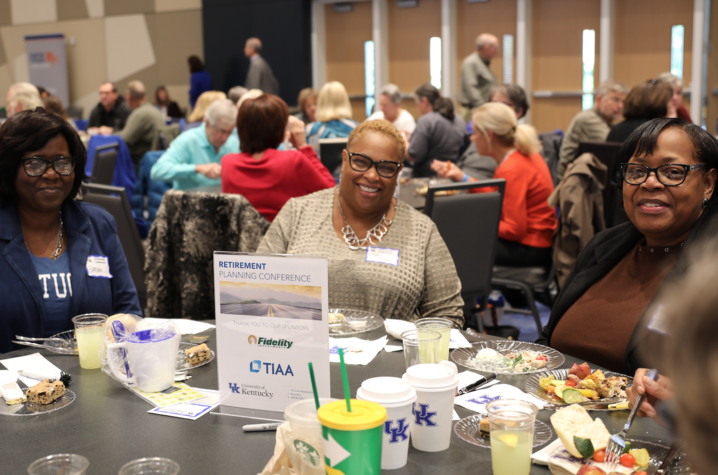 LEXINGTON, Ky. (Aug. 30, 2019) — University of Kentucky Human Resources will host its annual Retirement Planning Conference on Oct. 25 in the Gatton Student Center, offering employees insights into planning for the next phase of life, along with information about UK benefits available to retirees.
"Retirement is a major step filled with uncertainty," said Gordon Garrett, associate state director for the Kentucky Small Business Development Center and an attendee at the 2018 conference. "Last year's conference expanded my horizons by exposing options and opportunities for retirees."
This full-day event provides an overview of everything to consider, from income and insurance to health and well-being.
As the baby boomer generation retires, many in this generation seek greater financial security and a continued sense of purpose and connection through encore careers.
This year, Marci Alboher, vice president at Encore.org and one of the nation's leading authorities on career issues and workplace trends, delivers the keynote address. Alboher will help attendees think about their encore, which she describes as "the intersection of purpose, passion (and maybe a paycheck) in the next phase of life."
In addition to Social Security, retirees from UK typically have another income source: their savings including a 200% employer match in their 403(b) account with Fidelity and/or TIAA. 
The conference features presentations by a local Social Security representative, Fidelity and TIAA — plus UK's Todd Macaulay, a certified financial planner and accredited investment fiduciary. Macaulay's presentation on planning for retirement income will cover strategies for withdrawing funds and budgeting. Employees have an opportunity to consult with Macaulay for free as part of their UK benefits.
UK also offers health insurance to retirees. Medicare covers 80% of total medical bills. This leaves many to pay the remaining 20% out-of-pocket, but UK offers a Medicare Advantage plan that delivers all the benefits of original Medicare while also helping to close that 20% gap.
"Health insurance is an important topic to those retiring, and the plan UK offers to retirees is incredibly popular," said Terri Kanatzar, a UK retirement officer who works one-on-one with employees preparing to retire and organizes the conference. "The conference covers health insurance, related timing considerations, and a unique service available to UK employees and retirees to ensure they're getting the best deal on prescription medications and experience a smooth transition with insurance changes," Kanatzar said.
For more information about the annual conference and planning resources, visit the HR website for retirement planning.