UK Ag Economics' Reed Receives Lifetime Achievement Award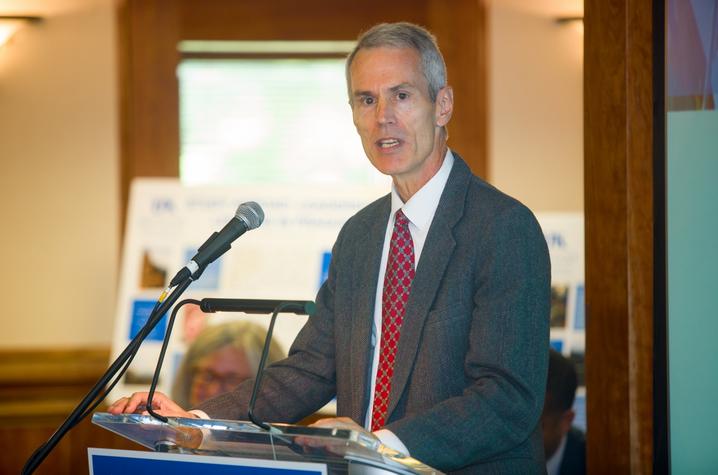 LEXINGTON, Ky. (Feb. 18, 2019) — Michael Reed, University of Kentucky agricultural economics professor, was recently honored with a Lifetime Achievement Award from the Southern Agricultural Economics Association.
The association gives the award to individuals to recognize their accomplishments in the profession and to the association. Reed was nominated for the award by Barry Barnett from the University of Kentucky, Darren Hudson from Texas Tech, Patricia Duffy from Auburn University and P. Lynn Kennedy from Louisiana State University.
"Reed's research contributions to the profession of agricultural economics are extensive and significant," said Barnett, professor and chair of the UK Department of Agricultural Economics. "While he has conducted research on a variety of topics including crop insurance, land use and agricultural production efficiency, he is perhaps best known for his work on agricultural trade, consumer food demand and international development."
Reed has been a faculty member in the UK College of Agriculture, Food and Environment for more than 40 years and has served as the director of the university's Office of International Programs for Agriculture for more than 20 years. He received two Fulbright awards to Indonesia in 2016 and Zimbabwe in 2014. Reed holds honorary doctorates from Maejo University in Thailand and Bucharest University of Agricultural Sciences and Veterinary Medicine in Romania. He is an honorary fellow of the University of Craiova in Romania. From 2013 to 2015, he was a book review editor for the American Journal of Agricultural Economics.
Reed has received more than $4.5 million in external funding to support his research and international programs. He is the author of 93 journal articles, more than 30 book chapters or published proceedings and a highly regarded textbook, "International Trade in Agricultural Products." He has given nearly 50 invited presentations in more than a dozen countries.
During his career, Reed has directed 37 doctoral students and 24 master's degree students. He served on the advisory committees of more than 100 additional graduate students and hosted 29 visiting scholars.
Within the association, Reed is very active and served as its president-elect, president and past president from 2009 to 2012. He is currently serving in his third year as the editor of the Journal of Agriculture and Applied Economics, the association's academic journal.