UK Geography Faculty Member Recognized for Teaching Excellence at SEDAAG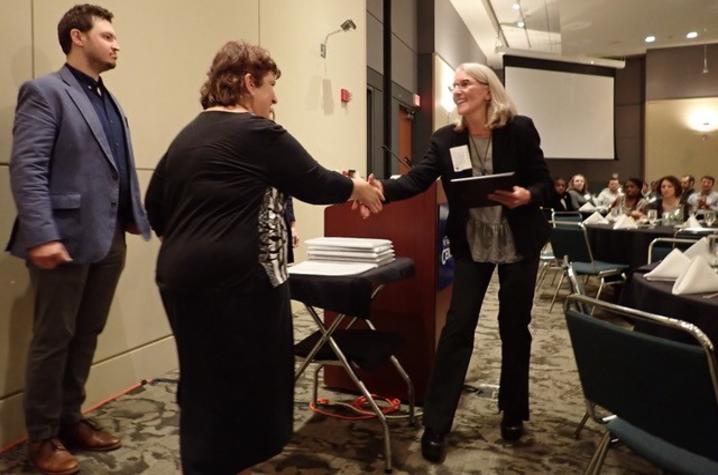 LEXINGTON, Ky. (Dec. 14, 2018) — University of Kentucky faculty member Lynn Phillips received the 2018 South Eastern Division of the American Association of Geographers (SEDAAG) Excellence in Teaching Award. In addition to Phillips, the University of Kentucky Department of Geography sent two other faculty members, Karl Raitz and Matthew Wilson, and six graduate students to the conference, hosted by East Tennessee State University, Nov. 18-19.
"This is a huge honor for me as it represents acknowledgement by geographers in a 10-state region that my instructional practices have impact beyond the classroom," Phillips said. "It is deeply affirming to be recognized by peers I have long respected."
In addition to receiving the SEDAAG Excellence in Teaching Award, Phillips has previously received several awards for excellence in teaching. Her other awards include the 2018 Provost's Outstanding Teaching Award and the 2016-17 College of Arts and Sciences Outstanding Teaching Award. She has also been recognized six times as the "Outstanding Geography Teacher" in her department.
Phillips said the key to teaching excellence is about relationships. "The student-teacher relationship cannot be one-way. At the university, we encounter students during a time of intense personal growth. As such, I like to meet with students personally to get to know them. Their backstory is key to their success. Knowing my students helps me help them; that is, talking with them sheds light on their readiness to engage with the university experience and my class."
Phillips is the special title series teaching professor. One of the courses she has taught is Community 101, which is intended to familiarize UK students with key issues and key stakeholders in Lexington and Fayette County. She is very active in the geography department. Phillips coordinates internships within her department and is the faculty sponsor for the international geographical honor society Gamma Theta Upsilon.
All six UK graduate students presented research papers at the conference:
Erin Clancy: "Care in Recovery: The Development of Collective Autonomy and Emotional Attachment in a Peer-Led Support Group";
Tasnuba Jerin: "Sycamore as a Biogeomorphic Keystone Species for Bedrock Controlled Streams";
Karen S. Kinslow: "Stream Restoration Relationships and Nature-Objects: A Mini-Ethnography";
Ian Spangler: "'One More Way to Sell New Orleans': Airbnb and the Commodification of Authenticity through Local Emotional Labor";
Elisa Sperandio: "Living at the Border (Theatre): Humanitarianism and Enforcement in the lives of Lampedusa's Resident Community"; and 
John J Swab: "A Road Not Taken: Computerized Raised Relief Mapping in the 1960s."