UK Philanthropy Honors Five University of Kentucky Staff With 2017 Terry B. Mobley Philanthropy Awards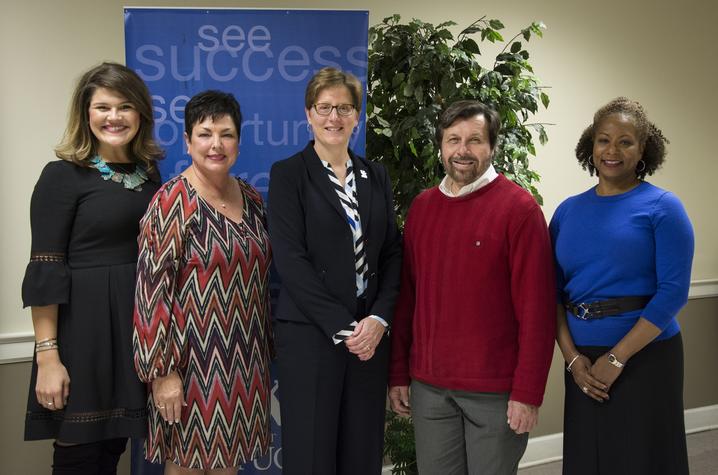 LEXINGTON, Ky. (Nov. 21, 2017) – Five University of Kentucky staff members are the recipients of the 2017 Terry B. Mobley Philanthropy Awards. Honored by UK Philanthropy, the award-winners were recognized at a ceremony conducted at the Helen G. King Alumni House, Wednesday, Nov. 15.
Named in honor of long-time UK Vice President Terry Mobley, the awards are designed to recognize and reward staff who have demonstrated "outstanding performance and professional achievement in the philanthropy profession at UK," said Mike Richey, vice president for philanthropy.
Among those honored were Bill Nims, administrative support associate, UK Philanthropy; Lisa Blackadar, director of philanthropy, College of Fine Arts; Sara-Elizabeth Bush, alumni engagement coordinator, UK Alumni Association; Paula Pope, executive director of philanthropic engagement, UK Philanthropy; and Taunya Phillips, associate director of strategic alliances, Office of Technology Commercialization.
Nims received the Front Line Award for outstanding performance in support of philanthropy at UK.
Greg Laur, executive director of administration, UK Philanthropy, and chair of the Terry B. Mobley Philanthropy Awards Committee, described Nims as being a "positive, hard-working team member who helps UK Philanthropy's operations run smoothly and in a professional manner."
Blackadar and Bush received the Rising Achievement Award – an award presented to those with a tenure of less than five years.
"Both Lisa and Sara-Elizabeth have clearly demonstrated excellent work performance and had great success in their respective philanthropy and alumni relations responsibilities," Richey said. "Both of these professionals hold significant potential of further outstanding achievement and impact as a philanthropy or alumni professional."
Pope, who will retire from UK in December, was recognized with the Professional Achievement Award. This award, said Richey, is presented to a staff member who has UK Philanthropy or UK Alumni Association tenure of five or more years and "who consistently demonstrates excellent work performance and has achieved great success and impact as a philanthropy or alumni professional. We could think of no one more deserving of this year's Professional Achievement Award than Paula."
Recognized with the Philanthropy Service Award was Phillips. Laur said the Philanthropy Service Award is presented to a UK senior professional, administrator or faculty member who has demonstrated "extraordinary support" for the philanthropy effort at the university, but is neither a full-time UK Philanthropy or UK Alumni Association professional.
"Taunya exemplifies the definition of this award," Laur said. "She is a strong advocate for philanthropy and has demonstrated a passion for the advancement of the University of Kentucky through her volunteer leadership role as treasurer with the UK National Alumni Association."
Those serving in addition to Laur on the 2017 Terry B. Mobley Awards Committee were Valerie Brown, administrative services, UK Philanthropy; Jennifer Combs, administrative coordinator, UK Philanthropy; Sarah Fitzgerald, associate director of annual giving, UK Philanthropy; Laura Sutton, senior philanthropy officer, College of Arts and Sciences; and Jill Smith, associate executive director, UK Alumni Association.