Visiting Professor Examines Slavery in America in Honor of 70 Years of Integration at UK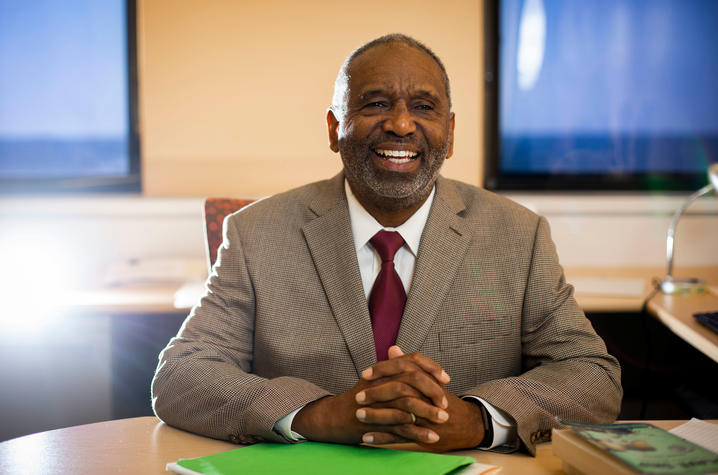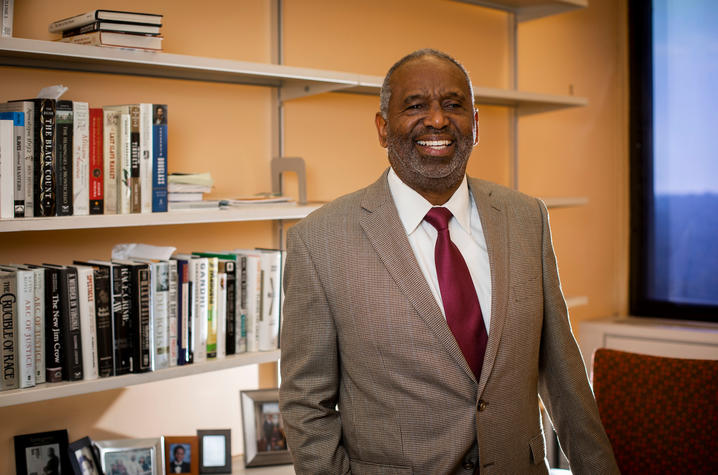 LEXINGTON, Ky. (Sept. 19, 2019) — The University of Kentucky College of Arts and Sciences, in partnership with the Office for Institutional Diversity, welcomes noted African American scholar, UK alumnus and former president of Prairie View A&M University, George Wright. In recognition of the 70th anniversary of integration at the university, Wright is a visiting professor at UK for the 2019-2020 academic year.
A Lexington native, Wright received his bachelor's and master's degrees from UK in history and his doctoral degree in history from Duke University. In 2004, he was awarded an Honorary Doctorate of Letters from UK and was later inducted into the Hall of Distinguished Alumni in 2005. 
Wright has touched the lives of thousands and has had a tremendous impact in the lives of students during his time in higher education. Through his courses, published work and charitable contributions to the community, Wright has provided the public with a better understanding of slavery and the impacts of the institution as a whole in the United States and around the world. 
Over the course of the academic year, Wright will give presentations on campus and throughout the state. This fall, he will teach a seminar on slavery in the Americas, and in the spring a seminar on the worldwide quest for equality. He will also take students on an Education Abroad experience to South Africa.
Charismatic and also dynamic, Wright sat down with UKNow to discuss his own ascension in higher education, and his passion for researching the subject of slavery. In the below Q&A, his answers wove his own life experiences as a child growing up in segregated Kentucky with his adoration for storytelling, for an insightful take on diversity at UK, 70 years of integration and more. 
UKNow: How has your childhood and upbringing shaped your journey through higher education?
Wright: As a young person, I always loved to read, and I believe it was the fourth or fifth grade where that really became clear to me. I like to tell people a story, that when I was in the fifth grade, cutting up, misbehaving as usual, and on one occasion, the teacher said that everyone could go outside for recess except George Wright. Well, you can't leave a student in the classroom by him or herself. So, they sent me to the library. I sat there and sulked for a few minutes and that kind of thing, but then I realized I had time, and I started thumbing through the various books. I can remember reading about explorers, famous people, battles and eventually about what I call, "far-away places," and those really appealed to me. Reading really became the foundation for me and my education.
UKNow: How did your love for African American history begin?
Wright: When I started college here at the UK, I knew I would major in, quote, "French history." I loved French history and all of the things about the time period from Napoleon and the wars. At some point, in my first general American history classes, the subject of slavery and race came up, and I, of course, was very interested in that, intrigued, and, candidly, a little bit frustrated in the sense that even though I could not critique certain aspects of slavery, I thought there was probably more to it than I was learning about early on. So, for Afro-American history, my first love — and probably the thing that I enjoy researching, talking about more, even though my scholarship initially has been on the part after slavery — was the institution of slavery. I found slavery just so incredible and, from the beginning, a contradiction for this country, that if you say a country is built on freedom, yet slavery existed. So, when I finally came across scholars who said that in America, first in freedom and first in slavery simultaneously, and that the tensions have always been there — that, I found very appealing. 
UKNow: What is it like for you to be back at UK? From the time that you attended to now, how do you think the university has improved in terms of diversity and inclusion? 
Wright: It's an honor to be back here. If it's possible to love an institution, then I love the University of Kentucky because of all the things it has done for me. It gave me an opportunity to go to college, gave me the financial resources and then gave me something that I'm not so sure every student gets at a university — encouragement. I received encouragement by so many of my faculty. UK has done everything for me that a university could possibly do.
I think UK has changed quite a lot over the years. I am impressed with the things that the university has done and am very pleased that UK has decided to commemorate the 70th anniversary of desegregation as a time to reflect.
UKNow: This semester you will be teaching the course, Studies in History: Slavery in the Americas. Why do you feel it is important for students to study this historical chapter in our nation's history? 
Wright: I want my students to understand slavery as a worldwide establishment. From the moment people were brought out of Africa, they came to the Americas. But they also went east, they also went to Europe and so forth. There was the spreading of people, migrating to all parts of the world. Learning about slavery in a broader sense helps put America into its right context, allowing students to see how slavery was probably involved in every institution in the United States prior to the Civil War. North, South, East, West, slavery was a national, not a regional, institution. That's why I think a course like this is so important. 
UKNow: Why is it important that we commemorate 70 years of integration at the university?
Wright: I think it's important to remember, in Kentucky, the Lyman T. Johnsons, the people who worked with him, the NAACP on both the national and local level, in that regard. I think it's important, even if we don't know all of the names of those early students who came, to remember them as well. 
When I arrived in 1968, that was the largest group of black students that came in at one year, there were at least 30 to 40 black students who came that year. It still meant that in most of my classes, I was the only Afro-American, so what must it have been like when the undergraduates came in 1954, '55, '56 in that regard? I can only imagine.
I think all students need to know the story of what happened. How did the University of Kentucky evolve? They also need to know about the trials that some people had to overcome just trying to get an education. It is never a negative to look back on integration or desegregation. It's important, because it can challenge us. If this is where we are now, then where do we want to be in the future?
UKNow: How do we continue the conversation surrounding diversity and how do we take what we have learned during this year of reflection and use it to inform future decisions surrounding diversity and inclusion?
Wright: I believe issues of race, issues of diversity and issues of inclusion should be talked about when there is no crisis. We must find a way to talk about them and set ground rules, and provide an environment for students, faculty and staff where you are allowed to speak without being condemned. 
I think that people also need to understand why diversity is important to them, why inclusion is important to them. If we can't do it at a university, where else can we do it?
To view a full list of events and programs that commemorate the 70 year anniversary, visit www.uky.edu/diversity/70years.