UK Solar House to Shine on KET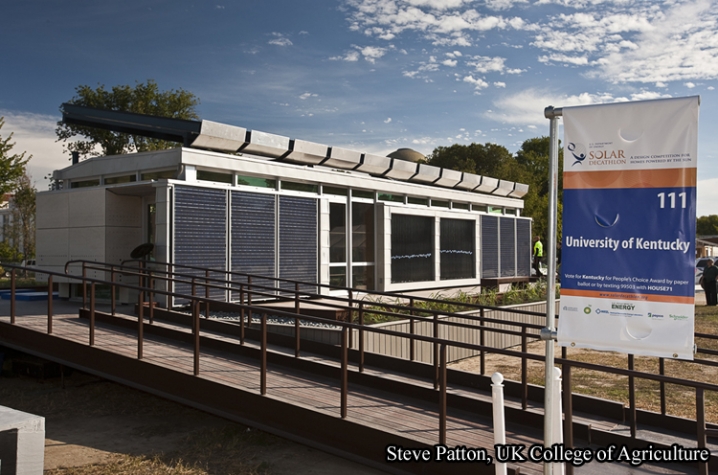 LEXINGTON, Ky. (Jan. 6, 2011) − The University of Kentucky's S•KY BLUE House, which finished ninth of 20 competitors at the 2009 U.S. Department of Energy Solar Decathlon competition, will be featured on KET (Kentucky Educational Television) beginning at 10:30 p.m. EST Monday, Jan. 10, on KET2 (Insight Cable Channel 15). The program will take a look at how UK's team designed, fabricated, constructed and operated a solar-powered home as part of a solar village on the National Mall in Washington, D.C.
 
UK's S•KY BLUE solar house team was an interdisciplinary group comprised of students, faculty and staff from six colleges and 16 centers and departments within UK. The team was led by two principal investigators, Donald Colliver, professor of biosystems and agricultural engineering at the College of Agriculture, and Gregory Luhan, associate dean for research at the College of Design, as well as faculty from the College of Communications and Information Studies and College of Engineering.
The television program on the university's solar house was produced, shot and edited by the College of Engineering and the Center for Visualization and Virtual Environments at UK. Viewers can catch the program showcasing the S•KY BLUE House at least eight times between Jan. 10 and Feb. 22 on KET, KETKY and KET2. For a listing of the specific air dates, visit KET online at: www.ket.org/tvschedules/episode.php?nola=KSOLA+000000.  
For more information on the S•KY BLUE House, visit the team's website at www.uky.edu/solarhouse. For more information on the 2009 Solar Decathlon, visit the event's website at www.solardecathlon.gov/past/2009/.
To watch a UK video about the solar house, play the YouTube video below.

To view a transcript for the video, please click on the transcript link just below the photo gallery.