WoodSongs Celebrates John Jacob Niles Book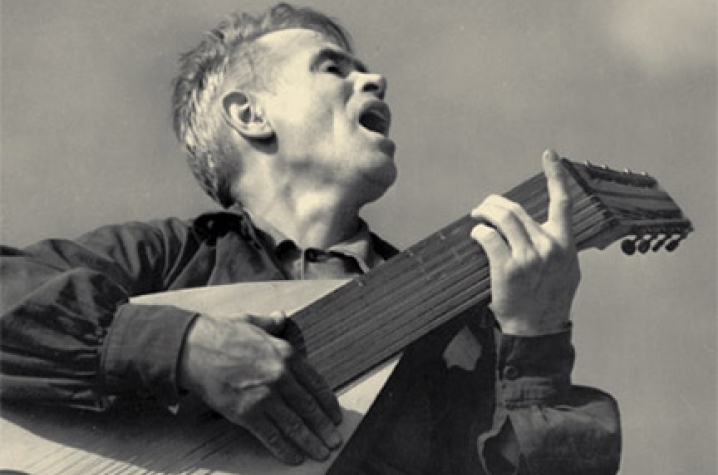 LEXINGTON, Ky. (Nov. 5, 2010) − "The WoodSongs Old-Time Radio Hour" will present a program dedicated to the music and career of John Jacob Niles. The upcoming show is centered on the new Niles biography "I Wonder as I Wander: The Life of John Jacob Niles" by Ron Pen, director of the University of Kentucky John Jacob Niles Center for American Music. The show will begin at 7 p.m. Monday, Nov. 8, at the Kentucky Theatre. Those not in attendance can watch the live webcast of the show beginning at 6:59 p.m. at www.woodsongs.com/webcast.php.
John Jacob Niles is considered one of our nation's most influential musicians. The Kentucky native is called the "Dean of American Balladeers" and Niles's dedication to the folk music tradition lives on in generations of folk revival artists such as Bob Dylan, Jean Ritchie, Joan Baez and Oscar Brand. As a composer and balladeer, Niles drew inspiration from the deep well of traditional Appalachian and African American folk songs.
In celebration of Niles, "WoodSongs" will showcase the work of Ron Pen, an associate professor of music and director of the John Jacob Niles Center for American Music and the Appalachian Studies Program at UK, who wrote first full-length biography of Niles "I Wonder as I Wander," published by University Press of Kentucky. The book explores Niles' career, not only illuminating his influence on the American cultural landscape, but also illustrating the country's musical development, ranging from rural folk roots to World War I songs and from the burgeoning American art song tradition to the folk revival. Pen conducted extensive research over a period of 27 years, using Niles' own accounts, journals, notebooks and unpublished autobiography to create a comprehensive narrative of the noted musician's life.
Featured performers for the "WoodSongs" program celebrating Niles include: The Reel World String Band; The Niles String Quartet, a graduate quartet at UK; Dennis Bender, associate professor of voice at UK; and vocalist Monica Dewey, a UK arts administration junior.
Tickets for this "WoodSongs Old Time Radio Hour" program are $10 for general admission and $5 for students with IDs. To purchase tickets, call (859) 252-8888. Additionally, "I Wonder as I Wander" will be available for purchase in the theater's lobby through Morris Book Shop. Pen will sign copies following the performance.
"The WoodSongs Old Time Radio Hour" is broadcast to more than 500 radio and TV stations around the world, including stations in Australia, Canada, Ireland, Belgium, Holland, France, Costa Rica, New Zealand, Nicaragua, the Philippines, Poland, Slovenia, England and Yugoslavia.