Public Health Dean Delivers Keynote on New Era of Precision Medicine During CCTS Conference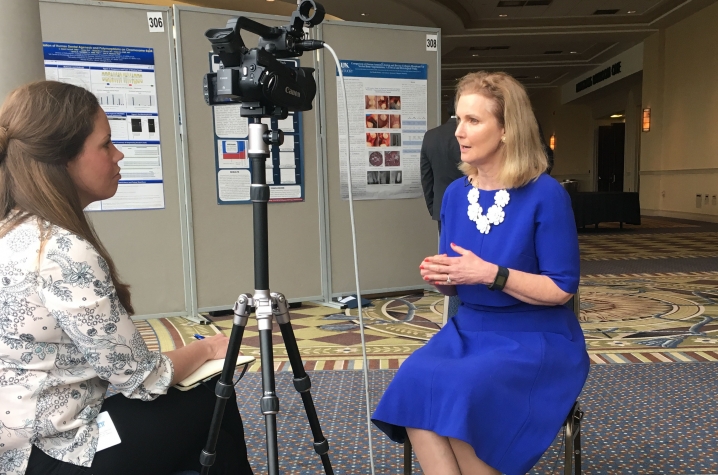 LEXINGTON, Ky. (April 25, 2016) — Donna Arnett, dean of the University of Kentucky College of Public Health, outlined implications for researchers as the nation's health care system pivots toward precision medicine during the Center for Clinical and Translational Sciences (CCTS) 11th annual conference on April 21, 2016.
Arnett, a genetic epidemiologist who joined the UK College of Public Health as dean in January 2016, discussed the task of bringing precision medicine to fruition in Kentucky's populations during her keynote address, "Personalized Medicine and Population Health." Arnett defined precision medicine as an individualized approach to disease treatment and prevention that attempts to "maximize effectiveness by accounting genetic makeup, lifestyle factors and environment."
President Barack Obama's Precision Health Initiative launched in 2015 with a mission to tailor health care to an individual's distinctive genetic and personal characteristics. A related concept, personalized medicine — the theme of the CCTS conference — refers to examining the signs, symptoms, available evidence, and patient experience and preferences to guide medical decision-making.
In addition to explaining the origins and premise of the precision medicine movement, Arnett addressed the advantages and challenges associated with implementing precision medicine across populations, with a particular emphasis on what the new age of precision health means for Kentucky's high-risk populations. Using the breakthrough testing for the BRCA-1 and BRCA-2 breast cancer gene as an example, Arnett illustrated several barriers to expanding human genome studies to the general public. The magnitude of variation in the human genome makes mapping and translating genetic information a consuming task, and medical practitioners are expected to translate this information for clinical care.
In achieving the goals of precision medicine, Arnett implored health researchers and practitioners to integrate innovative resources, such as merging genome-sequencing tools with electronic health record systems. Showing the advantages of precision medicine from a public health standpoint, Arnett provided evidence that public health interventions informed by precision medicine could result in favorable changes in the distribution of disease within populations.
In Kentucky's population, which experiences higher national averages for most major chronic illnesses, implementing precision medicine will involve number of considerations, including gaining public support, linking data within health care institutions, accuracy in producing data, methodological and ethical problems, assessment of the socioeconomic costs and benefits, and clear direction regarding the clinical utility of genomic information. Arnett suggested researchers can gain understanding of how to integrate all these factors in health-disparate regions of Kentucky.
"How do we move forward with precision medicine while we tackle health problems that already exist in Kentucky?" Arnett said. "We have terrible risk factors, we have huge health problems we need to address, and while I am thrilled about the science of precision medicine, we have to recognize the health issues that currently have a tremendous impact our state – and we have to continue our focus on traditional approaches to managing those risks."
The CCTS conference drew a record number of nearly 1,000 researchers and students in the health sciences, with research represented from the College of Health Sciences, the College of Public Health, the College of Nursing, the College of Medicine, the College of Dentistry, the College of Pharmacy and the College of Engineering.
MEDIA CONTACT: Elizabeth Adams, elizabethadams@uky.edu
UK is the University for Kentucky. At UK, we are educating more students, treating more patients with complex illnesses and conducting more research and service than at any time in our 150-year history. To read more about the UK story and how you can support continued investment in your university and the Commonwealth, visit uky.edu/uk4ky. #uky4ky #seeblue