Dean Donna Arnett Stresses Role of Research to Eliminate Health Disparities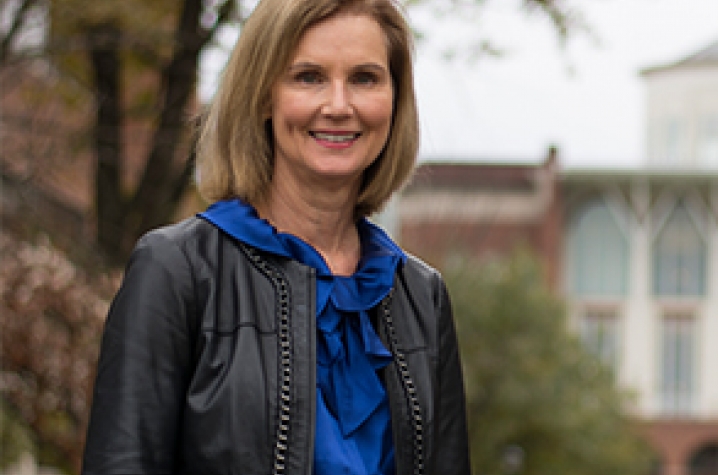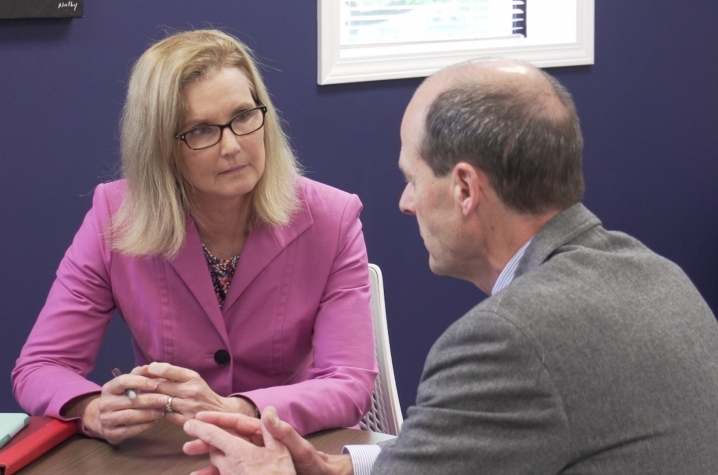 Video produced by Alicia Gregory of REVEAL Research Media. 
LEXINGTON, Ky. (June 16, 2016)
— In her former career as a nurse, Donna Arnett found herself engaging in the natural process of scientific inquiry: asking an unanswered question about a problem observed in health care, then devising a plausible solution.   
While working adjacent to a dialysis clinic at a Veteran's Affairs hospital, Arnett noticed more African-American men were sent to the clinic than men of other racial categories. Arnett, who came to the University of Kentucky earlier this year as the dean of the College of Public Health, wanted to understand why this group of veterans was more susceptible to kidney disease. Even before a research proposal was in writing, she formed an informal hypothesis that some innate characteristic hidden in the genetic code of African-American men put them at a heightened risk of kidney failure — and she was right.  
"I'll never forget, in my hallway in this VA hospital, every day men would be coming down the hallway, and they're almost all African American," Arnett said. "I said, 'You know, there has to be something about being African American and having kidney failure.'"
While her original hypothesis evolved through time, the marrow of her original idea was validated after numerous studies. A genetic mutation was attributable to a higher risk of kidney failure in this population. Since that turning point toward research, Arnett has continued to delve deeper into knowing how genetic variation and environmental factors predict health outcomes in certain groups and populations.
"I think I've been asking questions my whole life, and I just discovered epidemiology later in my nursing career," Arnett said. "And it just really excited me about the potential to answer really important questions."
Arnett's inquisitive nature propelled her into a career in public health, which culminated her earning a doctorate in epidemiology from the University of North Carolina at Chapel Hill. Arnett was eager to conduct research on human genetics, and launched her research career with a study examining why some people with hypertension develop enlarged hearts. She measured the variability of blood pressure in 12 men over 12 hours with the same condition and presented her findings at a scientific conference, which was a definitive and confirmatory moment in her research career.
"I wrote my first abstract and presented it at a national meeting, and it was just life-changing," Arnett said.
Arnett joined the faculty at the University of Minnesota in 1994 where she expanded her research portfolio of National Institutes of Health-funded research projects. She has received funding from the National Institutes of Health (NIH) for more than 20 years, bringing three active NIH projects to UK. In addition, Arnett assumed leadership roles at the University of Alabama at Birmingham (UAB) and on the national stage as the president of the American Heart Association (AHA). Serving as AHA president showed Arnett that solving the most urgent health problems in the nation requires the collaboration among different professionals and organizations devoted to health and uniting the research efforts and knowledge of diverse investigators.
Even before President Barack Obama launched the Precision Medicine Initiative, which seeks to maximize the effectiveness of medical treatment by factoring genetics, environment and lifestyle choices into an individual's care, Arnett was investigating these three predictive factors of health. Her expertise as a genetic epidemiologist placed her at the forefront of the Precision Medicine movement in America.
While she is enthusiastic about Precision Medicine, she understands the importance of research to reduce the existing health disparities in Kentucky. A native of London, Kentucky, Arnett has witnessed the devastating impact of diseases such as cancer, diabetes and heart disease, as well as unintentional injuries and deaths caused by opioid abuse.
"Public health is at the heart of answering the challenges of those critical diseases in Kentucky," Arnett said. "We in public health are really at the forefront of first detecting these epidemics, and then finding strategies and interventions to help eliminate those disparities."
While Arnett has contributed to the expansion of knowledge in the field of genetic epidemiology, she has also mentored and primed young researchers for successful careers in the study of how diseases impact populations. She believes watching students develop as scientists and coordinating teams of multidisciplinary health professionals are some of the most rewarding aspects of her job in research.
Today Arnett is adamant about educating the public and university community about the role of public health in society. Her second goal as dean involves establishing partnerships with clinical faculty outside the College of Public Health and at the state and community level to enhance Kentucky's health care infrastructure. She also wants to build on the momentum of the productive research she inherited as dean, with ambitions to elevate the UK College of Public Health's status on the national scale. None of these efforts will overshadow the mission of developing the next generation of researchers and public heath professionals in Kentucky — the students who come through the college.
This video feature is part of a monthly series called '"see discovery:" The People Behind Our Research.'  The videos, produced by UKNow and REVEAL, highlight the important work being conducted at the University of Kentucky by telling the stories of our researchers. The idea is to discover and share what motivates our faculty, staff and students to ask the questions that lead to discovery. 
Since this is a monthly feature on UKNow, we invite you to submit future ideas. If you know of a researcher who you think should be featured, please email us. 
UK is the University for Kentucky. At UK, we are educating more students, treating more patients with complex illnesses and conducting more research and service than at any time in our 150-year history. To read more about the UK story and how you can support continued investment in your university and the Commonwealth, go to: uky.edu/uk4ky. #uk4ky #seeblue
MEDIA CONTACT: Elizabeth Adams, elizabethadams@uky.edu