Eureka! UK Undergraduates Have Found It!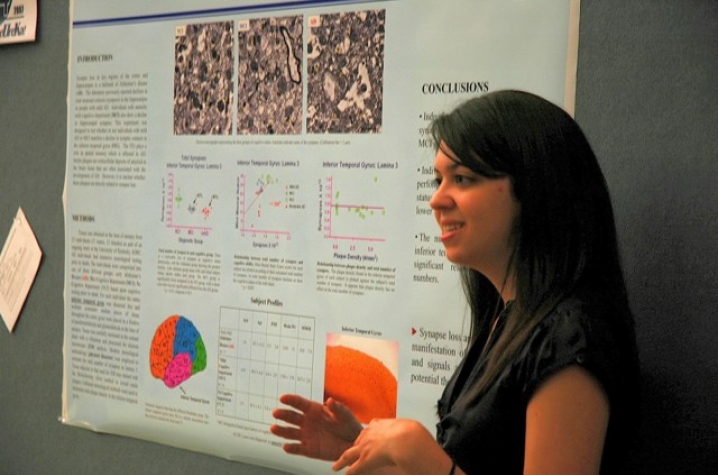 LEXINGTON, Ky. (April 28, 2010) - The University of Kentucky's undergraduate researchers from all disciplines will be showing everyone just what they've discovered at the undergraduate level.
The UK undergraduate research program, better known as eUreKa! (Experiences in Undergraduate Research and Kreative Activities), along with SPUR (the Society for the Promotion of Undergraduate Research), will host the 5th annual Showcase for Undergraduate Scholars from 4 to 7 p.m. Wednesday, April 28 in the Grand and Small Ballrooms of the UK Student Center.  
"We are so proud of this event," said Lesley Mann, president of SPUR and an agricultural biotechnology senior at UK. "The Showcase gives student researchers on campus an opportunity to present their work in a conference-like setting, and gives the UK community a chance to see the creative and scholarly work undergraduates are producing on campus."
The Showcase is an event held each spring providing UK undergraduates from every discipline an opportunity to present their creations. This year, approximately 250 students will be contributing their original work to the event, including 174 poster presentations, eight oral presentations, graphic designs for the event, a student catering team and a musical performance. Each participant has submitted an abstract of his or her work, and a bound abstract book of all who participate has been published and will be available at the Showcase. 
"At UK, we know that our undergraduates engaged in research and creative activities will help pave the way toward our university reaching its goal of becoming a Top 20 institution," said UK Provost Kumble Subbaswamy. "The Showcase for Undergraudate Scholars, and all of our undergraduate research programs are an essential enhancement to every student's educational experience at UK."  
The colleges that will be represented by students at the Showcase include Agriculture, Arts and Sciences, Gatton College of Business & Economics, Design, Engineering, Fine Arts, Health Sciences, Medicine, Nursing, Pharmacy and Public Health. There will also be students from the Discovery Seminar Program and the Robinson Scholars Program presenting as well. Additionally, every year a different group on campus performs during the opening ceremony of the Showcase.  This year, students from the UK Department of Theater will perform a few numbers from their spring production "The Pajama Game," the Tony Award winning, Broadway smash hit adapted from Richard Bissell's novel "7-1/2 Cents."
The event is open to the public; students, faculty and staff are highly encouraged to attend.
For more information, contact Evie Russell at (859) 257-6420 or evie.russell@uky.edu, or Lesley Mann at lesley.mann1@gmail.com.